Avimee Herbal Sunehri Pure Marigold Water
For Acne Prone Skin | With Calendula Extracts
Sale price
₹199.00
Regular price
₹465.00
57% OFF
Unit price
per
Cruelty Free

Best of Ayurveda

No Toxins

Made In-House
View full details
Product Description
Introducing Avimee Herbal Sunehri Pure Marigold Water, specially designed for acne-prone skin. Enriched with the goodness of Calendula extracts, it offers a natural solution for those struggling with acne-related issues. Calendula Distillate and Calendula Oil are key ingredients known for their skin-soothing properties. This product is a part of our toxin-free, cruelty-free range, backed by FDA approval. Experience the benefits of this gentle yet effective skincare solution, bringing you one step closer to radiant, blemish-free skin.

Results
Acne Management Calendula extracts in this product are known for their anti-inflammatory and antimicrobial properties, helping to reduce acne breakouts and soothe irritated skin.

Skin Hydration Marigold water helps maintain skin's moisture balance, preventing excessive dryness and keeping your skin hydrated and refreshed.

Soothing Sensation The gentle formulation of this product provides a calming and soothing effect on the skin, relieving discomfort caused by acne and skin irritations.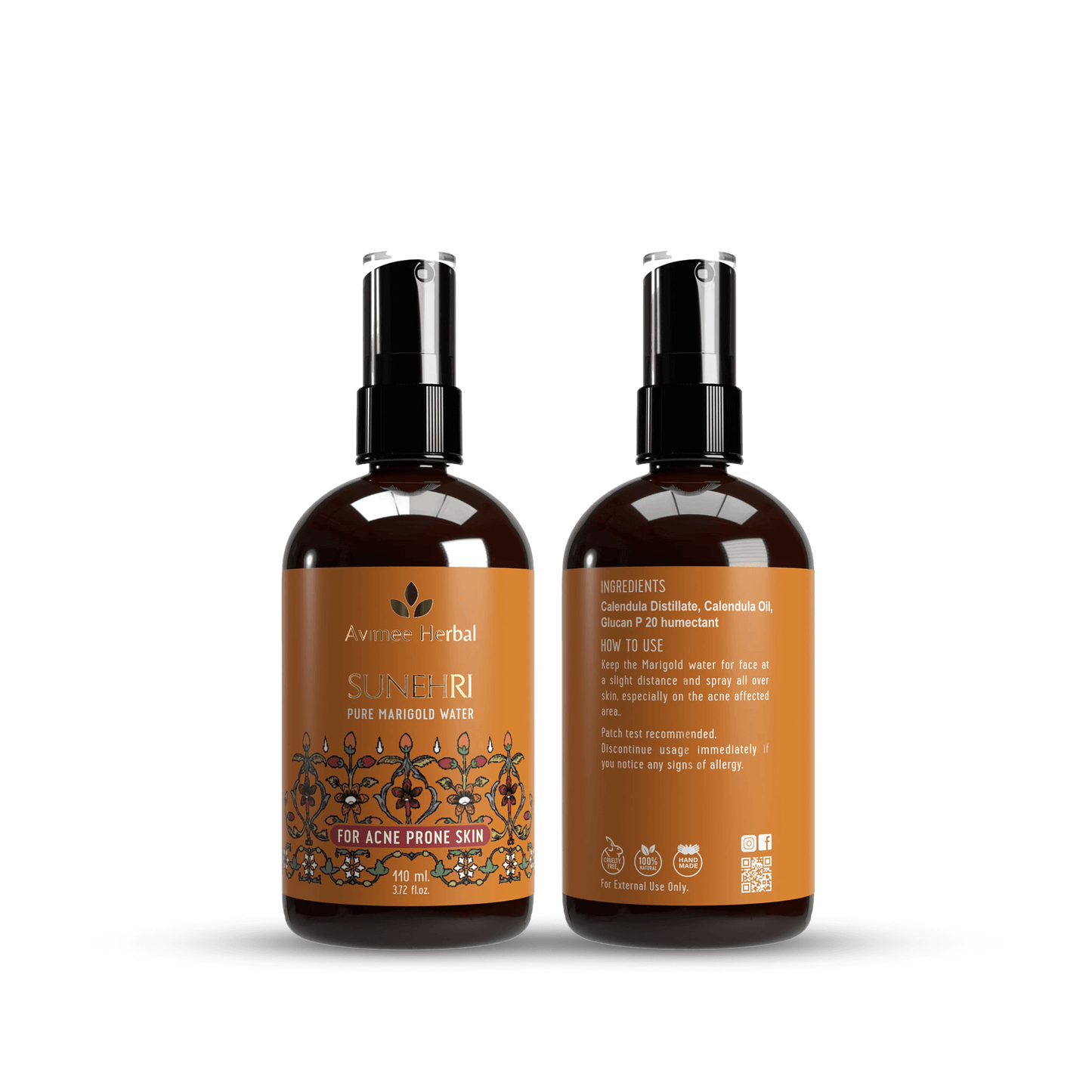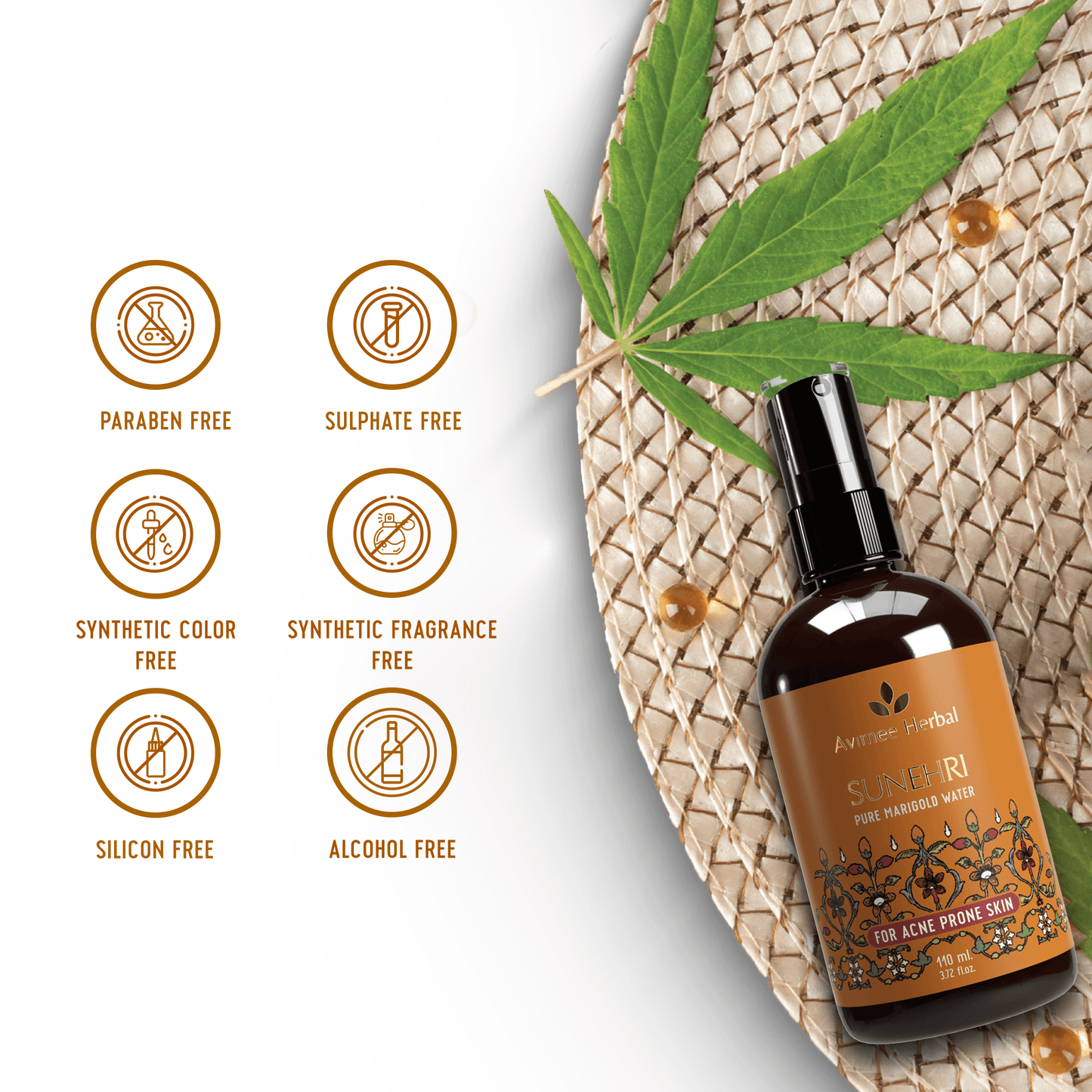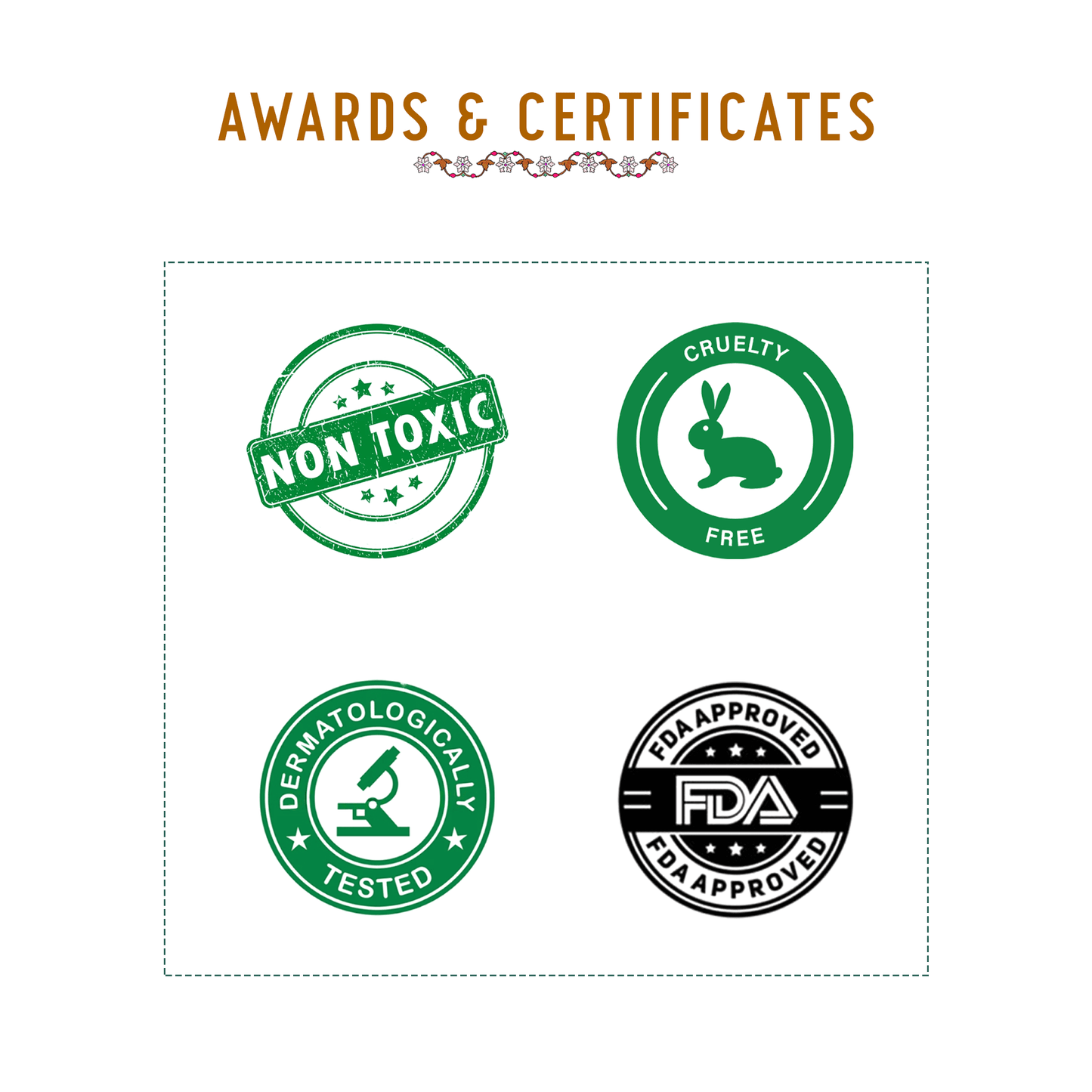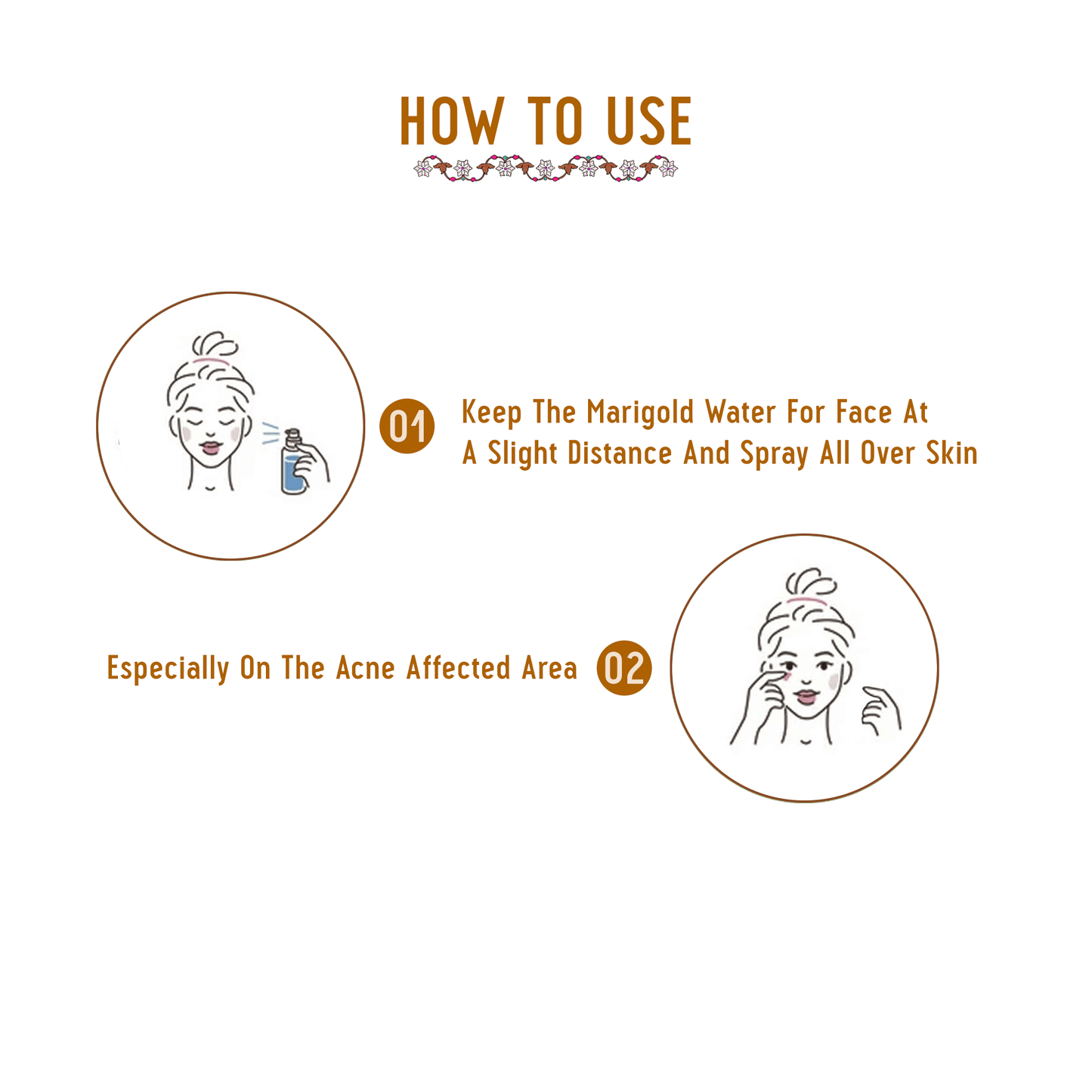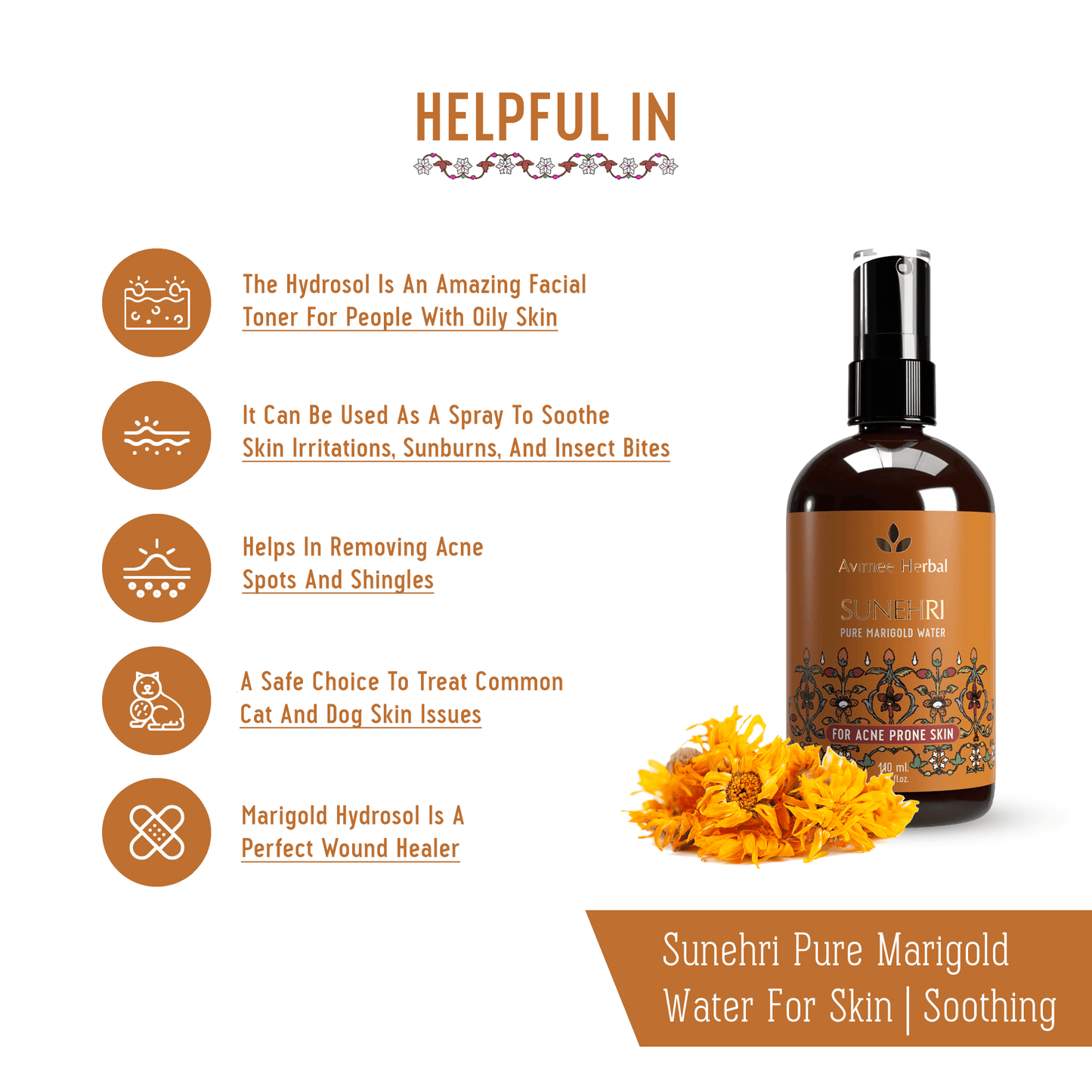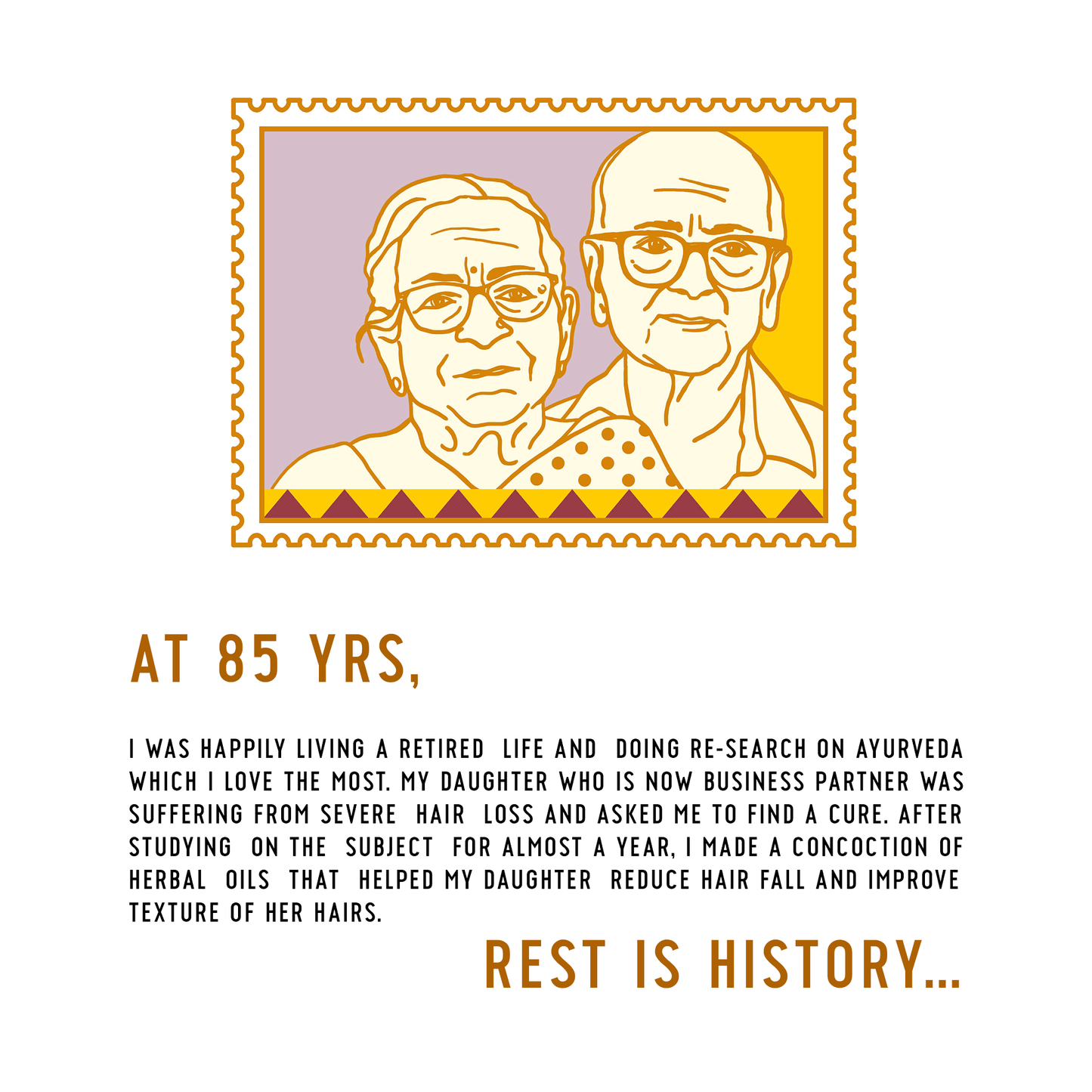 Calendula Distillate, Calendula Oil, Glucan P 20 Humectant
Calendula Oil Derived from marigold flowers, boasts a plethora of benefits for skin health. It's renowned for its anti-inflammatory and antibacterial properties, making it effective in soothing various skin conditions such as acne, dermatitis, and minor wounds. This oil is a natural moisturizer, keeping the skin hydrated and preventing dryness. Additionally, calendula oil promotes collagen production, aiding in skin elasticity and reducing the appearance of fine lines and wrinkles. With its gentle and healing qualities, it's an excellent choice for sensitive or irritated skin, helping to calm redness and restore a healthy complexion.
Keep the Marigold water for face at a slight distance and spray all over skin, especially on the acne affected area.
It is helpful in
Acne Management
Skin Hydration
Soothing Sensation
Natural Nourishment
Avimee Herbal Sunehri Pure Marigold Water is recommended for individuals with acne-prone skin.
Its soothing and anti-inflammatory properties make it particularly suitable for those seeking relief from skin issues like acne, dermatitis, or sensitive skin conditions.
It is recommended to do patch test when using for the first time.
My 6th order .. But ..
I have loved this product. Ordered me second bottle but it's not the same. This does not feel or smell the same. Don't know what's going on with my order this time!?? Even my charcoal pump isn't working. Very very sad about this order
Recommended
Fights Dandruff & Moisturizes Scalp Naturally | With Aloe Vera, Apple Cider Vinegar, Tea Tree Oil & Neem Oil

Sale price

₹550.00

₹650.00

15% OFF

Unit price

per

For Long & Strong Hair | Mineral Oil Free | With Vitamin E and Amla Seed Oil

Sale price

₹350.00

₹395.00

11% OFF

Unit price

per

Controls Hair Fall and Strengthens Hair Root | With Rosemary, Amla, Methi & Bhringraj | SLS & Paraben Free

Sale price

₹1,550.00

₹1,950.00

20% OFF

Unit price

per