Avimee Herbal Radha Hair Conditioner
Repairs Damaged Hair | With Keratin Protein, Rice Protein, Apple Cider Vinegar & Aloe Vera | Makes Hair Silky Smooth
Sale price
₹550.00
Regular price
₹650.00
15% OFF
Unit price
per
Cruelty Free

Best of Ayurveda

No Toxins

Made In-House
View full details
Product Description
Unlock the secret to revitalized and lusciously smooth hair with Avimee Herbal Radha Hair Conditioner. This exceptional conditioner is thoughtfully crafted with a powerful blend of nourishing ingredients, including Keratin Protein, Rice Protein, Apple Cider Vinegar, and Aloe Vera.
Results
Intensive Hair Repair This conditioner is your hair's repair and restoration partner. It works to mend damaged hair, reducing split ends and breakage. With regular use, you can notice visibly healthier and stronger locks.

Silky Smooth Transformation Experience a transformation like no other as this conditioner imparts a silky-smooth texture to your hair, making it easier to manage and style.

Natural Nourishment Enriched with Keratin Protein and Rice Protein, it provides your hair with essential nutrients, promoting strength, vitality, and shine.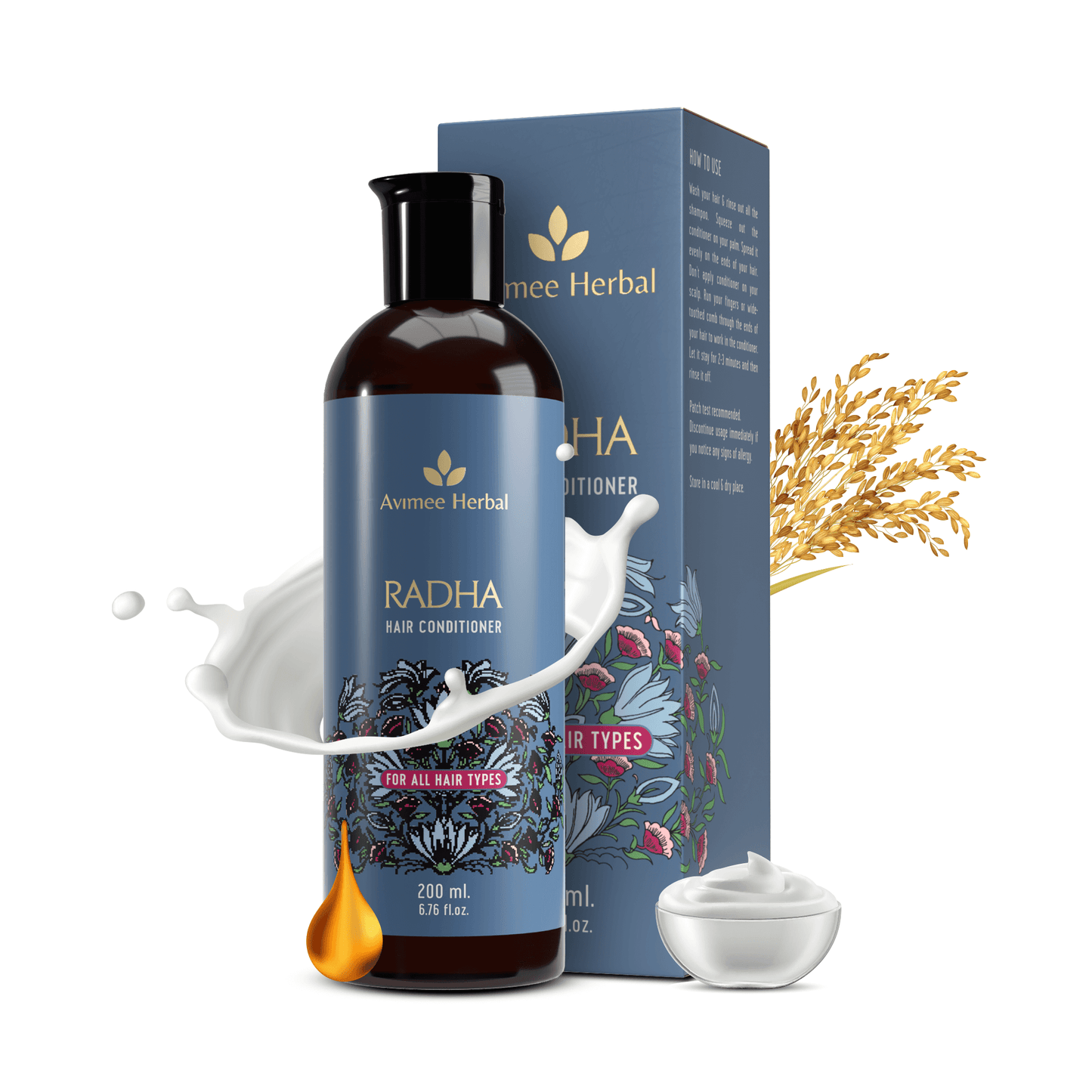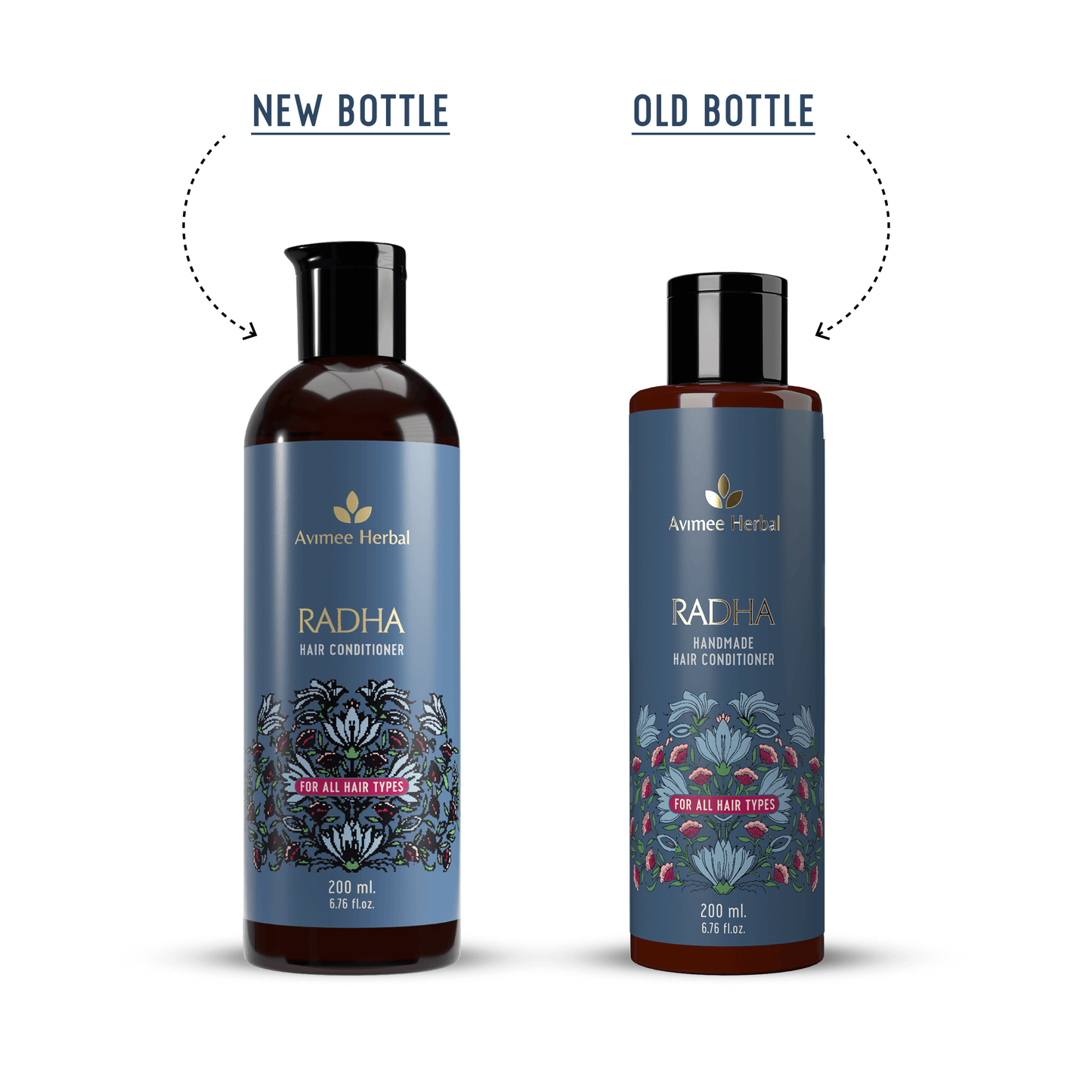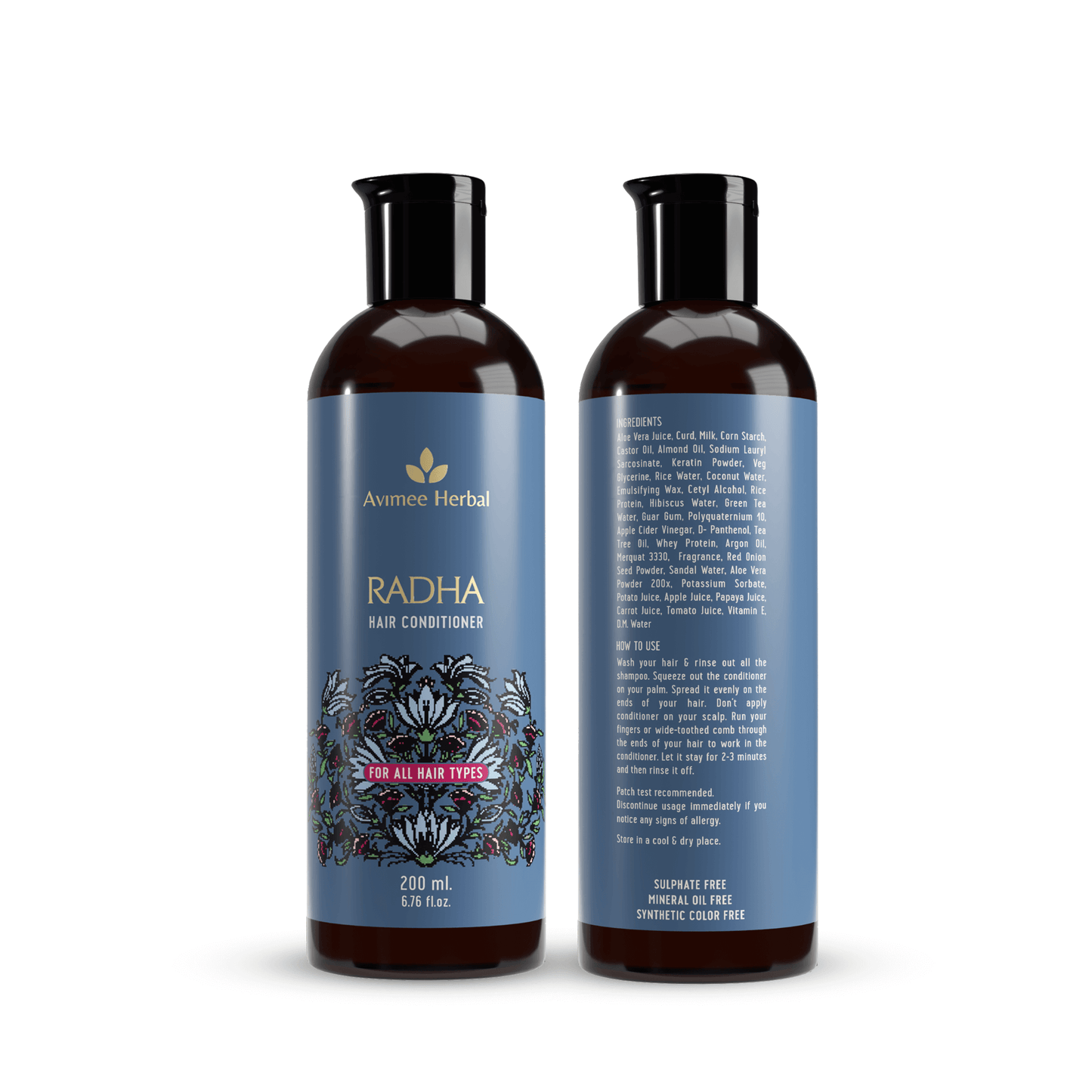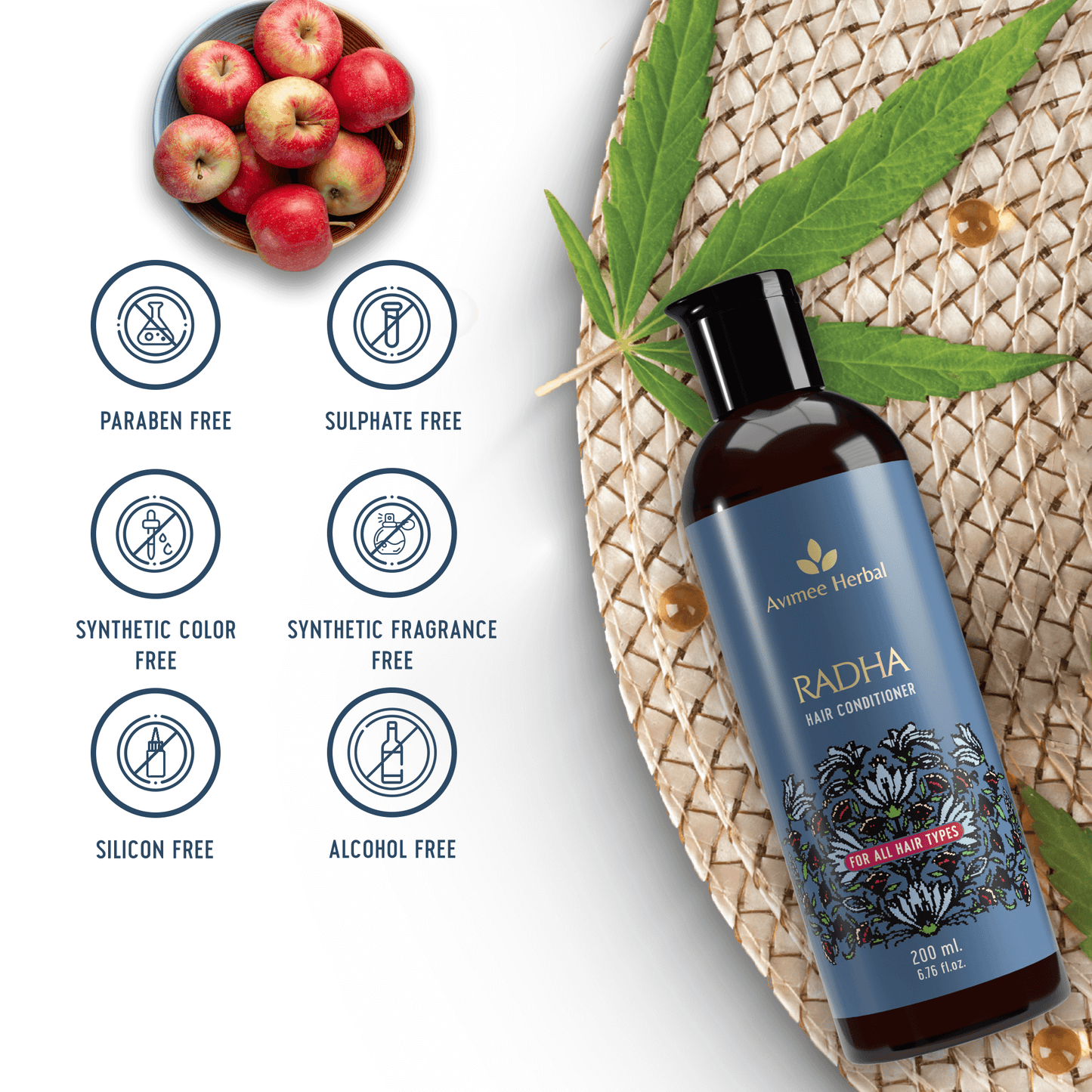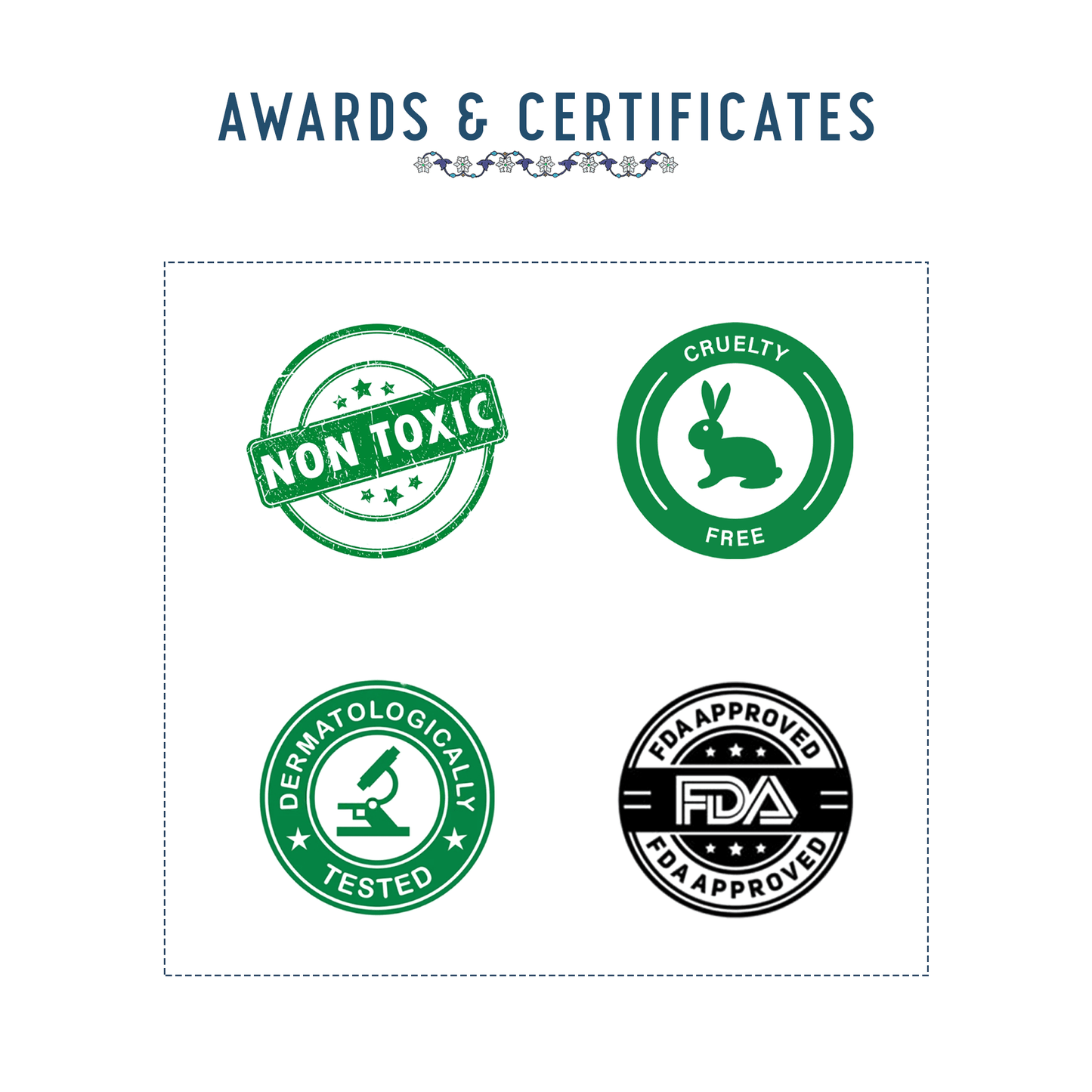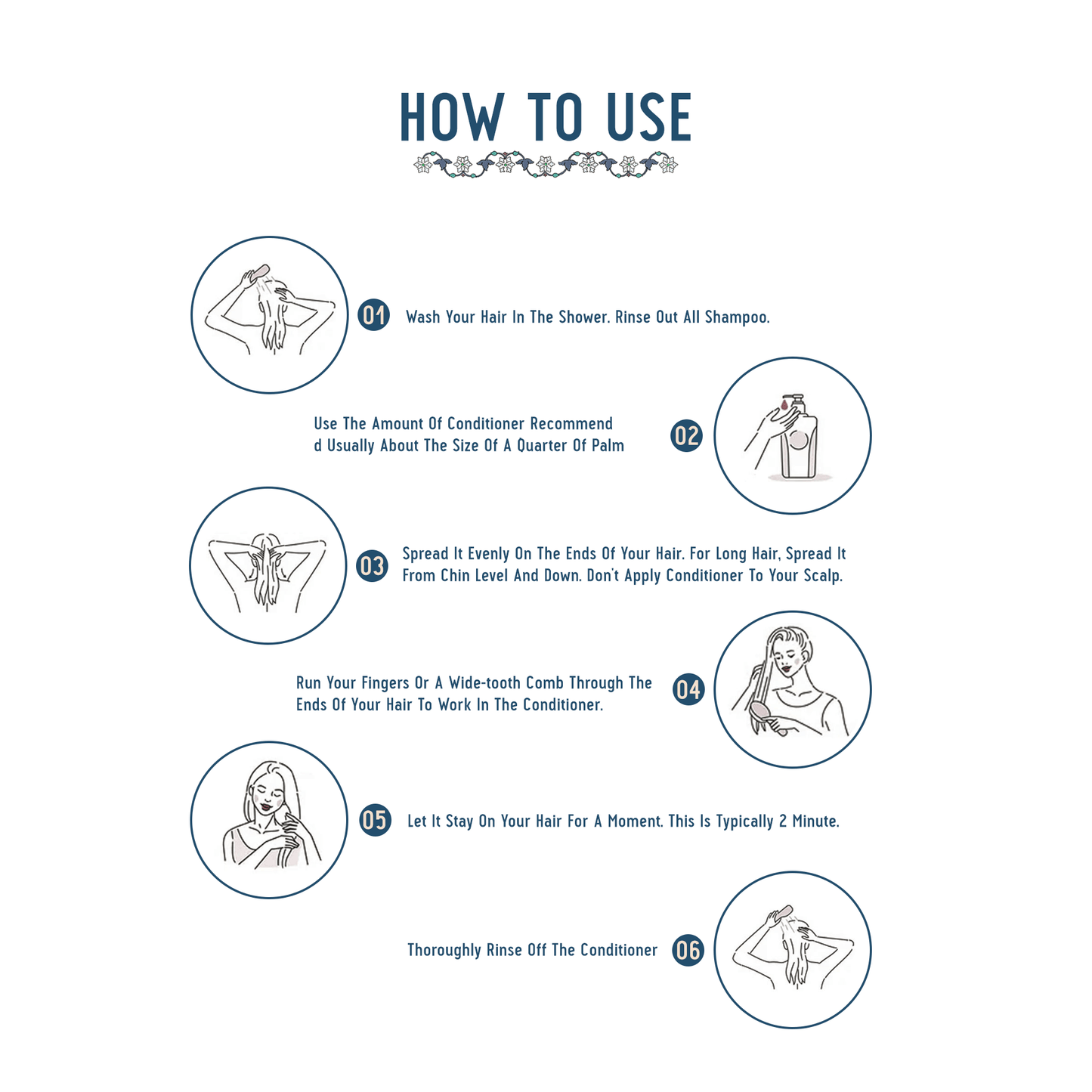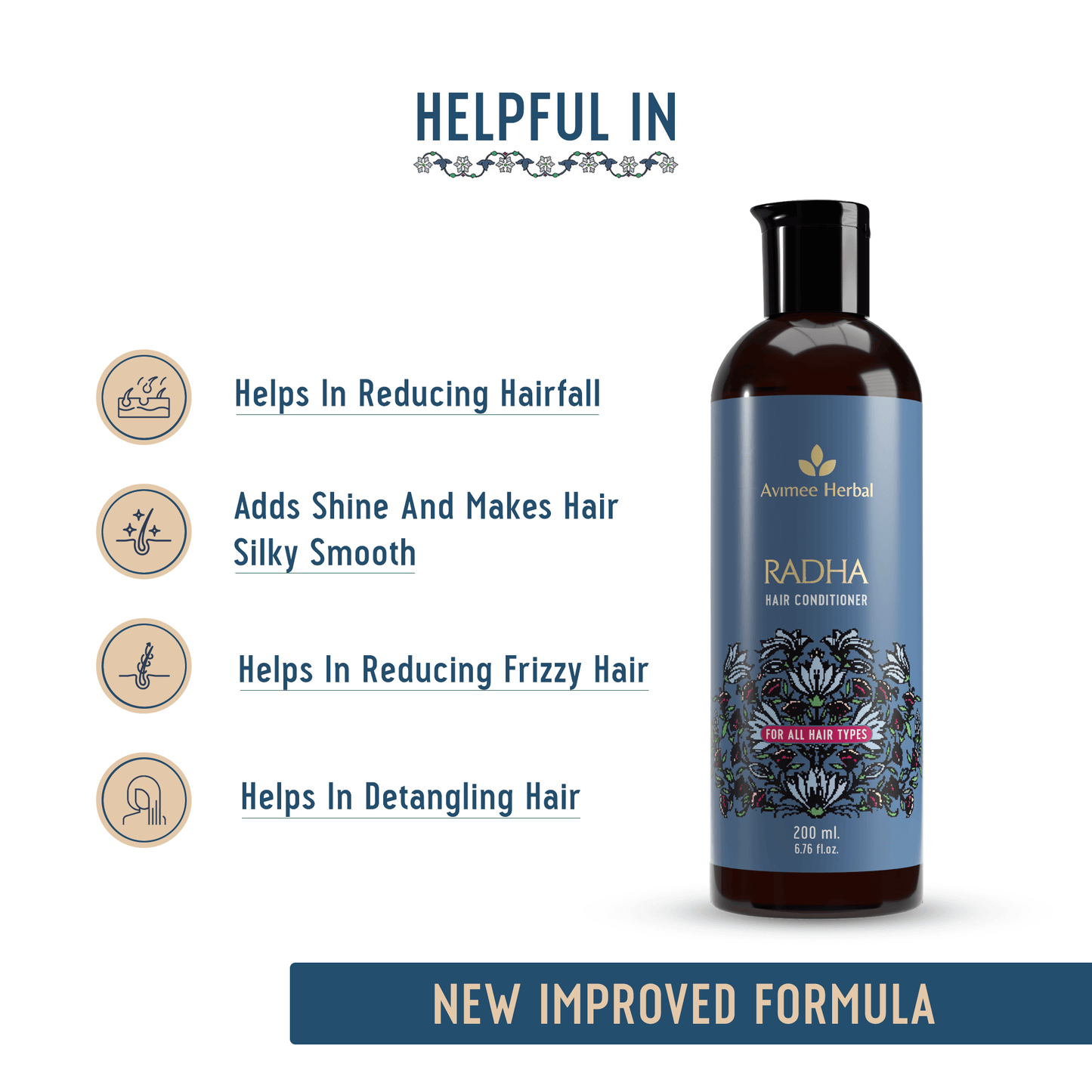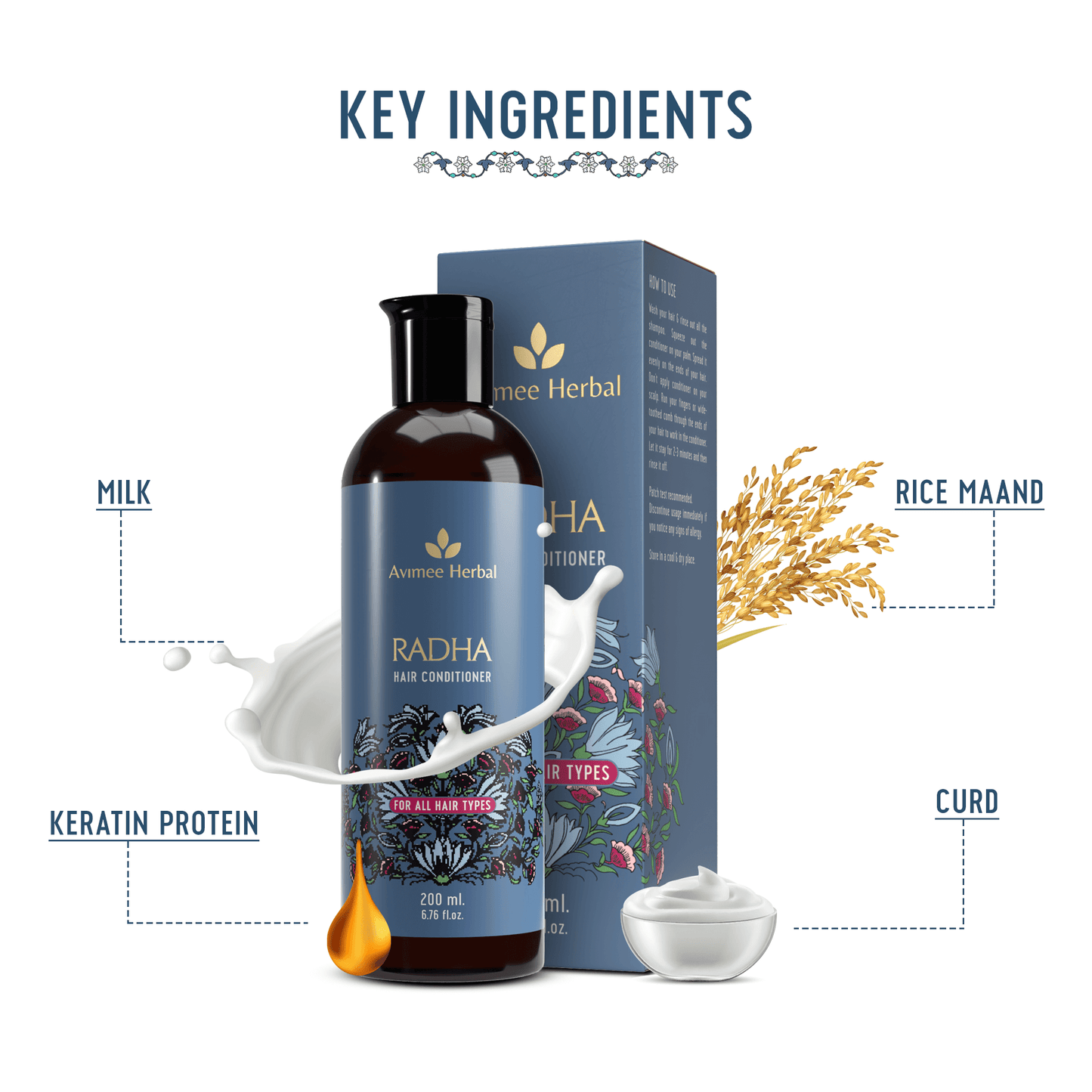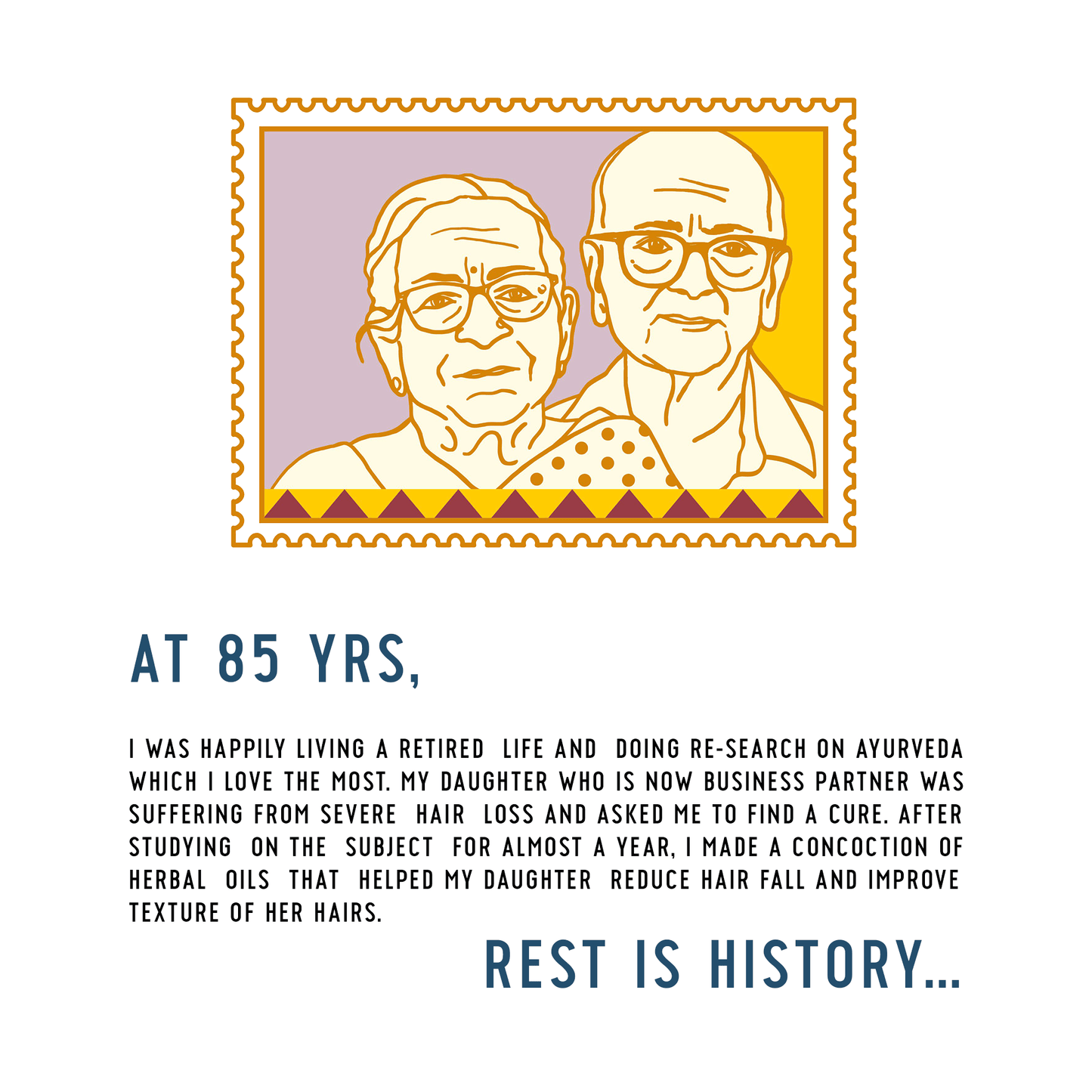 Aloe Vera Juice, Curd, Milk, Corn Starch, Castor Oil, Almond Oil, Sodium lauryl sarcocinnate, Keratin Powder, Veg Glycerine, Rice Maad, Coconut Water, Emulsifying Wax, Cetyl Alcohol, Rice Protein, Hibiscus Water, Green Tea Water, Guar Gum, Polyquaternium 10, Apple Cider Vinegar, D- Panthenol, Tea Tree Oil, Whey Protein, Argon Oi, Merquat 3330, Fragrance, Red Onion Seed Powder, Sandel Water, Aloe Vera Powder 200x, Potassium Sorbate, potato juice, apple juice, papaya juice, carrot juice, tomato juice, vitamin E, D.M Water
Keratin Protein Keratin protein is the hero ingredient for repairing and strengthening your hair. It works by filling in gaps and cracks along the hair shaft, effectively reducing breakage and split ends. As a result, your hair becomes more resilient and less prone to damage from styling, heat, and environmental factors. Furthermore, keratin protein imparts a noticeable smoothness and shine to your locks, leaving them sleek and radiant."

Rice Protein Rice protein is your ticket to achieving stronger, thicker, and more voluminous hair. This ingredient nourishes your strands, enhancing their strength and thickness, which is particularly beneficial for individuals with fine or thin hair. Additionally, rice protein infuses your hair with volume and fullness, giving it a healthy and lush appearance. Its ability to improve manageability further contributes to a tangle-free and easy-to-style mane.

Apple Cider Vinegar Apple cider vinegar is a versatile ingredient that plays a pivotal role in maintaining a healthy scalp and enhancing the beauty of your hair. By balancing the pH level of your scalp, it creates an environment conducive to robust hair growth. This natural cleanser gently removes excess oil, product buildup, and impurities from the scalp, promoting overall scalp health. Apple cider vinegar is also known for its ability to boost shine, leaving your hair looking vibrant and lustrous.

Aloe Vera Aloe vera, the ultimate hydrator, deeply moisturizes your hair, banishing dryness and brittleness. It soothes the scalp, offering relief from irritation and itchiness. Aloe vera's hydrating prowess results in enhanced hair shine and overall vibrancy. With this ingredient, your hair enjoys a nourishing and revitalizing experience, making it a perfect addition to your hair care routine.
Step 1 :After shampooing, apply a generous amount of Avimee Herbal Radha Hair Conditioner to your hair, focusing on the lengths and ends.
Step 2 : Leave it on for a few minutes, then rinse thoroughly.
For best results, use regularly as part of your hair care routine.
It is helpful in
Intensive Hair Repair
Silky Smooth Texture
Natural Nourishment
Scalp and Hair Balance
Avimee Herbal Radha Hair Conditioner is recommended for:
Individuals with Damaged Hair: If you have hair that is damaged, brittle, or prone to breakage, this conditioner is an excellent choice. It helps repair and strengthen damaged hair strands, restoring their health and vitality.
Those Seeking Silky-Smooth Hair: If you desire hair that feels incredibly silky-smooth to the touch and is easy to manage, this conditioner can provide the desired texture and appearance.
Anyone Looking for Nourished Hair: If you want to nourish your hair with natural ingredients like Keratin Protein, Rice Protein, Apple Cider Vinegar, and Aloe Vera, this conditioner is tailored to provide your hair with essential nutrients.
Individuals with Scalp Concerns: If you are looking to balance your scalp's pH level or cleanse it gently, thanks to the inclusion of Apple Cider Vinegar, this conditioner supports scalp health.
Avimee Herbal Radha Hair Conditioner is versatile and suitable for various hair types and concerns, making it an excellent addition to your hair care routine.
Recommended
Fights Dandruff & Moisturizes Scalp Naturally | With Aloe Vera, Apple Cider Vinegar, Tea Tree Oil & Neem Oil

Sale price

₹550.00

₹650.00

15% OFF

Unit price

per

For Long & Strong Hair | Mineral Oil Free | With Vitamin E and Amla Seed Oil

Sale price

₹350.00

₹395.00

11% OFF

Unit price

per

Controls Hair Fall and Strengthens Hair Root | With Rosemary, Amla, Methi & Bhringraj | SLS & Paraben Free

Sale price

₹1,550.00

₹1,950.00

20% OFF

Unit price

per