Avimee Herbal Pushp Pure Lavender Water
Soothes Skin, Fights Acne & Relaxes Mind | With Lavender Oil
Sale price
₹199.00
Regular price
₹365.00
45% OFF
Unit price
per
Cruelty Free

Best of Ayurveda

No Toxins

Made In-House
View full details
Product Description
Indulge in the calming and aromatic experience of Avimee Herbal Pushp Pure Lavender Water. Crafted with precision and enriched with the natural essence of lavender, this pure lavender water soothes your skin and relaxes your mind. Lavender, renowned for its soothing properties, has been used for centuries to promote relaxation and skin well-being. With Avimee's commitment to quality and purity, our lavender water is the ideal addition to your skincare routine.

Results
Soothes Skin Lavender water gently soothes and hydrates your skin, leaving it feeling refreshed and revitalized.

Relaxes Mind The calming aroma of lavender oil promotes relaxation and helps alleviate stress and tension, offering a holistic approach to well-being.

Acne Control Lavender water has natural antibacterial and anti-inflammatory properties, making it useful for those with acne-prone skin. It can help cleanse and reduce blemishes when used as a part of your skincare routine.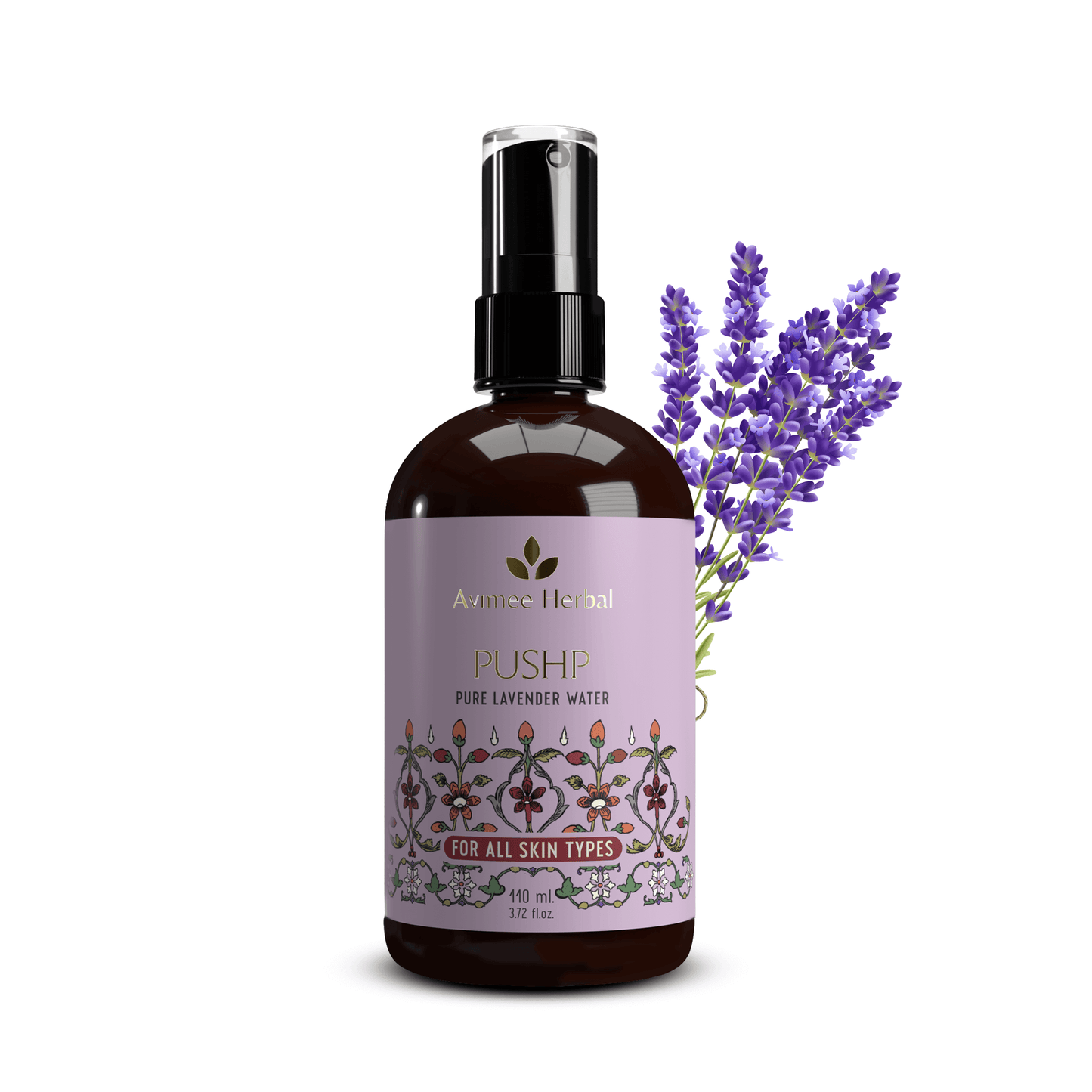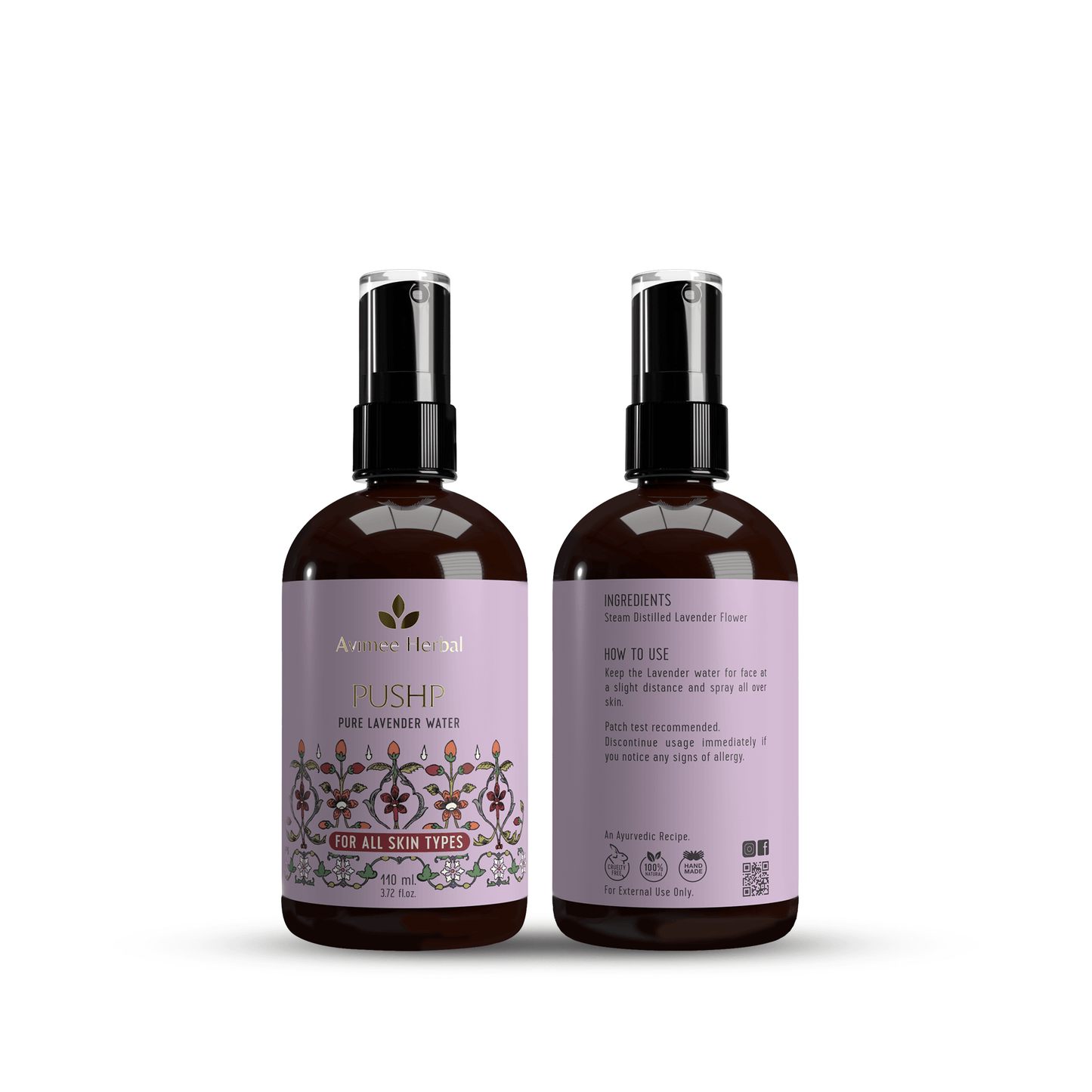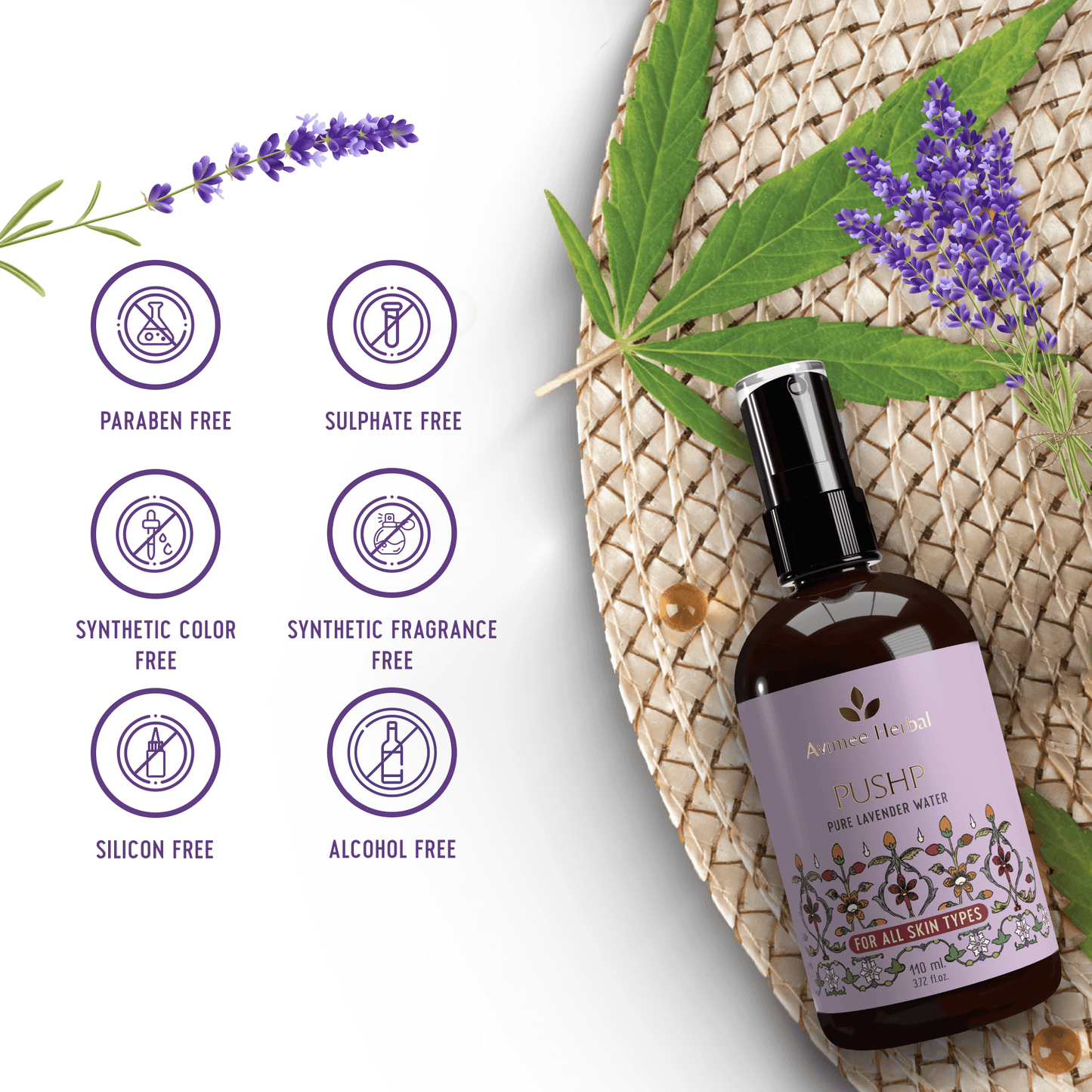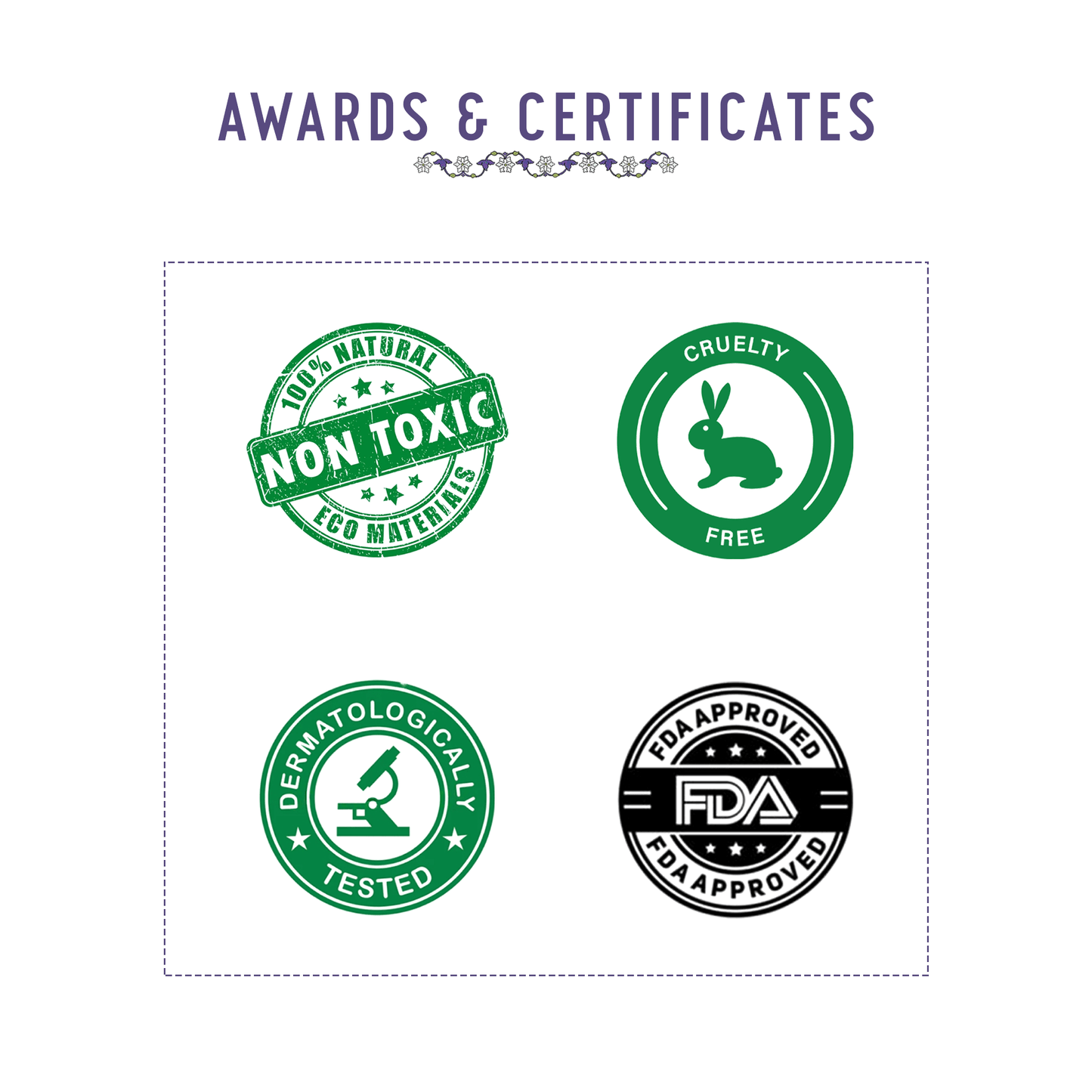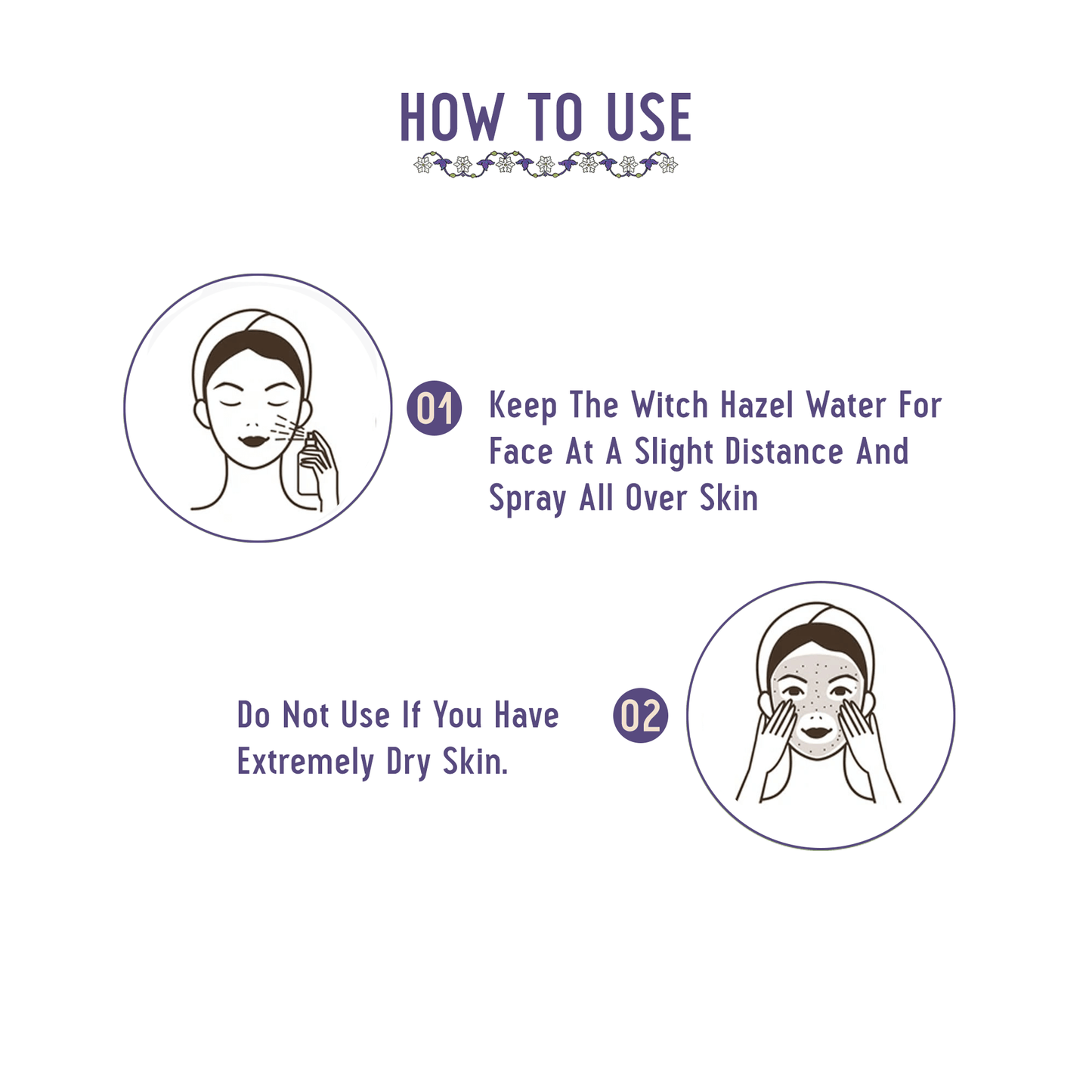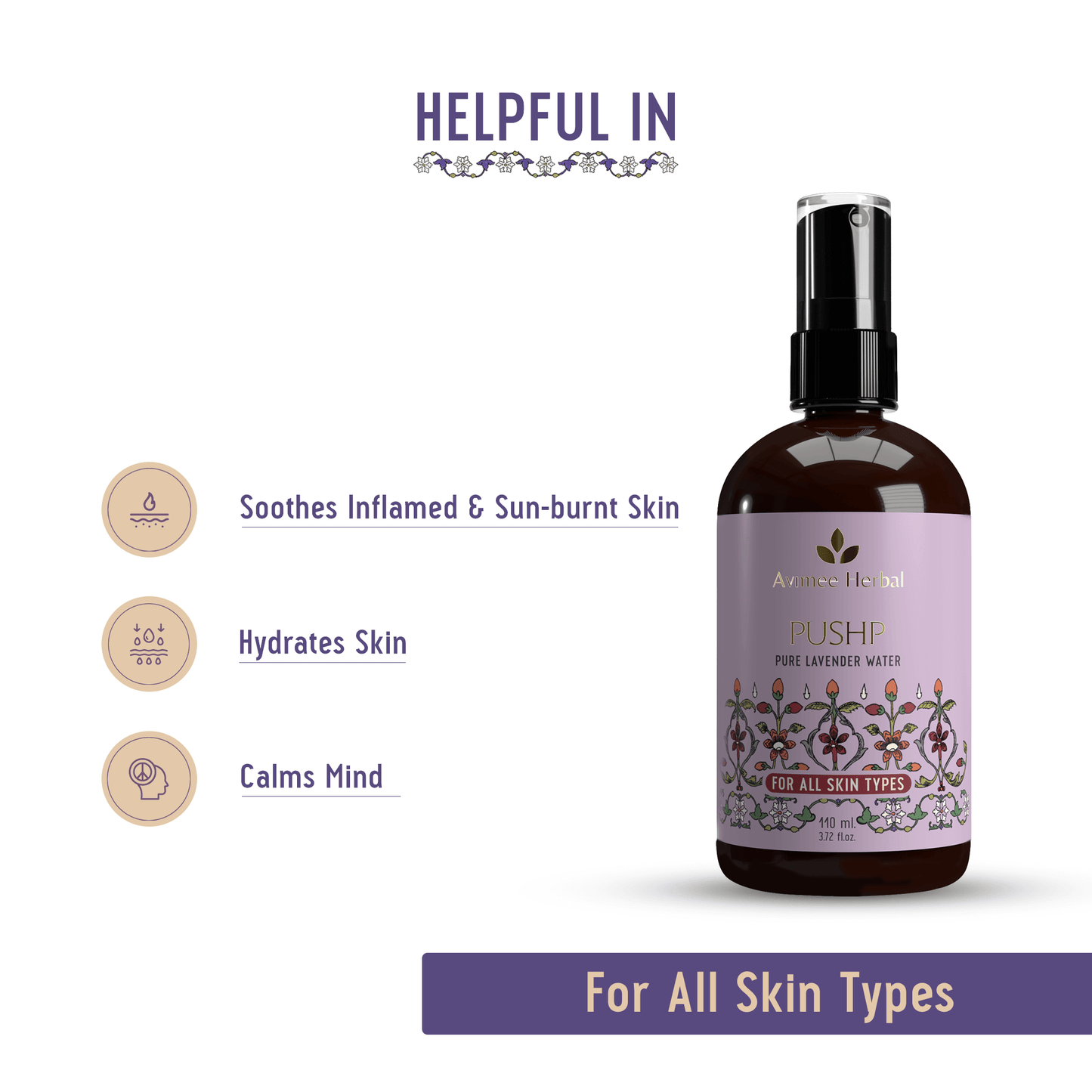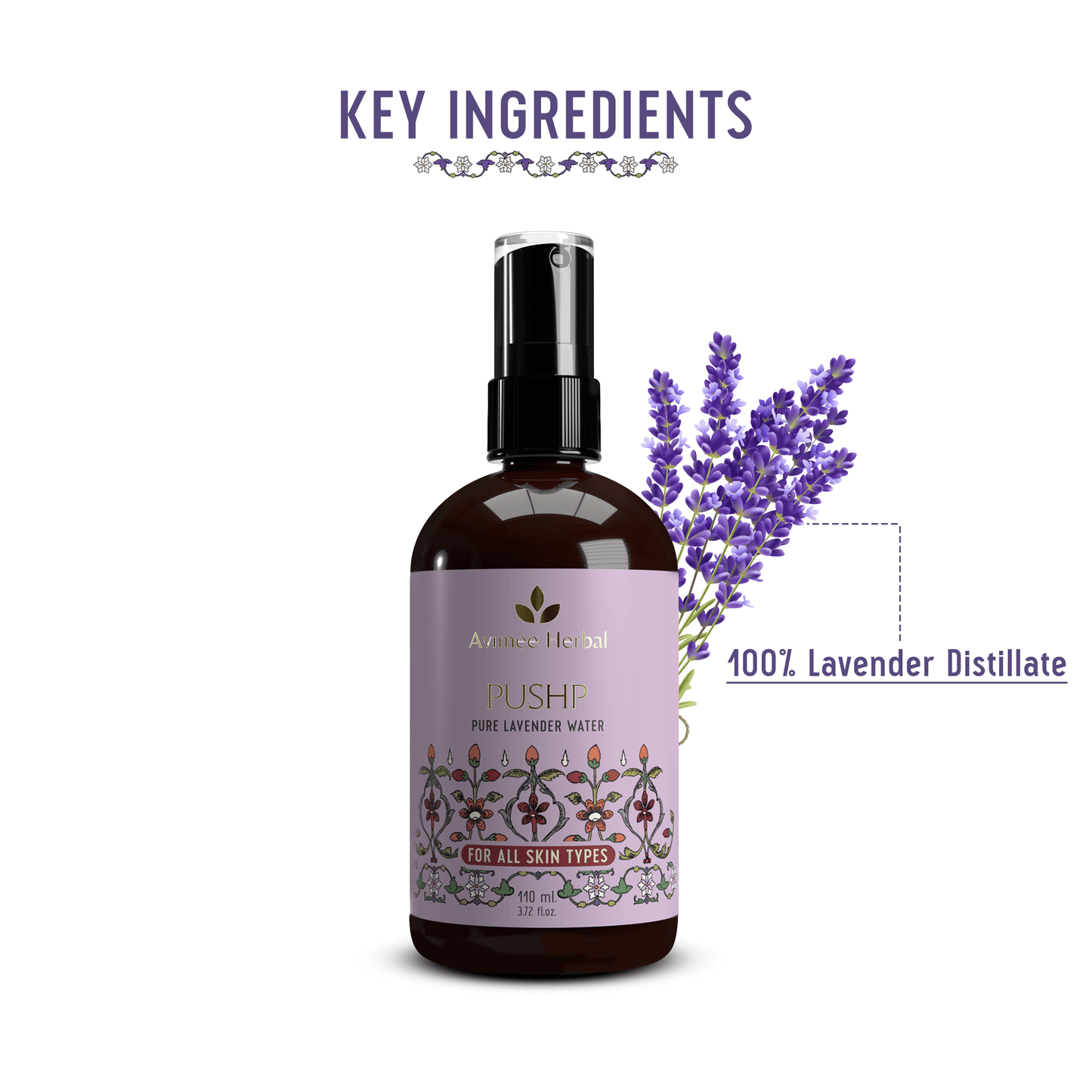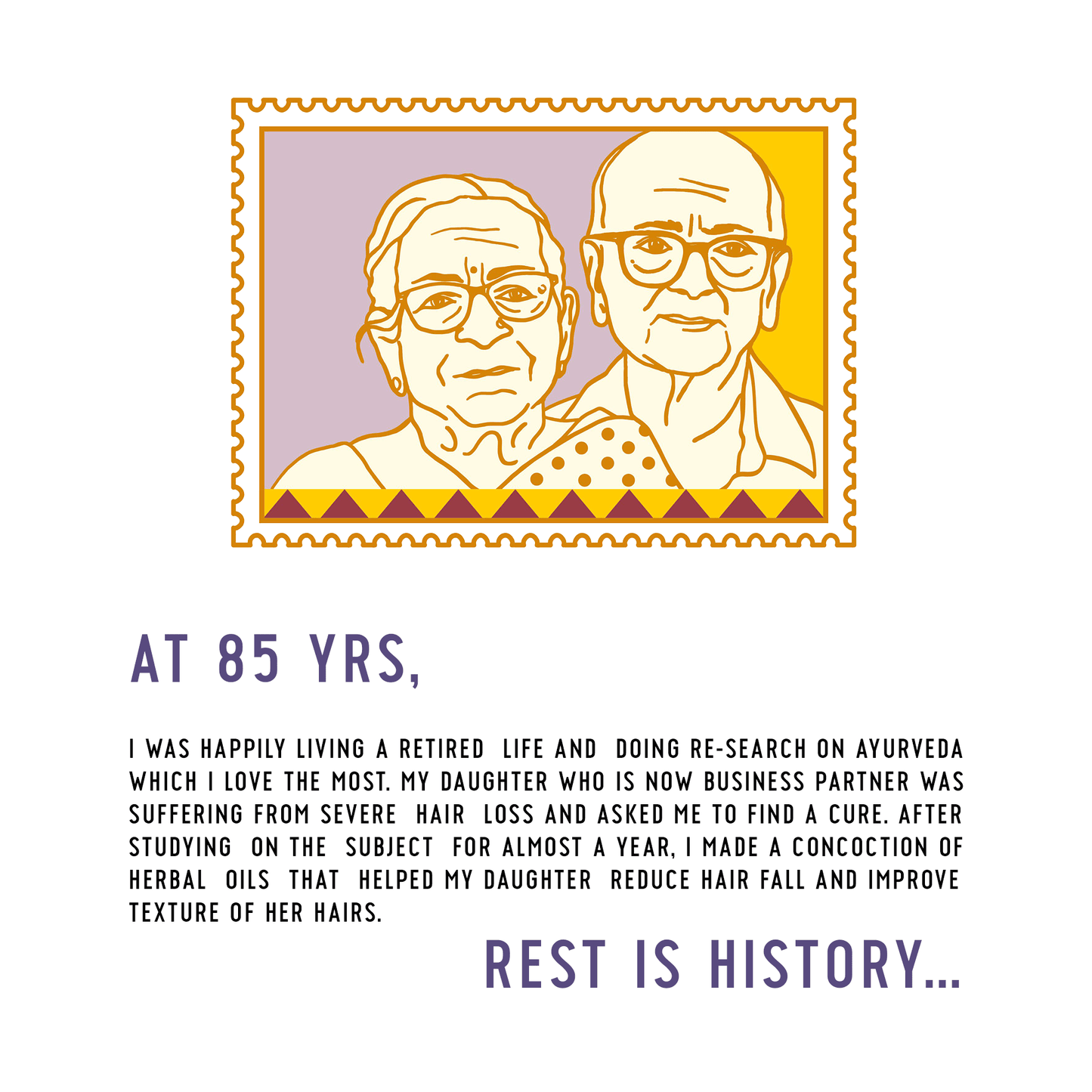 Lavender Distillate, Lavender Oil, Glucan P 20 Humectant
Lavender Oil Lavender oil offers a multitude of benefits for both the body and mind. It is renowned for its soothing and calming properties, making it an excellent choice for relaxation and stress relief. When applied topically, it can help alleviate skin irritations, such as minor burns and insect bites, due to its natural anti-inflammatory and antiseptic qualities. Additionally, lavender oil is widely used in aromatherapy to promote better sleep, reduce anxiety, and enhance overall emotional well-being. Its versatility and gentle nature make it a popular choice for various wellness and self-care practices
Spray Avimee Herbal Pushp Pure Lavender Water onto your skin, especially on acne-affected areas, for a soothing and refreshing experience.
It is helpful in
Skin Soothing
Relaxation
Natural Astringent
Acne Control
Avimee Herbal Pushp Pure Lavender Water is recommended for individuals with various skincare needs:
Sensitive Skin: It's suitable for those with sensitive skin as it has soothing and calming properties that can help alleviate redness and irritation.
Stressed Individuals: The relaxing aroma of lavender water makes it an excellent choice for people dealing with stress, anxiety, or sleeplessness. It can be used as a mood enhancer and relaxation aid.
Those Seeking Natural Skincare: If you prefer natural and toxin-free skincare products, this lavender water is a great addition to your routine.
Acne-Prone Skin: Lavender water's antibacterial and anti-inflammatory properties make it suitable for individuals with acne-prone skin as it can help control breakouts.
Anyone in Need of Skin Refreshment: Lavender water can be used as a facial mist throughout the day to refresh and hydrate the skin, making it suitable for anyone looking for a quick skin pick-me-up.
As always, it's a good practice to perform a patch test before using any new skincare product, especially if you have sensitive skin or known allergies. This helps ensure the product is well-tolerated by your skin.
Recommended
Fights Dandruff & Moisturizes Scalp Naturally | With Aloe Vera, Apple Cider Vinegar, Tea Tree Oil & Neem Oil

Sale price

₹550.00

₹650.00

15% OFF

Unit price

per

For Long & Strong Hair | Mineral Oil Free | With Vitamin E and Amla Seed Oil

Sale price

₹350.00

₹395.00

11% OFF

Unit price

per

Controls Hair Fall and Strengthens Hair Root | With Rosemary, Amla, Methi & Bhringraj | SLS & Paraben Free

Sale price

₹1,550.00

₹1,950.00

20% OFF

Unit price

per