Avimee Herbal Keshpallav Hair Oil for Hair Growth
Reduces Hair Fall & Promotes Hair Growth | With Rosemary, Castor, Amla, Brahmi and Bhringraj Oil | Mineral Oil Free
Sale price
₹550.00
Regular price
₹650.00
15% OFF
Unit price
per
Cruelty Free

Best of Ayurveda

No Toxins

Made In-House
View full details
Product Description
Avimee Herbal Keshpallav Hair Oil is a natural hair oil made by Nanaji after 25 years of reasearch in Ayurveda. A blend of over 150 herbs and cold-pressed oils creates this oils. It is suitable for all hair types and helps to reduce hair fall, promote hair growth, and prevent dandruff. It is free of mineral oils and other harmful chemicals. 

Results
Aids hair growth The combination of herbs and oils in the formula provides essential nutrients for hair growth, including vitamins A, C, and E, as well as zinc, magnesium, and omega-3 fatty acids. These nutrients help to keep the scalp healthy and aids hair growth.

Reduces hair fall control This formula's herbs, including amla, brahmi, and neem, actively reduce hair fall. They work by nourishing the scalp, strengthening the hair follicles, and fighting dandruff and other scalp infections.

Prevents dandruff The essential oils in this formula, such as tea tree oil, lavender oil, and peppermint oil, have antifungal and antibacterial properties that help to prevent dandruff and other scalp infections.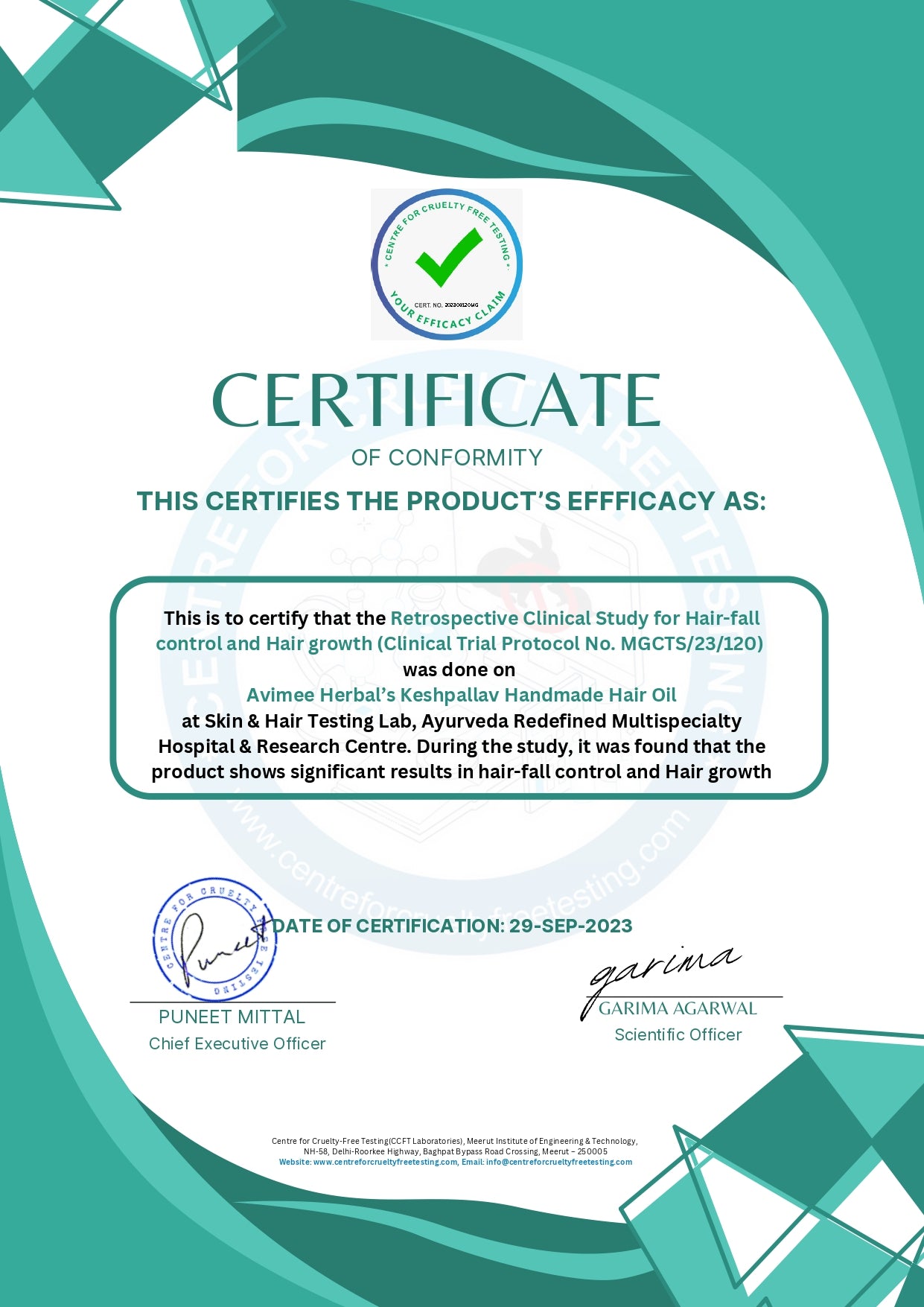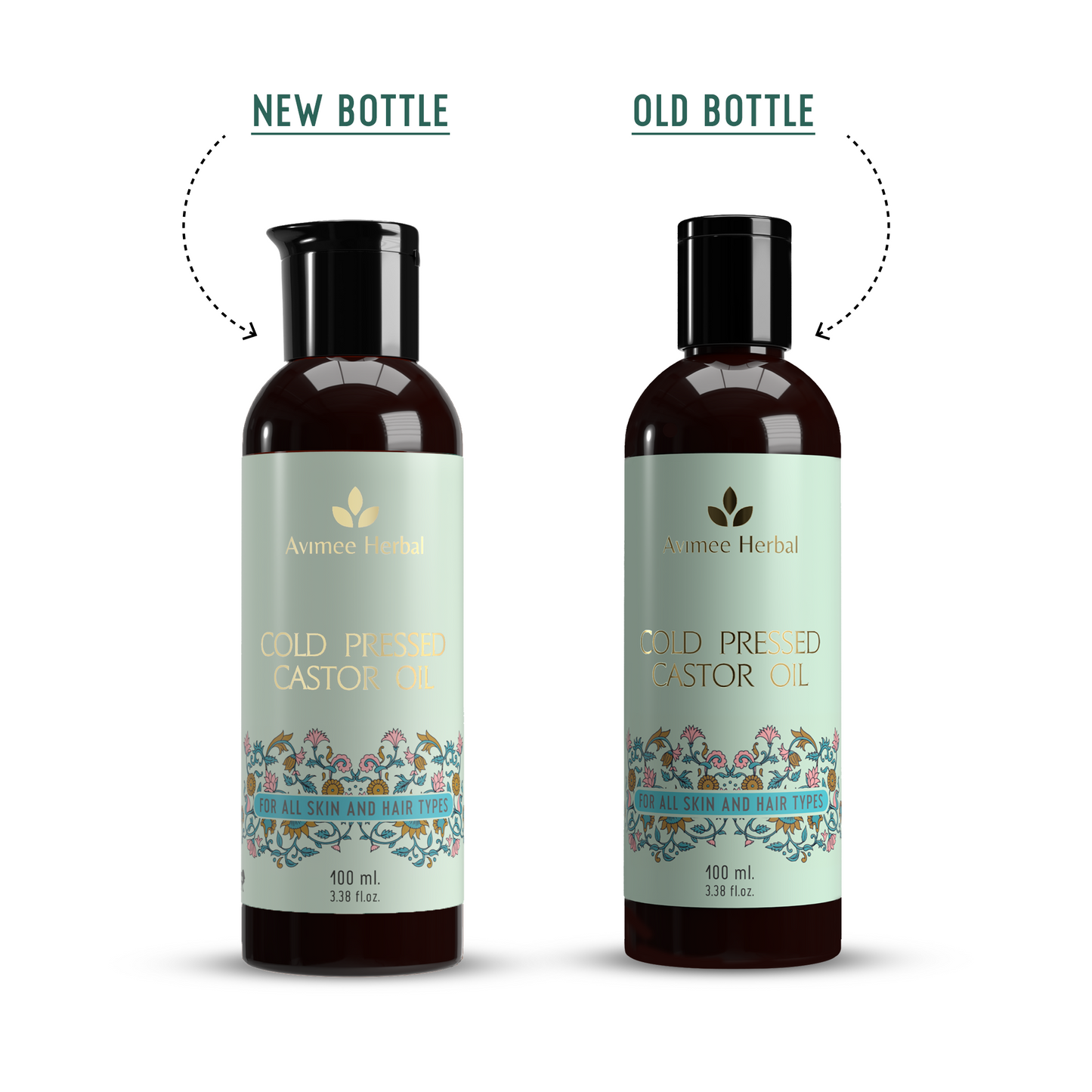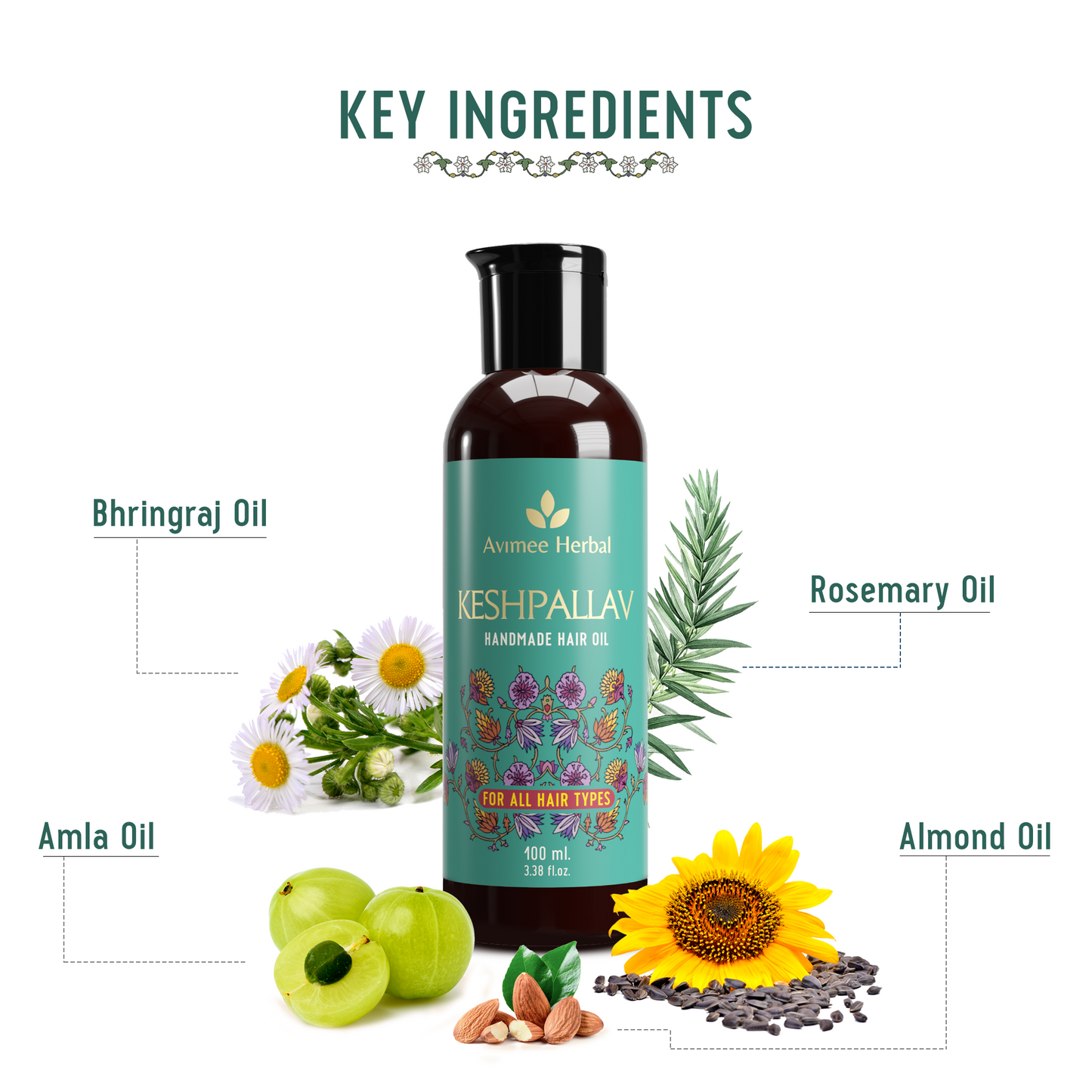 Keshpallav hair oil ingredients
Seed Oils: Sunflower, Pumpkin, Black Sesame, Flax, Camellia, Mustard, Pomegranate, Hemp, Grape, Poppy, Borage. Oils: Cold Pressed Coconut, Amla, Bhringraj Brahmi, Hibiscus, Curry Leaf, Saw Palmetto, Soyabean, Castor, Arnica, Almond, Apricot Kernel, Cucumber, Shea, Malkangni, Karanja, Wheat Grass. Bergamot, Cedarwood, Stinging Nettle, Bottle Gourd, Bakuchi, Bamboo, Wheat Germ, Halim, Plum Kernel, Avocado, Carrot, Passion Fruit, Clary Sage, Tea Tree, Birch, Argon, Clove, Rosemary, Jojoba, Tamanu. Lemon Grass, Lavender, Eucalyptus, Helichrysum, Myrrh, Nutmeg, Yang Yang, Kalonji, Marula, Pecan Nut, Hazel Nut, Macadamia Nut, Walnut
Rosemary oil Rosemary oil has a reputation for promoting hair growth. It has antioxidants and anti-inflammatory ingredients. Rosemary oil boost blood flow to your scalp to help your hair grow. Rosmarinic acid, found in rosemary oil, stimulates hair growth, as demonstrated in animal studies.

Castor oil Castor oil is a thick oil that helps to moisturize and soften. Ricinoleic acid, found in good amounts, actively promotes hair growth. Castor oil can help to make hair stronger and thicker, and it can also help to prevent hair loss.

Amla oil Amla oil comes from the Indian gooseberry, a fruit packed with vitamin C and important nutrients for healthy hair. Amla oil can help to improve hair growth, prevent hair loss, and make hair stronger and shinier.

Bhringraj oil Bhringraj oil comes from bhringraj plant leaves. This plant is an ancient Ayurvedic herb known for boosting hair growth. The oil improves blood flow to the scalp, feeds hair roots, and stops hair from falling out.
How to use avimee hair oil
Step 1 :Begin by massaging the oil into your scalp and through your hair, starting at the roots and moving toward the tips.
Step 2 :Massage the oil into your scalp for a few minutes using your fingertips.
Step 3 :Cover your hair with a shower cap or a towel. Leave the oil on your hair for at least 30 minutes, or overnight if possible.
Step 4 :Wash your hair as usual.
Repeat 2-3 times a week.

Keshpallav hair oil benefit
Aiding Hair Growth
Reducing Hairfall
Prevents Dandruff
Improves Hair Health
All men, women, and children above 8 years of age can use Keshpallav hair oil. People with sensitive skin can also safely use it. However, always conduct a patch test before applying any new product to your skin to ensure safety.
Here are some of the people who may benefit from using avimee herbal keshpallav hair oil:
People with hair loss or thinning hair.
People with dandruff or other scalp problems.
People with dry or damaged hair.
People who want to improve the overall health and appearance of their hair.
If you are pregnant, breastfeeding, or have any other health conditions, please consult your doctor before using Keshpallav hair oil.
Here are some of the things to keep in mind when using avimee hair oil for hair growth:
Start by applying a small amount of oil to your scalp and hair. You can gradually increase the amount of oil you use as needed.
Massage the oil into your scalp for a few minutes. This will help to improve blood circulation and promote hair growth.
Leave the oil on your hair for at least 30 minutes, or overnight if possible.
Wash your hair as usual. You can use hair growth oil once or twice a week, or as needed. If you have dry hair, you may want to apply it more often.
Avimeeherbal hair oil isn't a miracle cure for hair loss; results will take time to appear. Yet, it can significantly enhance a healthy hair care routine. Consider avimeeherbal hair oil as a natural option to improve your hair's health and appearance.
FAQ's
What is Avimee Herbal Keshpallav Hair Oil?

Avimee hair oil is a specially formulated hair oil designed to nourish the scalp, promote hair growth, and improve hair health.
How to Use Avimee Keshpallav Oil for Hair?

For best results, massage a generous amount of the oil onto your scalp and hair. Leave it on for at least an hour or overnight, then wash off using a mild shampoo.
How often should I use Keshpallav Hair Oil?

Use Avimee Herbal Keshpallav Hair Oil 2-3 times a week for best results, adjusting as needed for your individual hair needs.
Is Keshpallav Hair Oil for all hair types?

Keshpallav Hair Oil caters to all hair types, including curly, straight, wavy, and coily, ensuring everyone can enjoy its benefits.
Does Avimee Hair Oil contain any chemicals or artificial fragrances?

We make Avimee herbal hair oil with natural ingredients. Please see the product label for a detailed list of ingredients and potential allergens.
Are there any side effects of using Keshpallav Hair Oil?

There are no known side effects when used as directed. However, if you experience any irritation or allergies, discontinue use and consult a skin doctor.
Can I use avimee herbal keshpallav hair oil with other hair products?

Yes, you can use other hair care products along with Keshpallav Oil. Always wait until your skin fully absorbs the oil before applying any other products.
What is the suggested period for using avimee herbal keshpallav hair oil before it expires?

24 Months from the date of manufacture.
Can Keshpallav Hair Oil regrow hair?

There has been much research regarding the use and results of Avimee Herbal Keshpallav Hair Oil. People used the hair oil for 2-3 times a week and saw tremendous and unbelievable results
Baal to Bach Gaye...
Happy to post... Baal jhadna ruk Gaye... Aur baalon ki acche se growth ho Rahi hai.
So happy with product
this oil work for me....my hairfall stoped
This oil just stopped my hairfall within 2 weeks of use. Thanks
Recommended
Fights Dandruff & Moisturizes Scalp Naturally | With Aloe Vera, Apple Cider Vinegar, Tea Tree Oil & Neem Oil

Sale price

₹550.00

₹650.00

15% OFF

Unit price

per

For Long & Strong Hair | Mineral Oil Free | With Vitamin E and Amla Seed Oil

Sale price

₹350.00

₹395.00

11% OFF

Unit price

per

Controls Hair Fall and Strengthens Hair Root | With Rosemary, Amla, Methi & Bhringraj | SLS & Paraben Free

Sale price

₹1,550.00

₹1,950.00

20% OFF

Unit price

per