Prevents Flaky Scalp & Moisturizes Scalp | Naturally Fights Severe Dandruff | With Rosemary, Apple Cider Vinegar, Tea Tree Oil & Neem Extracts
Sale price
Rs. 550.00
Regular price
Rs. 650.00
15% OFF
Unit price
per
Cruelty Free

Best of Ayurveda

No Toxins

Made In-House
View full details
Product Description
Avimee Herbal's Hairtone DC 1 Scalp Spray is a powerful solution for dandruff and scalp care. It fights dandruff-causing fungi, regulates sebum production, and moisturizes the scalp and hair, ensuring a balanced and healthy scalp. Say goodbye to dandruff and hello to beautiful, dandruff-free hair with Avimee Herbal Hairtone DC 1 Scalp Spray.
Results
Dandruff Control Avimee Herbal Hairtone DC 1 Scalp Spray effectively combats dandruff by inhibiting the growth of dandruff-causing fungi. Regular use helps reduce flakes, itchiness, and the recurrence of dandruff, promoting a healthier scalp.

Sebum Regulation This scalp spray contains ingredients that help control excess sebum production. By maintaining a balanced level of oil on the scalp, it prevents greasiness and maintains a clean and refreshed scalp environment.

Daily Moisturization Avimee Herbal Hairtone DC 1 Scalp Spray provides daily moisturization without leaving an oily residue. It hydrates the scalp and hair, preventing dryness and itchiness, ensuring your hair remains soft, smooth, and comfortable throughout the day.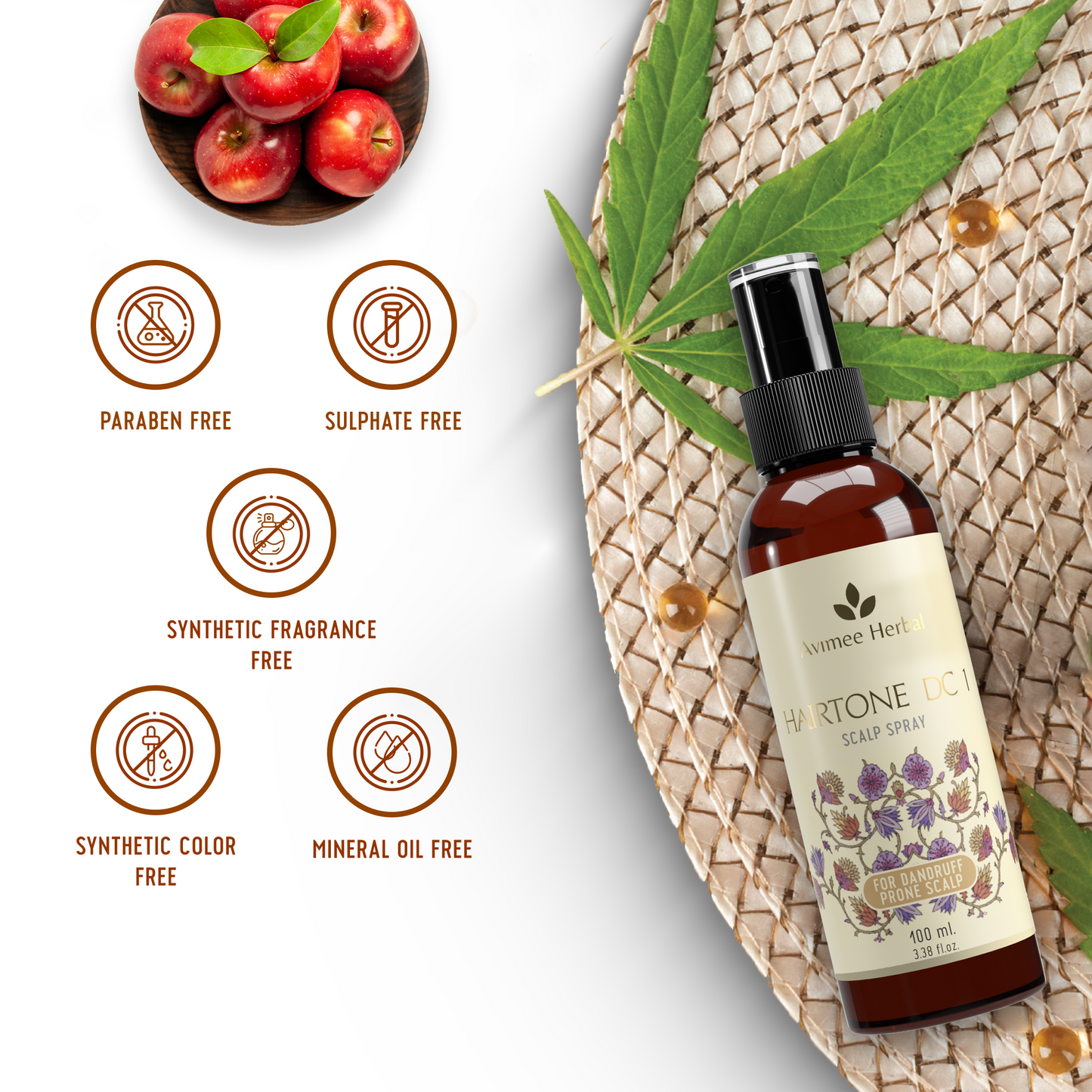 Nilscurf, Tempus, Apple Cider Vinegar, Coiffure, Zinc Pyrithone, Seascalp, Neem extract, Hibiscus extract, Tea tree extract, Rosemary Extract, Lavang Extract, Lactic Acid
Rosemary Rosemary extract is known for its antimicrobial and anti-inflammatory properties. It helps in soothing the scalp and reducing inflammation caused by dandruff. Additionally, rosemary stimulates blood circulation to the scalp, promoting a healthier scalp environment and potentially reducing dandruff recurrence.

Apple Cider Vinegar Apple cider vinegar helps balance the pH levels of the scalp. An imbalanced pH can contribute to dandruff. By restoring the scalp's natural pH, apple cider vinegar creates an environment less favorable for the growth of dandruff-causing fungi.

Tea Tree Oil: Tea tree oil is well-known for its antifungal and antibacterial properties. It directly targets the fungi responsible for dandruff, helping to reduce their growth and alleviate dandruff symptoms. It also has a soothing effect on an itchy scalp.

Neem Extracts Neem is a potent natural ingredient with strong antibacterial and antifungal properties. It helps combat the fungi causing dandruff and soothes scalp irritation. Neem has been used traditionally for its effectiveness in maintaining scalp health.
Apply the spray directly onto a clean and dry scalp avoiding hair as much as possible. Let it dry and don't wash it off. Apply 1-2 times a day.
It is helpful in
Effective Dandruff Control
Balanced Sebum Production
Daily Moisturization
Avimee Herbal Hairtone DC 1 Scalp Spray is recommended for individuals who are dealing with dandruff-related concerns and are seeking a natural and effective solution for their scalp and hair. It is particularly suitable for: Those with Dandruff Issues: This scalp spray is ideal for individuals experiencing dandruff, whether it's occasional or persistent. It helps in controlling dandruff symptoms and promoting a dandruff-free scalp. People with Itchy or Irritated Scalp: If you have an itchy or irritated scalp due to dandruff, the soothing properties of this spray, including ingredients like Tea Tree Oil and Neem Extracts, can provide relief. Individuals with Oily Scalp: If you have an oily scalp that tends to contribute to dandruff, the product's ability to regulate sebum production can be particularly beneficial in maintaining a balanced scalp. Those Seeking Natural Hair Care: If you prefer natural and chemical-free hair care solutions, Avimee Herbal Hairtone DC 1 Scalp Spray is a suitable choice. It harnesses the power of natural ingredients to address dandruff issues. People with Various Hair Types: This product is suitable for individuals with different hair types, making it a versatile solution for a broad range of dandruff-related concerns. Anyone Looking for Daily Scalp Care: Since it's non-oily and can be used daily, it's also suitable for those looking to maintain a healthy and comfortable scalp as part of their daily hair care routine. Remember that individual results may vary, and it's essential to conduct a patch test before using any new hair product, especially if you have sensitive skin or known allergies.
Multicolumn
Fights Dandruff & Moisturizes Scalp Naturally | With Aloe Vera, Apple Cider Vinegar, Tea Tree Oil & Neem Oil

Sale price

Rs. 550.00

Rs. 650.00

15% OFF

Unit price

per

For Long & Strong Hair | Mineral Oil Free | With Vitamin E and Amla Seed Oil

Controls Hair Fall and Strengthens Hair Root | With Rosemary, Amla, Methi & Bhringraj | SLS & Paraben Free

Sale price

Rs. 1,560.00

Rs. 1,950.00

20% OFF

Unit price

per