Fights Split Ends & Strengthens Hair | Enriched With Vitamin E | Mineral Oil Free | For Nourished Skin, Hair, and Scalp
Sale price
Rs. 695.00
Regular price
Unit price
per
Cruelty Free

Best of Ayurveda

No Toxins

Made In-House
View full details
Product Description
Discover the natural beauty elixir that your hair has been craving with Avimee Herbal Cold Pressed Sweet Almond Oil. Our premium almond oil is a treasure trove of hair-loving nutrients, enriched with Vitamin E, and free from harmful mineral oils. Say goodbye to split ends and hello to stronger, more radiant hair!

Results
Strengthens Hair The almond oil's essential fatty acids and Vitamin E work together to strengthen hair follicles, reducing breakage and promoting overall hair strength.

Fight Split Ends Regular use of this almond oil nourishes and moisturizes the hair, reducing the risk of split ends and leaving your locks looking healthier.

Enhances Shine It enhances the natural shine and luster of your hair, making it appear more vibrant and radiant.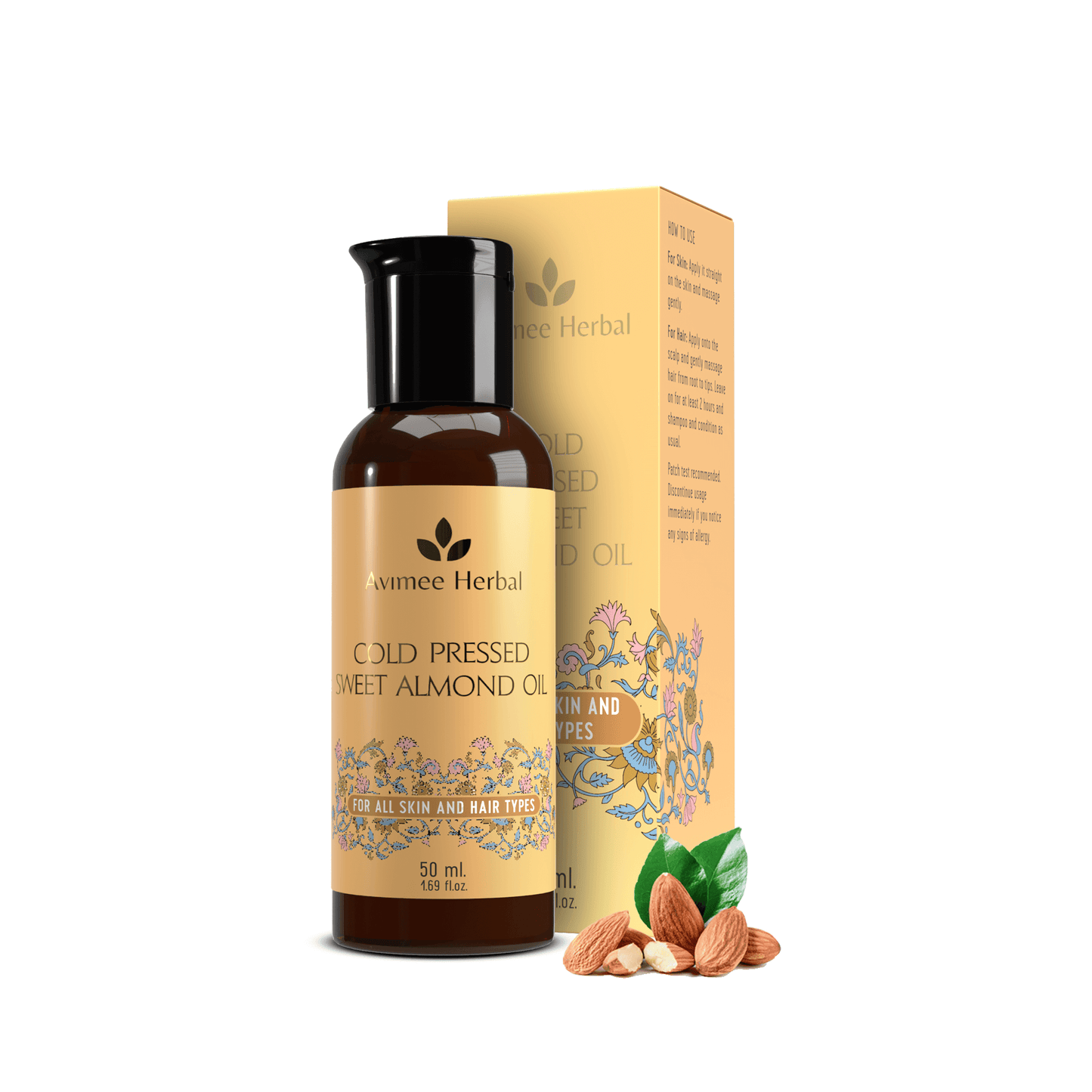 Cold Pressed Sweet Almond Oil, Vitamin E
Sweet Almond Oil Strengthens hair, fights split ends, enhances shine, and maintains a healthy scalp.

Vitamin E Provides antioxidant protection, nourishes hair and scalp, and contributes to overall hair health and shine.
For Hair: Apply a small amount of Avimee Herbal Sweet Almond Oil to your scalp and hair, gently massaging it in. Leave it on for a few hours or overnight, then shampoo as usual for luxurious, nourished locks.
It is helpful in
Hair Strengthening
Fighting Split Ends
Enhancing Shine
Scalp Health
Avimee Herbal Cold Pressed Sweet Almond Oil enriched with Vitamin E is recommended for: Individuals with Hair Concerns: People looking to strengthen their hair, reduce split ends, and enhance hair shine. Chemical-Free Beauty Enthusiasts: Those seeking natural and chemical-free hair care solutions. Scalp Health Seekers: Individuals interested in maintaining a healthy scalp environment and reducing dryness and itchiness. Anyone Seeking Nourished Hair: People who want to nourish and moisturize their hair for a healthier and more radiant appearance. This versatile almond oil caters to a wide range of hair care needs and is suitable for all hair types, making it an excellent addition to your beauty routine. Whenever you start with a new product, please do a patch test first.
Must have for skin
It's a must have for skin routine
Cold Pressed Sweet Almond Oil
Multicolumn
Fights Dandruff & Moisturizes Scalp Naturally | With Aloe Vera, Apple Cider Vinegar, Tea Tree Oil & Neem Oil

Sale price

Rs. 550.00

Rs. 650.00

15% OFF

Unit price

per

For Long & Strong Hair | Mineral Oil Free | With Vitamin E and Amla Seed Oil

Controls Hair Fall and Strengthens Hair Root | With Rosemary, Amla, Methi & Bhringraj | SLS & Paraben Free

Sale price

Rs. 1,560.00

Rs. 1,950.00

20% OFF

Unit price

per