For Stronger & Shinier Hair | Enriched with Vitamin E | Mineral Oil Free
Sale price
Rs. 425.00
Regular price
Unit price
per
Cruelty Free

Best of Ayurveda

No Toxins

Made In-House
View full details
Product Description
Unveil the power of nature with Avimee Herbal Cold Pressed Castor Oil, a pure elixir for your hair and skin. Sourced from the pristine fields of Rajasthan and enriched with Vitamin-E, our cold-pressed castor oil is your ultimate beauty companion.
Results
Hair Strength and Thickness Our castor oil strengthens hair roots, reduces breakage, and promotes thicker, more resilient hair.

Skin Hydration and Nourishment Enriched with Vitamin E, it deeply moisturizes and nourishes the skin, leaving it soft, supple, and glowing.

Eyelash and Eyebrow Enhancement It's a natural and safe option for enhancing the appearance of eyelashes and eyebrows, framing your eyes beautifully.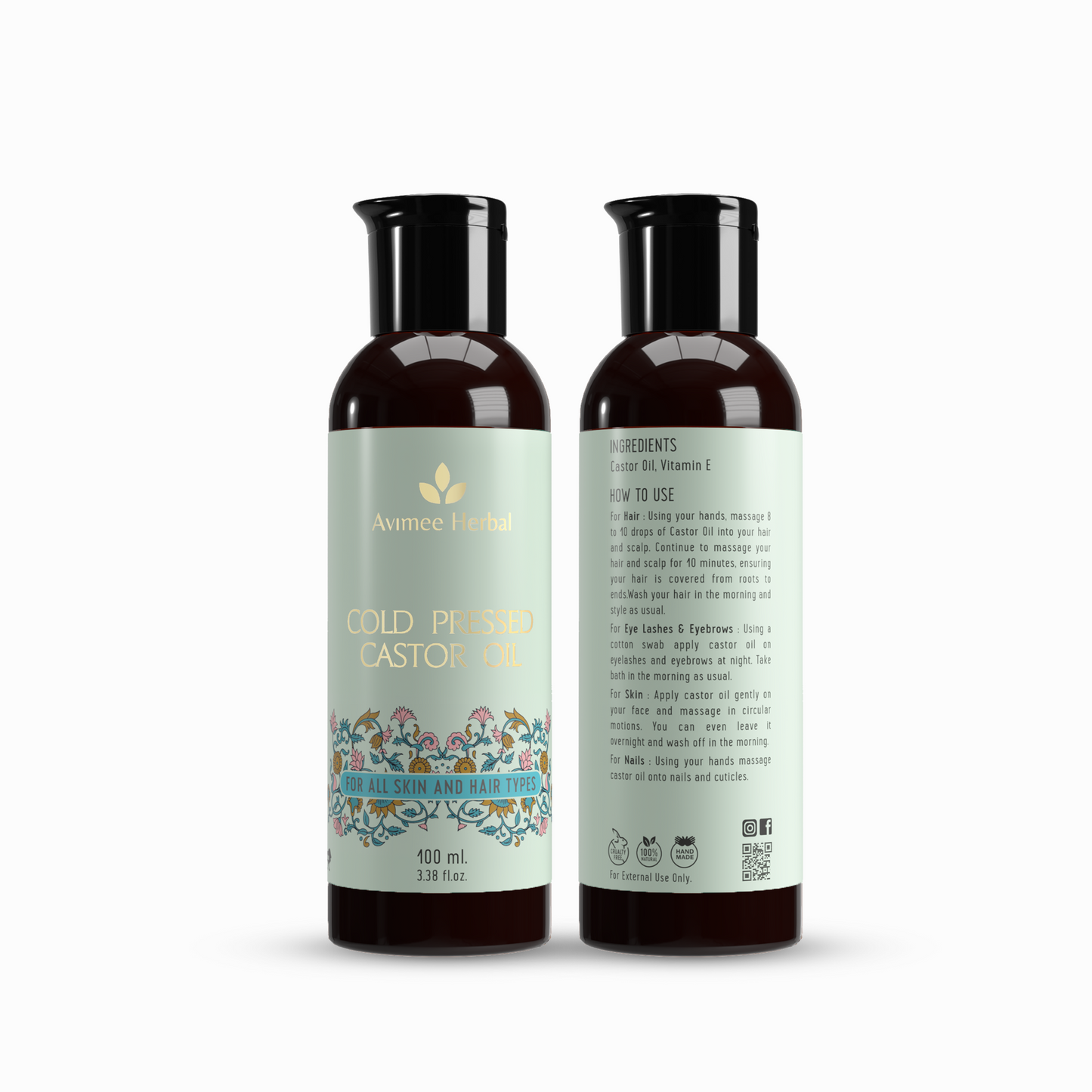 Cold Pressed Castor Oil, Vitamin E
Castor Oil Strengthens hair, soothes the scalp, enhances eyelash and eyebrow appearance, and moisturizes the skin.

Vitamin E Provides antioxidant protection, nourishes the skin, reduces scars and stretch marks, and supports hair health.
For Hair Using your hands, massage 8 to 10 drops of Castor Oil into your hair and scalp. Continue to massage your hair and scalp for 10 minutes, ensuring your hair is covered from roots to ends. Wash your hair in the morning and style as usual. For Eye Lashes & Eyebrows Using a cotton swab apply castor oil on eyelashes and eyebrows at night. Take bath in the morning as usual. For Skin Apply castor oil gently on your face and massage in circular motions. You can even leave it overnight and wash off in the morning. For Nails Using your hands massage castor oil onto nails and cuticles.
It is helpful in
Strengthens and Thickens Hair Volume
Hydrates and Nourishes Skin
Enhances Eyelashes and Eyebrows
Avimee Herbal Cold Pressed Castor Oil with Vitamin E is recommended for: Hair Care Enthusiasts: Individuals seeking stronger, thicker hair and those looking to reduce hair breakage. Skin Hydration Seekers: Those in need of deep skin hydration and softness, especially for dry or dehydrated skin. Whenever you start with a new product, patch test is recommended. Eyelash and Eyebrow Enhancers: People interested in enhancing the thickness and appearance of eyelashes and eyebrows. Scar and Stretch Mark Reduction: Individuals looking to improve the appearance of scars and stretch marks on their skin. Natural Beauty Lovers: Anyone who prefers natural and chemical-free beauty products for both hair and skin care. This versatile oil caters to a wide range of beauty needs and is suitable for all skin and hair types.
Cold-Pressed Castor Oil | Pure, Natural, and Chemical-Free | For Hair and Skin | 100ml
vxvcxc xc xcxcx
xcvx x x xcv xc x xcv xxcvx vx xc xcvx cv
Cold press castor oil
I had order in my last consignment and received only shampoo, spray and hair oil.
Multicolumn
Fights Dandruff & Moisturizes Scalp Naturally | With Aloe Vera, Apple Cider Vinegar, Tea Tree Oil & Neem Oil

Sale price

Rs. 550.00

Rs. 650.00

15% OFF

Unit price

per

For Long & Strong Hair | Mineral Oil Free | With Vitamin E and Amla Seed Oil

Controls Hair Fall and Strengthens Hair Root | With Rosemary, Amla, Methi & Bhringraj | SLS & Paraben Free

Sale price

Rs. 1,560.00

Rs. 1,950.00

20% OFF

Unit price

per