Herbal Cool Oil | Relieves Headache, Fatigue, Sleeplessness and Tension | Mineral Oil Free
Sale price
Rs. 550.00
Regular price
Rs. 650.00
15% OFF
Unit price
per
Cruelty Free

Best of Ayurveda

No Toxins

Made In-House
View full details
Product Description
Avimee Herbal Champi Tailam is made from a blend of cooling herbs which provides quick relief from headaches and fatigue caused by everyday stress. Enjoy a cooling effect and relief from the heat while you relax and balance out sleeplessness or tension.

Results
Relieves Headache The blend of cooling herbs, including Menthol Crystal, Camphor Oil, and Thyme Oil, in Champi Tailam helps provide quick relief from headaches. Massaging this oil on the temples and forehead can alleviate tension and discomfort associated with headaches.

Reduces Fatigue The cooling properties of this oil, along with ingredients like Ginseng Oil and Ashwagandha Oil, help in reducing fatigue and promoting relaxation. A Champi massage can rejuvenate your senses and relieve tiredness.

Improves Sleep Quality Avimee Herbal Champi Tailam contains Jatamansi Oil and Sankhpushpi Oil, which are known for their calming and soothing properties. Massaging the oil and enjoying its cooling effect can help balance sleeplessness and promote better sleep quality.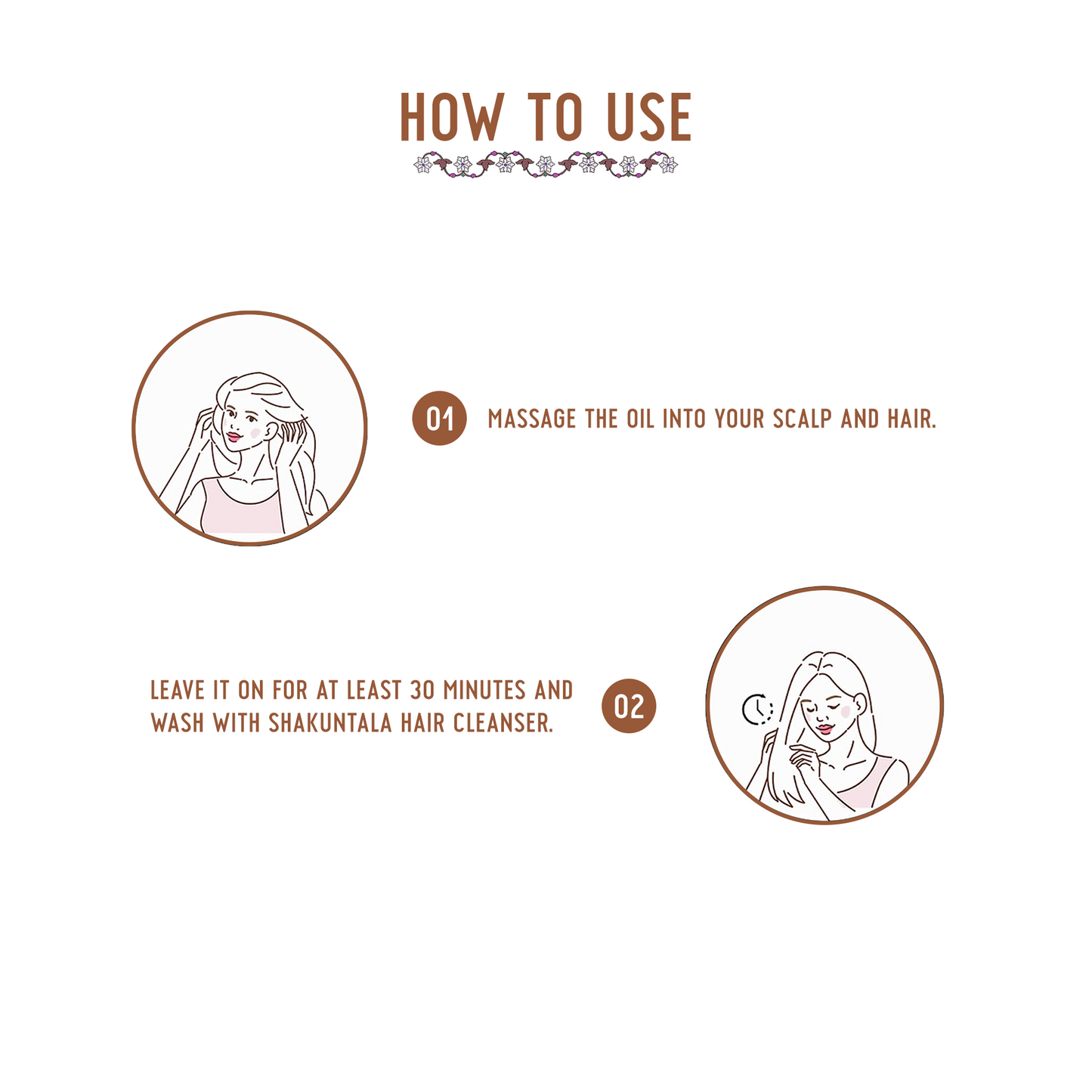 MCT Oil, Keshpallav Hair Oil, Menthol Crystal, Camphor Oil, Jatamansi Oil, Sandal Oil, Frankincense Oil, Sankhpushpi Oil, Vach Oil, Ashwagandha Oil, Ginseng Oil, Tagar Oil, Brahmi Oil, Bhringraj Oil, Mandukparni Oil, Clove Oil, Ratanjot Oil, Punarnava Oil, Nagkesar Oil, Black Tea Oil, Sarpagandha Oil, Thyme Oil, Eucalyptus Oil, BHT
MCT Oil MCT oil is essential for its quick energy supply to the body and brain. It aids in overall alertness and can enhance the massage experience.

Menthol Crystal Menthol's cooling sensation is vital for relieving headaches and muscle pain, offering immediate relief and relaxation.

Camphor Oil Camphor is known for its soothing properties and is indispensable in reducing inflammation and pain, making it a key ingredient for relaxation.

Jatamansi Oil Jatamansi is crucial for its stress-reducing effects and its ability to promote relaxation and alleviate sleeplessness and tension.
Apply Champi oil to fingertips. Start at the base of the skull, and massage in circular motions. Move to temples, forehead, and scalp. Gently knead and rub for 10-15 mins. Relax & enjoy the rejuvenating benefits. Wash hair post-massage. Feel the tension melt away!
It is helpful in
Headache Relief
Reducing Fatigue
Improving Sleep Quality
Relieving Tension
Avimee Herbal Champi Tailam is recommended for individuals who experience the following conditions: Headaches: This herbal cool oil is suitable for people who frequently suffer from headaches, including tension headaches or those caused by stress. Fatigue: It is beneficial for individuals who often feel tired and fatigued, helping to provide relief and revitalization. Sleeplessness: If you have trouble falling asleep or experience restless nights, this oil may help promote relaxation and improve sleep quality. Tension: Avimee Herbal Champi Tailam is recommended for those who experience muscular tension, especially in the head and neck areas. It is advisable to perform a patch test before using Avimee Herbal Champi Tailam or any new skincare or haircare product.
Multicolumn
Fights Dandruff & Moisturizes Scalp Naturally | With Aloe Vera, Apple Cider Vinegar, Tea Tree Oil & Neem Oil

Sale price

Rs. 550.00

Rs. 650.00

15% OFF

Unit price

per

For Long & Strong Hair | Mineral Oil Free | With Vitamin E and Amla Seed Oil

Controls Hair Fall and Strengthens Hair Root | With Rosemary, Amla, Methi & Bhringraj | SLS & Paraben Free

Sale price

Rs. 1,560.00

Rs. 1,950.00

20% OFF

Unit price

per