SPF 50 PA++++ | With The Goodness Of Vitamin E, Shea Butter, Mango Butter & Jojoba Oil | For Normal To Dry Skin
Sale price
Rs. 499.00
Regular price
Rs. 550.00
9% OFF
Unit price
per
Cruelty Free

Best of Ayurveda

No Toxins

Made In-House
View full details
Product Description
Shield your skin from the sun's harmful rays with Soorya Kawach Sunscreen! It's loaded with natural minerals like zinc oxide and offers a broad-spectrum SPF 50 PA++++. This gentle, hypoallergenic mineral-based sunscreen is perfect for dry to normal skin. Ensure the best sun protection for your face and body with Soorya Kawach!
Results
Skin Nourishment Enriched with ingredients like Shea Butter, Mango Butter, and Jojoba Oil, this sunscreen not only protects your skin but also provides essential hydration and nourishment. It keeps your skin moisturized, making it suitable for normal to dry skin types.

High Sun Protection Soorya Kawach Sunscreen offers SPF 50 PA++++ protection, providing a strong shield against harmful UVA and UVB rays. This helps prevent sunburn, skin darkening, and other sun-induced skin damage.

Antioxidant Defense The inclusion of Vitamin E, Pomegranate Oil, and Ginseng Extract helps combat free radicals and oxidative stress caused by sun exposure. This antioxidant-rich formula assists in maintaining skin health and vitality.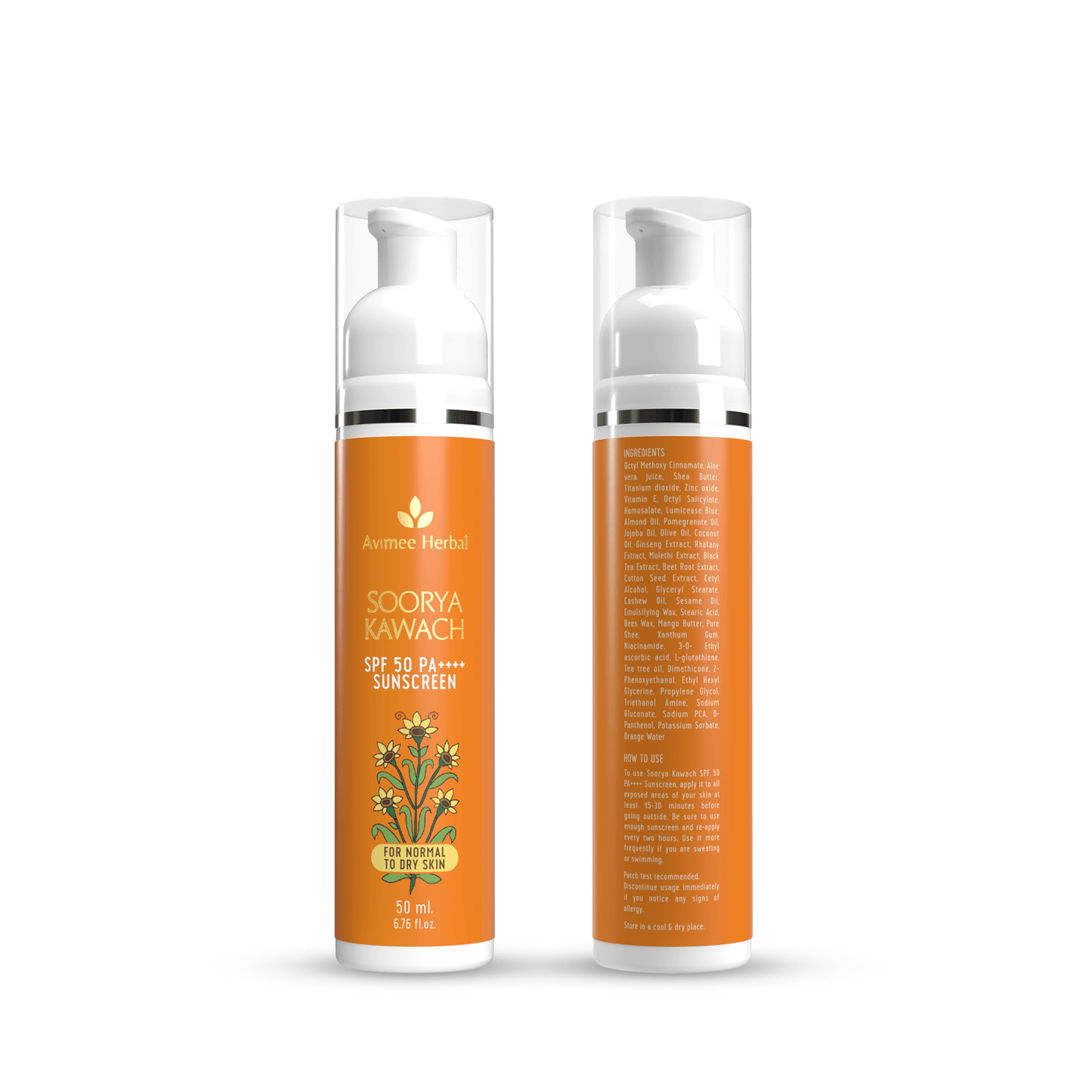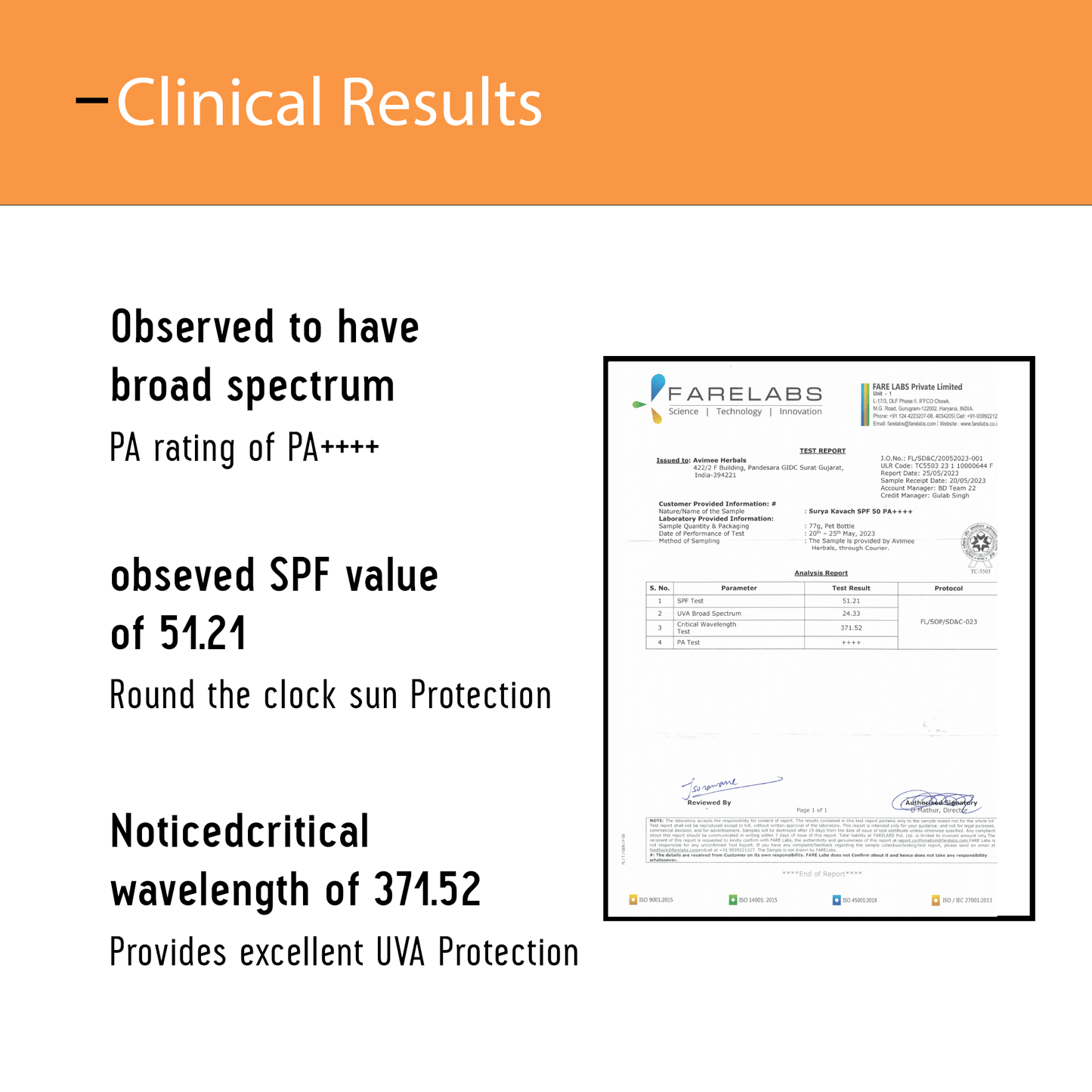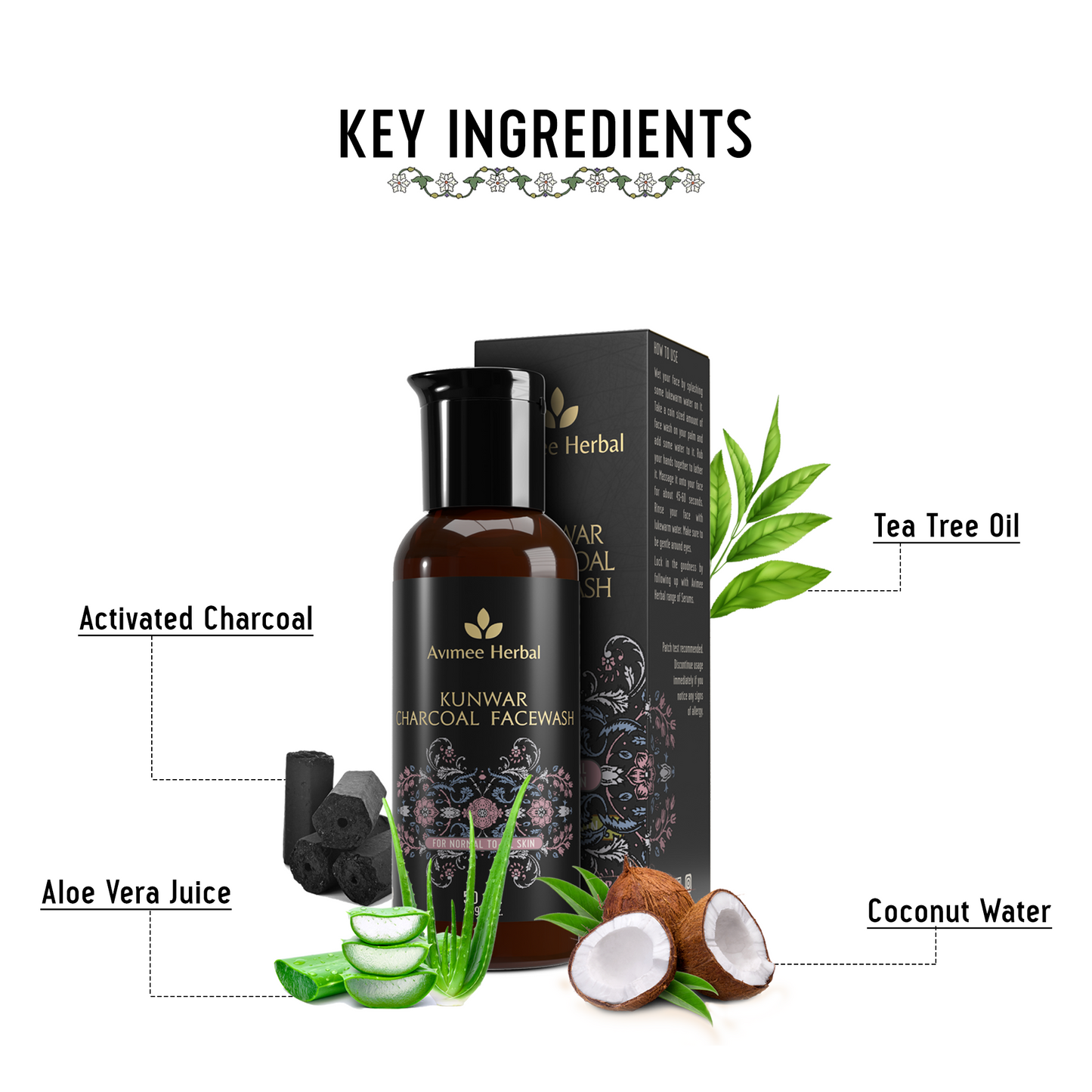 Octyl Methoxy Cinnamate, Aloe vera juice, Shea Butter, Titanium dioxide, Zinc Oxide, Vitamin E, Octyl Salicylate, Homosalate, Lumicease Blue, Almond Oil, Pomegranate Oil, Jojoba Oil, Olive Oil, Coconut Oil, Ginseng Extract, Beet Root Extract, Rhatany Extract, Mulethi Extract, Black Tea Extract, Cotton Seed Extract, Cetyl Alcohol, Glyceryl Stearate, Cashew Oil, Sesame Oil, Emulsifying Wax, Mango Butter, Pure Ghee, Xanthum Gum, Niacinamide, 3-0-Ethyl ascorbic acid, L-glutathione, Tea tree oil, Dimethicone, 2- Phenoxyethanol, Ethyl Hexyl Glycerine, Propylene Glycol, Triethanol Amine, Sodium Gluconate, Sodium PCA, D - Panthenol, Potassium Sorbate, Orange Water.
Shea Butter Shea butter is a superb natural moisturizer that deeply hydrates the skin. It helps in keeping the skin soft, supple, and smooth. Shea butter also contains vitamins and essential fatty acids that nourish the skin, making it an excellent choice for dry and dehydrated skin types.

Vitamin E: Vitamin E is a powerful antioxidant that helps protect the skin from the harmful effects of free radicals caused by UV rays and environmental pollutants. It also aids in skin repair and regeneration, promoting a youthful and radiant complexion.

Jojoba Oil Jojoba oil closely resembles the skin's natural sebum, making it an ideal ingredient for balancing oil production. It moisturizes the skin without clogging pores, making it suitable for acne-prone and sensitive skin. Jojoba oil soothes and calms irritated skin and helps maintain a healthy skin barrier.

Pomegranate Oil & Ginseng Extract Pomegranate oil and ginseng extract are rich in antioxidants, which protect the skin from premature aging and damage caused by UV radiation. They support collagen production, improving skin elasticity and firmness. These ingredients leave your skin looking youthful and rejuvenated.
To Use Soorya Kawach SPF 50 PA++++ Sunscreen, apply it to all exposed areas of your skin at least 15-30 minutes before going outside. Be sure to use enough sunscreen and re-apply every two hours. Use it more frequently if you are sweating or swimming.
It is helpful in
High Sun Protection
Skin Nourishment
Antioxidant Defence
Broad Spectrum Protection
Avimee Herbal Soorya Kawach Sunscreen with SPF 50 PA++++ and its nourishing ingredients like Vitamin E, Shea Butter, Mango Butter, and Jojoba Oil is recommended for individuals with normal to dry skin. It's suitable for those who want effective sun protection along with skin hydration and nourishment. This sunscreen is particularly beneficial for: Dry Skin Types: If you have dry skin, this sunscreen will help keep your skin moisturized while shielding it from harmful UV rays. Sensitive Skin: The natural and non-irritating ingredients make it a good choice for those with sensitive skin as it's less likely to cause irritation. Anyone Seeking High Sun Protection: With SPF 50 and PA++++, it offers excellent protection against both UVA and UVB rays, making it suitable for people in areas with intense sun exposure. Individuals Looking for Anti-Aging Benefits: The inclusion of antioxidants like Vitamin E, Pomegranate Oil, and Ginseng Extract helps combat premature aging caused by sun damage. Those Who Prefer Nourishing Sunscreen: If you want more from your sunscreen than just protection, this product combines sun defense with skin-loving ingredients. Always perform a patch test before full application, especially if you have sensitive or allergy-prone skin, to ensure it suits your skin type.
Multicolumn
Fights Dandruff & Moisturizes Scalp Naturally | With Aloe Vera, Apple Cider Vinegar, Tea Tree Oil & Neem Oil

Sale price

Rs. 550.00

Rs. 650.00

15% OFF

Unit price

per

For Long & Strong Hair | Mineral Oil Free | With Vitamin E and Amla Seed Oil

Controls Hair Fall and Strengthens Hair Root | With Rosemary, Amla, Methi & Bhringraj | SLS & Paraben Free

Sale price

Rs. 1,560.00

Rs. 1,950.00

20% OFF

Unit price

per