For Long & Strong Hair | Mineral Oil Free | With Vitamin E and Amla Seed Oil
Sale price
Rs. 395.00
Regular price
Unit price
per
Cruelty Free

Best of Ayurveda

No Toxins

Made In-House
View full details
Product Description
Experience the transformative power of Avimee Herbal Amla Hair Oil, a centuries-old secret for lustrous, nourished locks. Enriched with the goodness of Amla, nature's treasure trove of hair-loving nutrients, this oil is your key to hair that's as beautiful as it is healthy.
Results
Strengthens Hair Follicles Avimee Herbal Amla Hair Oil, with its blend of Amla Fruit Oil and Amla Seed Oil, fortifies hair follicles, enhancing the overall strength and resilience of your hair.

Enhances Natural Shine Regular use of this oil enhances the natural shine and luster of your hair. The blend of Amla Oil, Acerola Fruit Oil, and other ingredients leaves your locks looking radiant and vibrant.

Soothes and Balances Scalp Amla Oil helps maintain a balanced and comfortable scalp environment. It alleviates issues such as dryness and itchiness, ensuring a soothing experience for your scalp.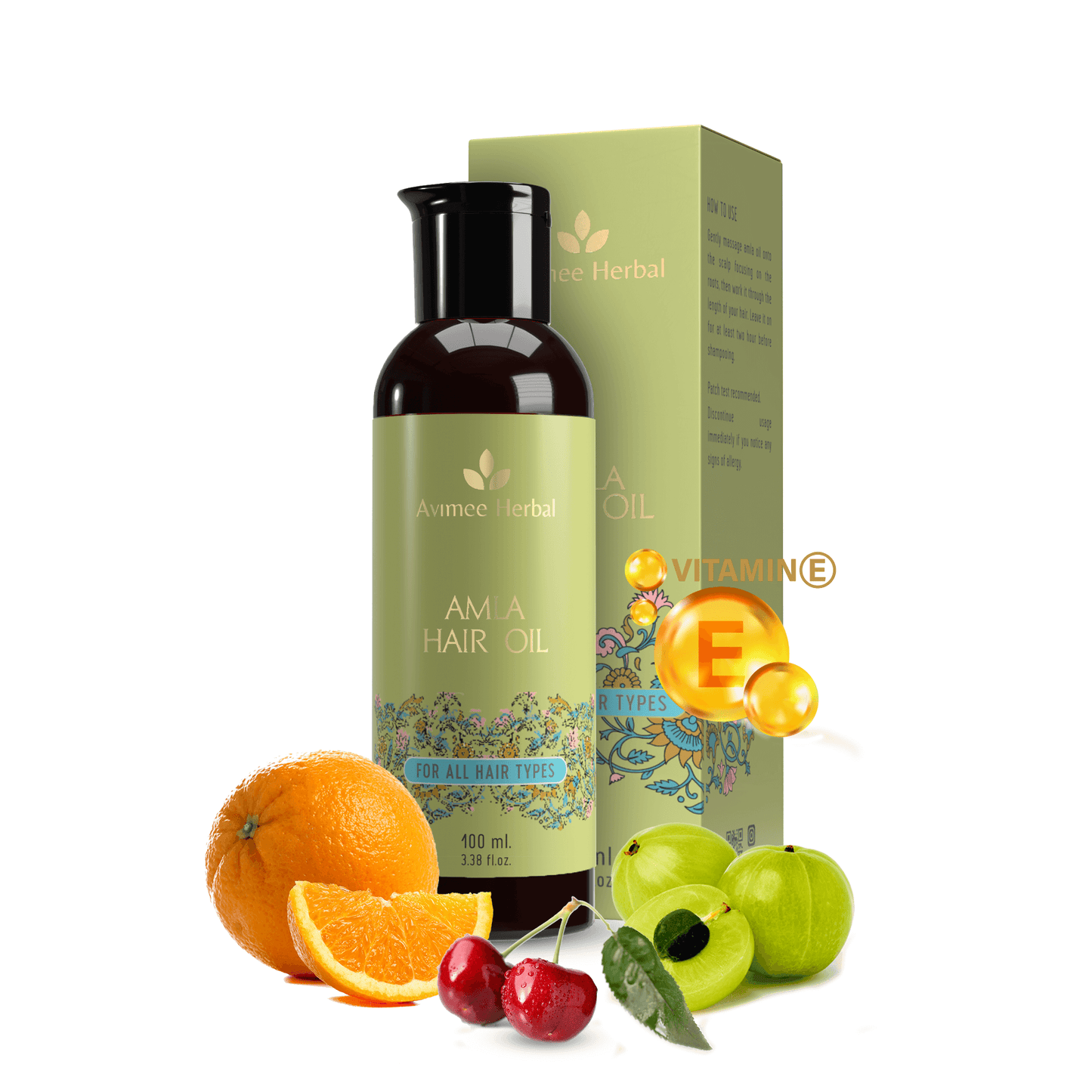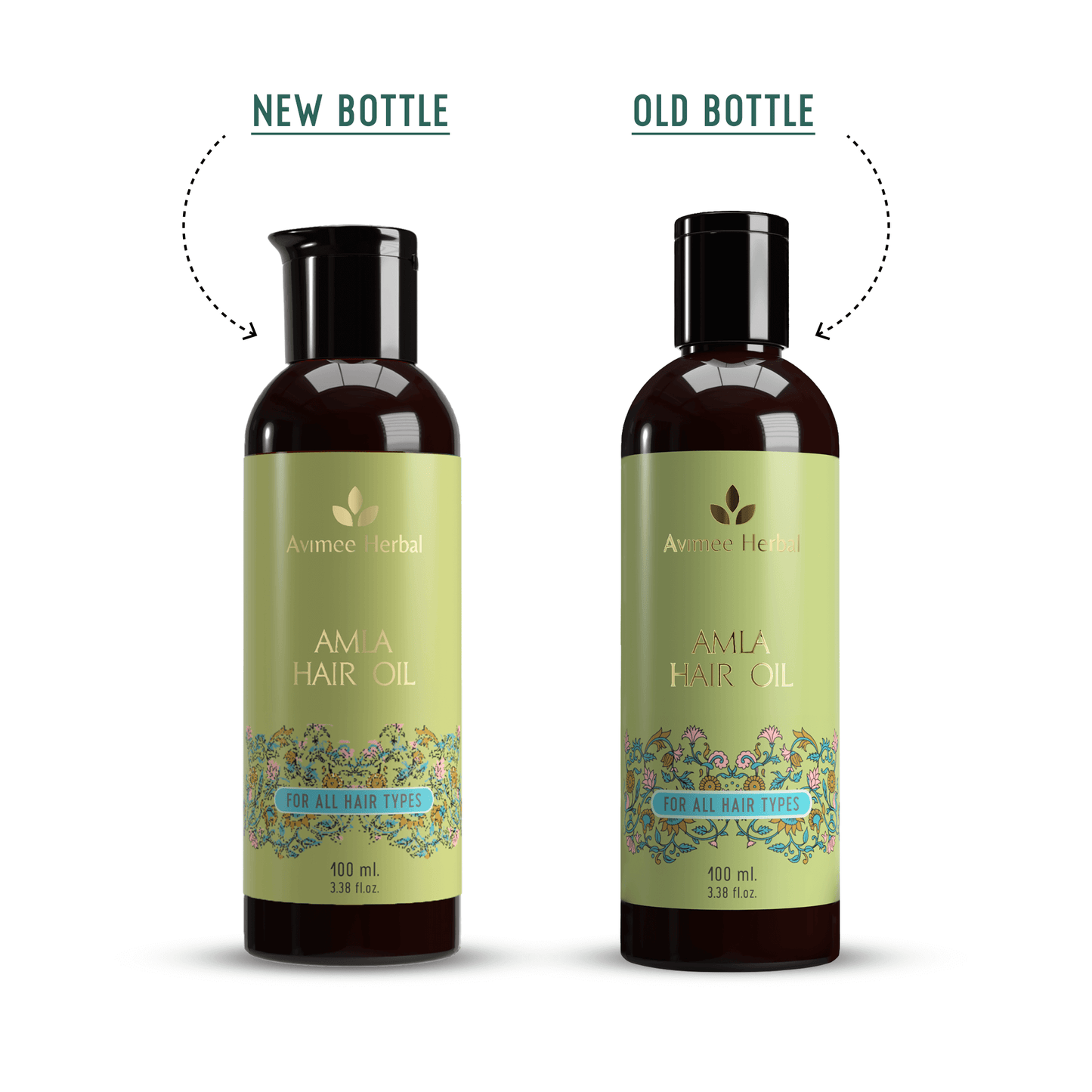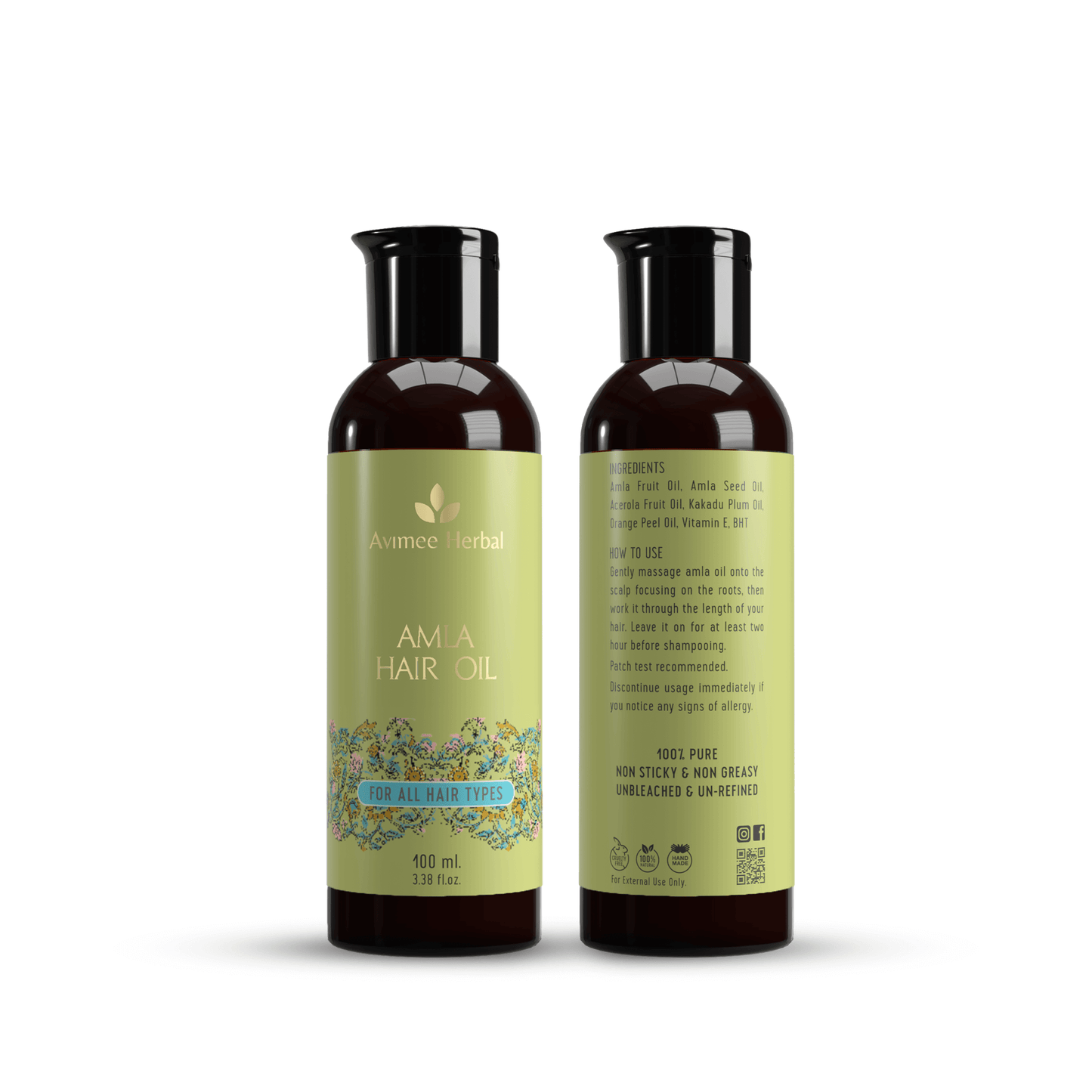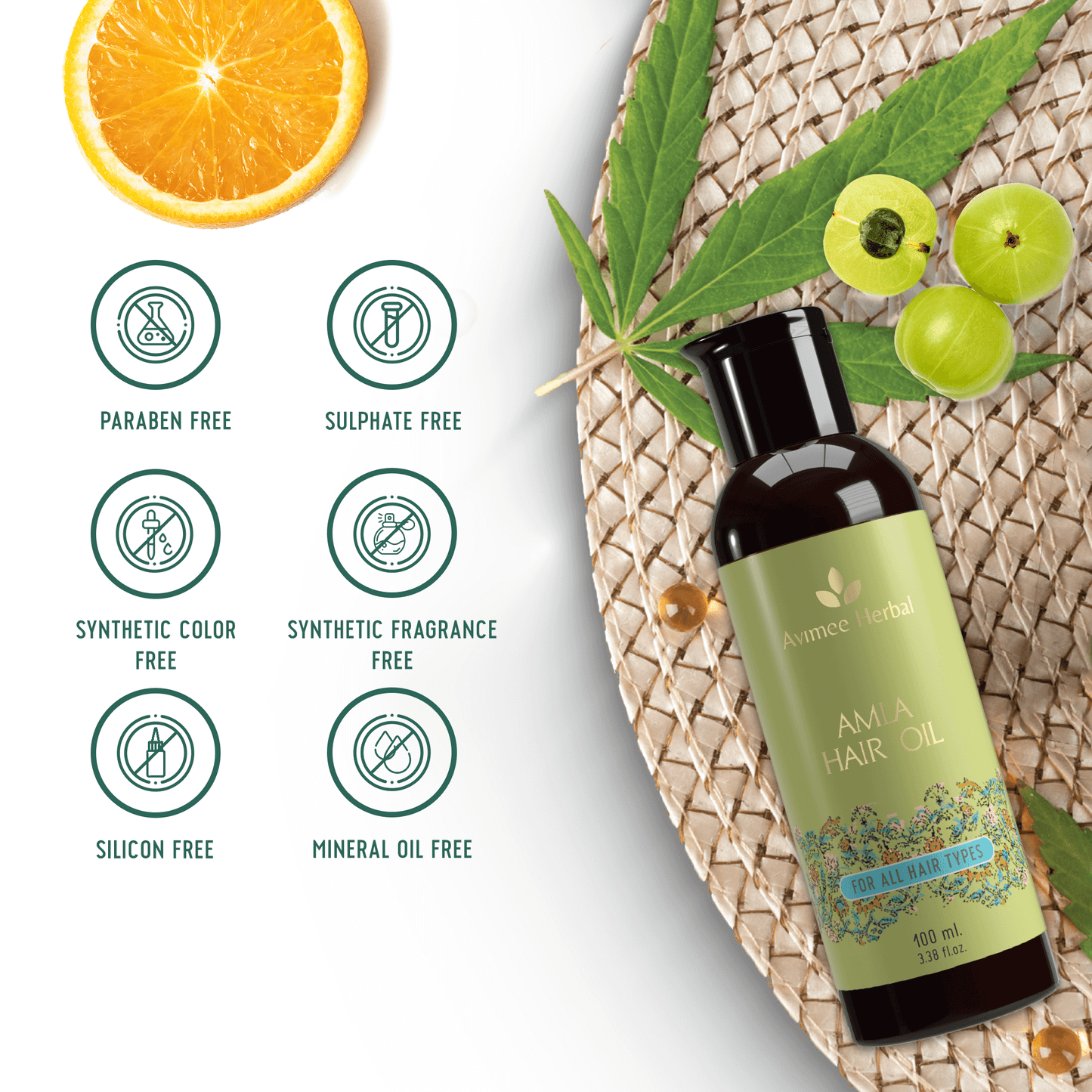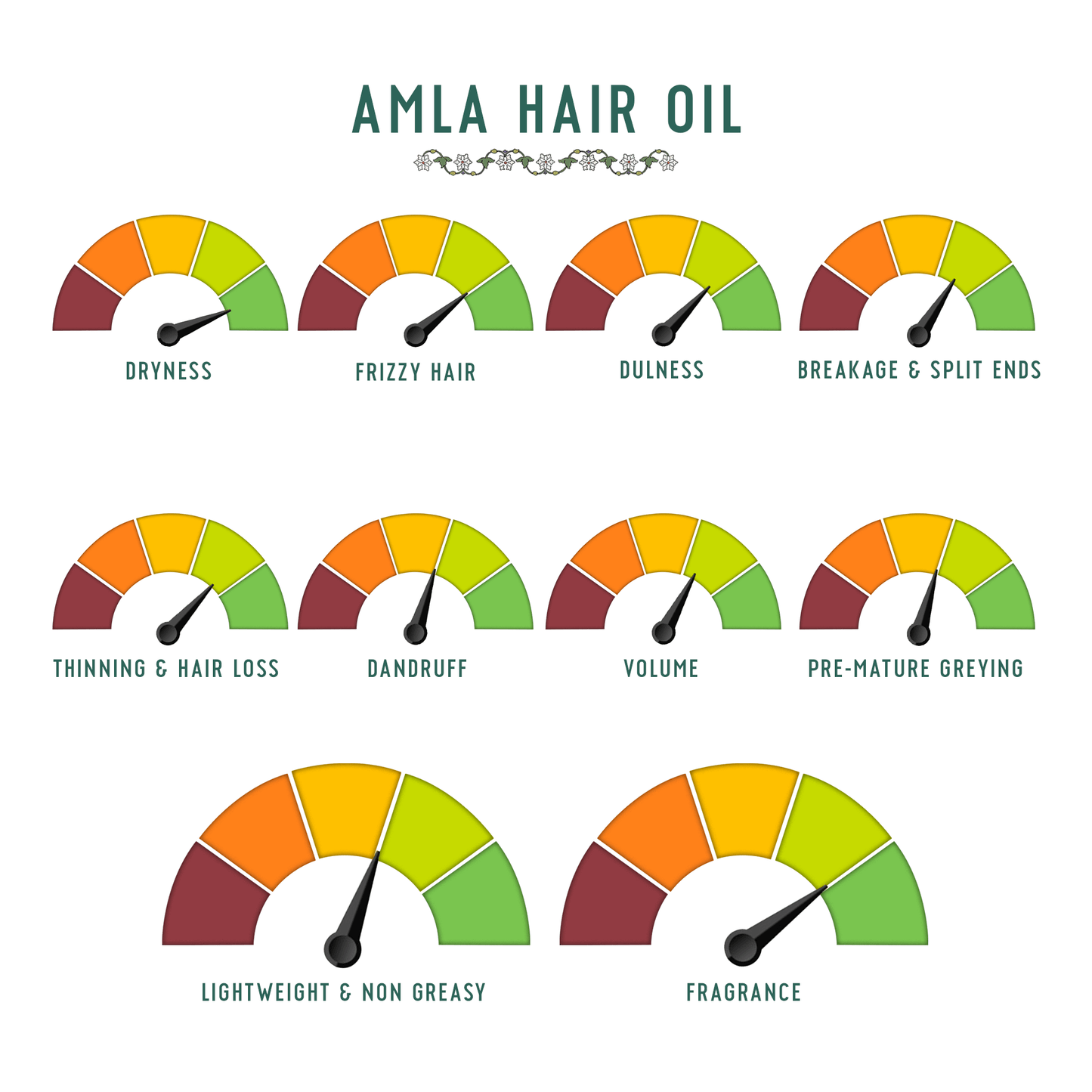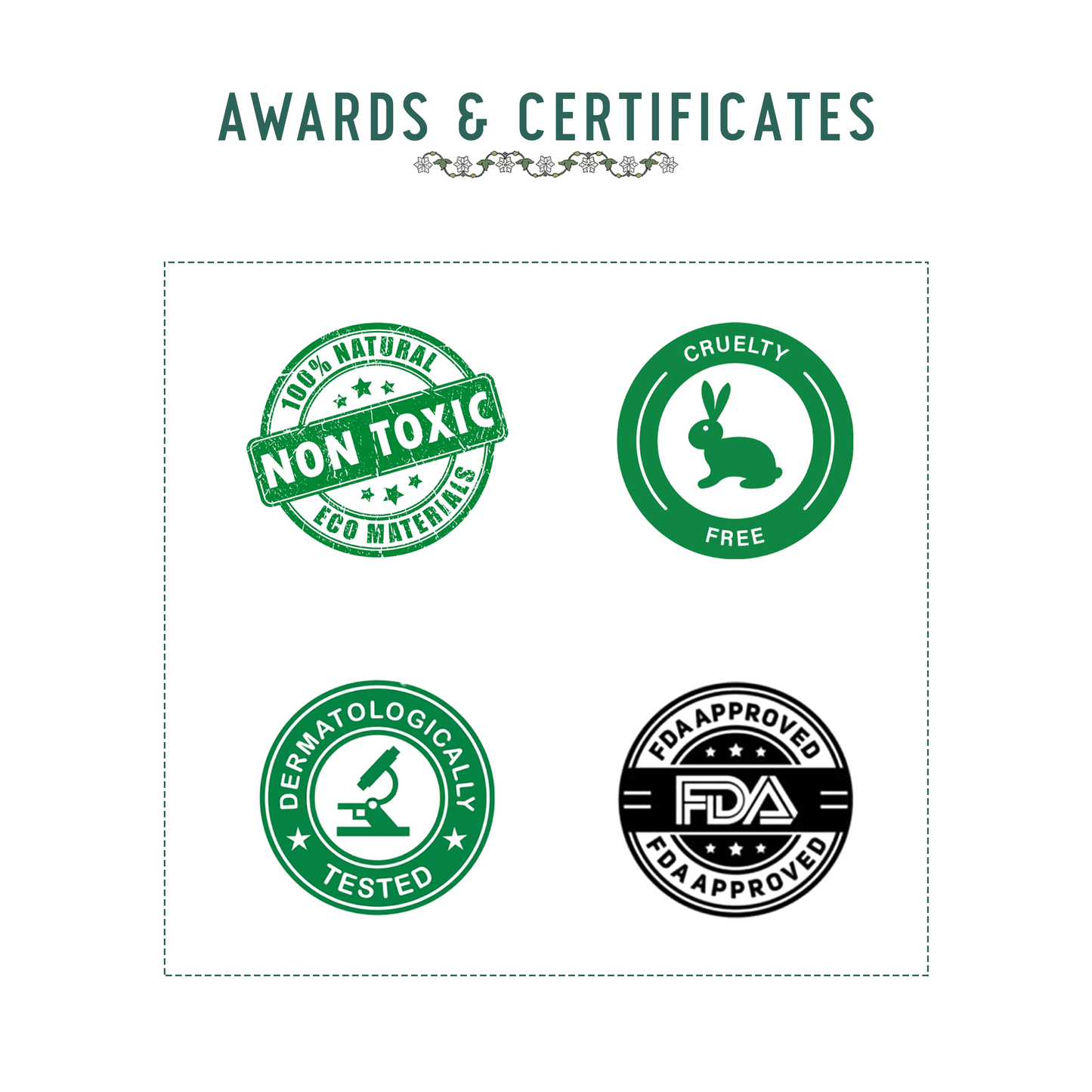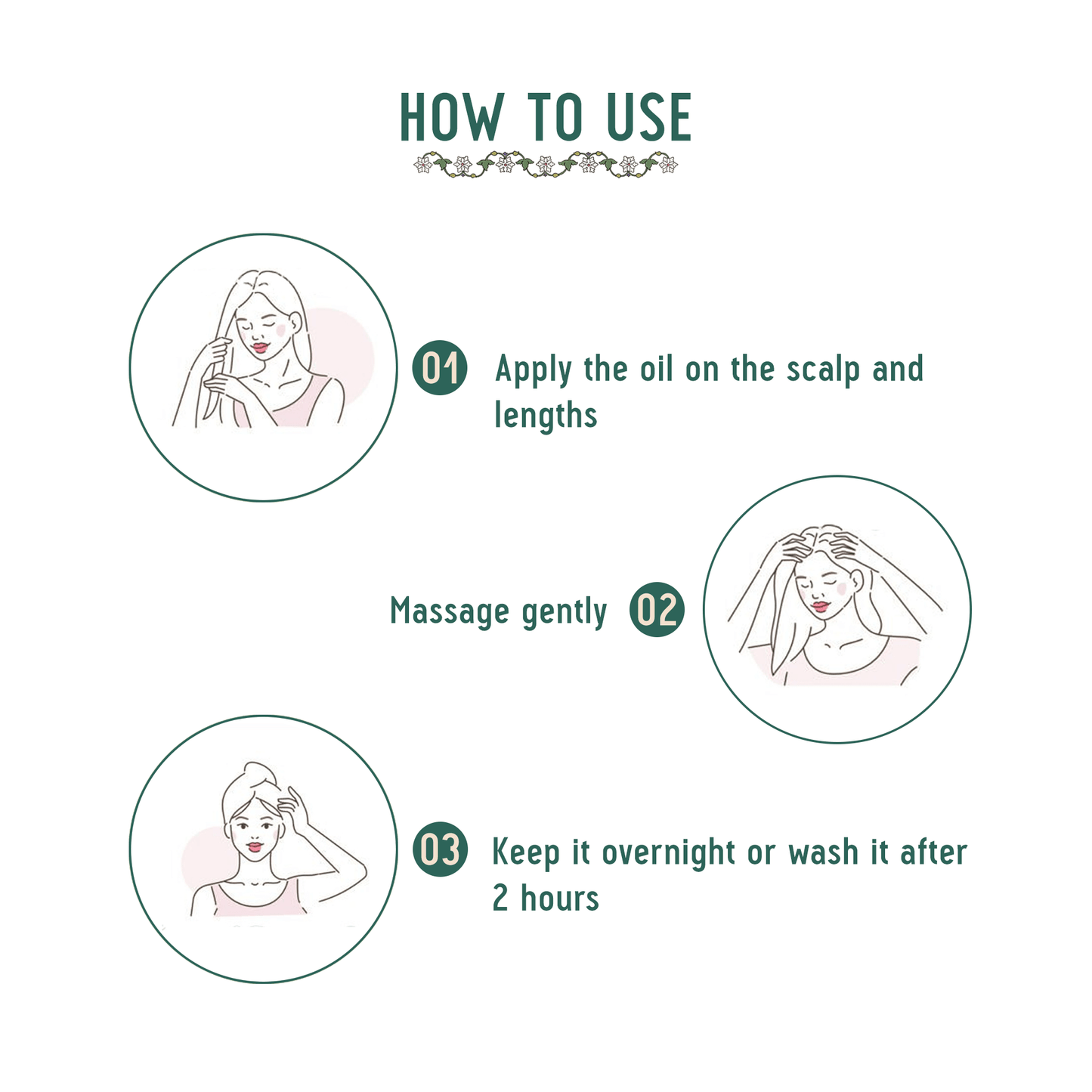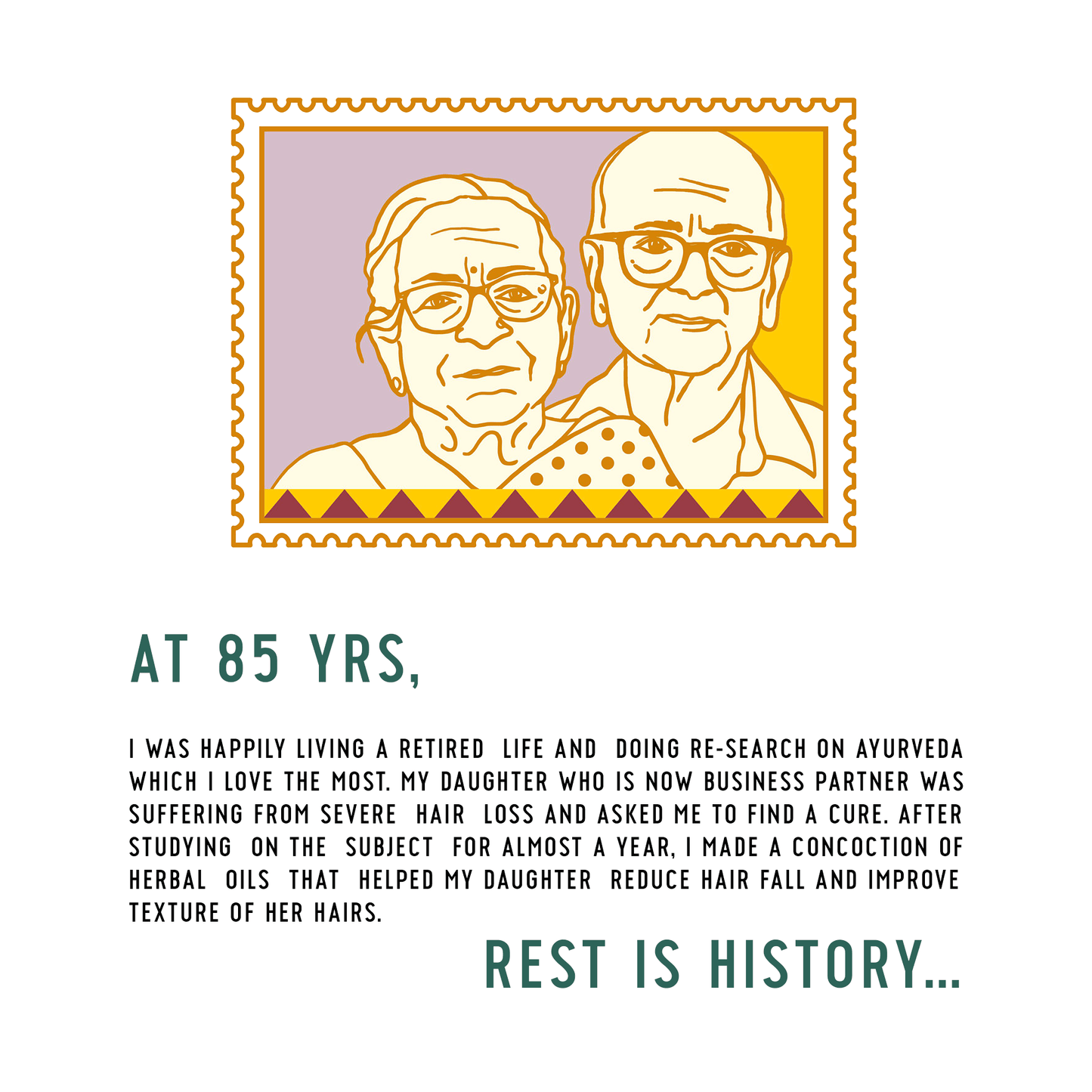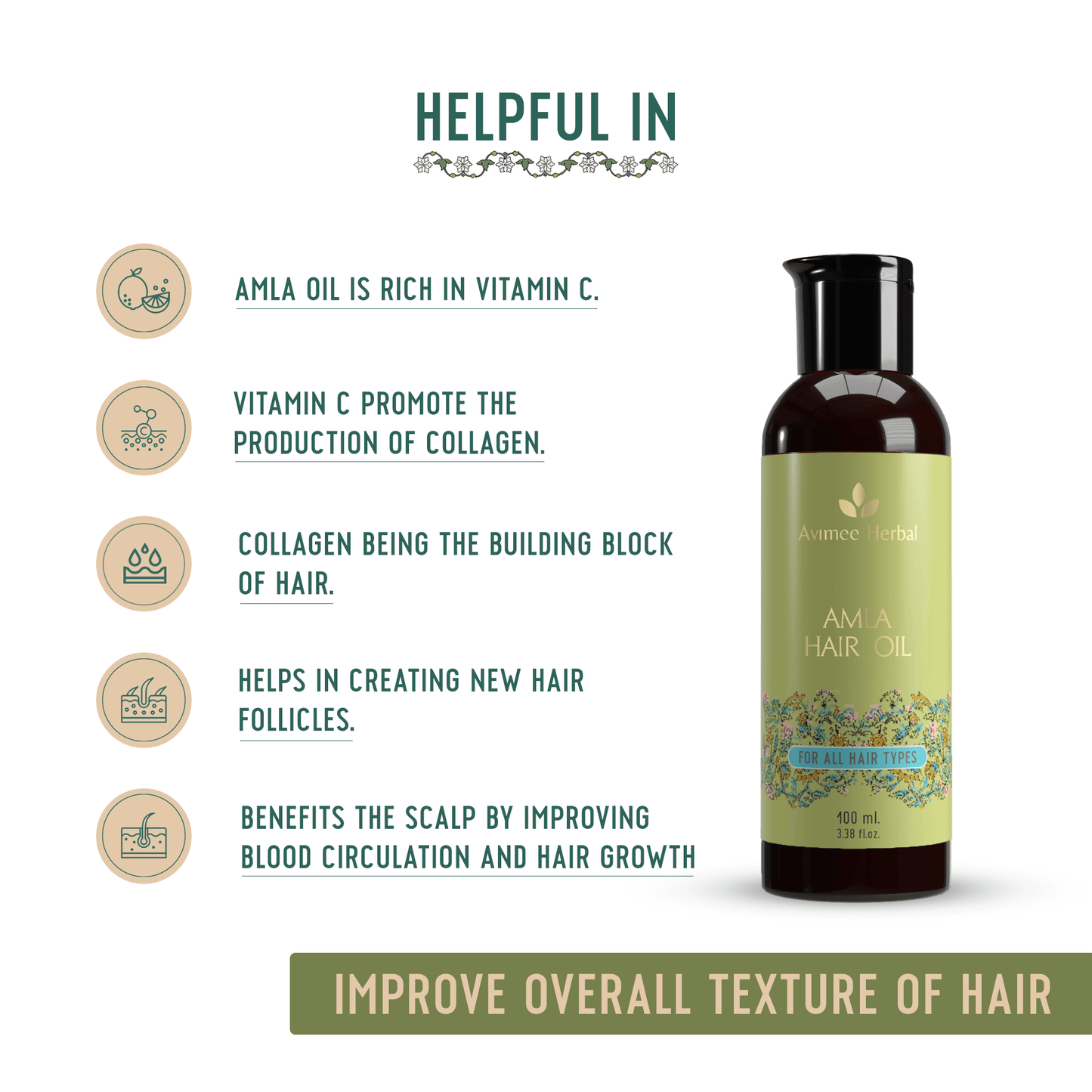 Amla Fruit Oil, Amla Seed Oil, Acerola Fruit Oil, Kakadu Plum Oil, Orange Peel Oil, Vitamin E, BHT (Butylated Hydroxytoluene)
Amla Seed Oil Strengthens hair, nourishes the scalp, and enhances shine.

Vitamin E Provides antioxidant protection, retains moisture, and promotes a healthy scalp.
Apply the oil on the scalp and lengths massage gently. Keep it overnight or wash it after 2 hours
It is helpful in
Hair Strengthening
Natural Shine Enhancement
Scalp Comfort and Health
Protection from Environmental Stressors
"Avimee Herbal Amla Hair Oil is recommended for a diverse range of individuals seeking natural and effective hair care solutions, including: Those Seeking Stronger Hair: Individuals looking to strengthen their hair and reduce breakage. People with Dull Hair: Those wanting to enhance the natural shine and luster of their hair. Scalp Comfort Seekers: Individuals dealing with scalp dryness, itchiness, or discomfort. Hair Health Enthusiasts: People interested in maintaining overall hair and scalp health. Protection Seekers: Individuals looking to protect their hair from environmental stressors and free radicals. This versatile hair oil is suitable for various hair types and addresses multiple hair and scalp concerns, making it accessible to a wide range of users. Always do patch test first before starting a new product."
worst shampoo
Its the worst shampoo I have ever come across. They are fooling people keeping Dadaji in the fore front...I lost 50 percent of my hair within a month of using it. its just a hype....I usually don't write any review but this time I felt I should stop people from getting fooled.
Amla Hair Oil | For Long & Strong Hair | Mineral Oil Free | 100 ml
Excellent oil for hair fall
I am using this from last three month . My hair fall is almost stop and hair growth is progressing as well. 100% satisfied
Multicolumn
Fights Dandruff & Moisturizes Scalp Naturally | With Aloe Vera, Apple Cider Vinegar, Tea Tree Oil & Neem Oil

Sale price

Rs. 550.00

Rs. 650.00

15% OFF

Unit price

per

For Long & Strong Hair | Mineral Oil Free | With Vitamin E and Amla Seed Oil

Controls Hair Fall and Strengthens Hair Root | With Rosemary, Amla, Methi & Bhringraj | SLS & Paraben Free

Sale price

Rs. 1,560.00

Rs. 1,950.00

20% OFF

Unit price

per