Fights Grey Hair | With Indigo, Amla, Curry Leaf and Henna Oil | Super Saver
Regular price
Rs. 1,250.00
Sale price
Rs. 1,250.00
Regular price
Rs. 2,090.00
40% OFF
Unit price
per
Cruelty Free

Best of Ayurveda

No Toxins

Made In-House
View full details
Product Description
Introducing the Avimee Herbal Anti-Grey Kit, your natural solution to combat the onset of grey hair. Our carefully crafted kit features two powerful products, Keshkrishna Hair Oil and Hairtone AG 1 Scalp Spray, designed to help you regain your hair's natural color and vitality. Say goodbye to unwanted grey hair and hello to a youthful and vibrant mane. With the goodness of herbal ingredients, this kit is your secret weapon in the battle against greying. Experience the transformation and radiate confidence with Avimee Herbal's Anti-Grey Kit.

Results
Restores Natural Hair Color The Avimee Herbal Anti-Grey Kit is formulated to naturally restore your hair's original color, helping to reduce the appearance of grey strands.

Promotes Hair Health Both Keshkrishna Hair Oil and Hairtone AG 1 Scalp Spray are enriched with herbal ingredients that nourish your hair follicles, strengthen the roots, and promote overall hair health.

Prevents Premature Greying This kit helps prevent premature greying by addressing the root causes, such as nutritional deficiencies and oxidative stress, to maintain the youthful color of your hair.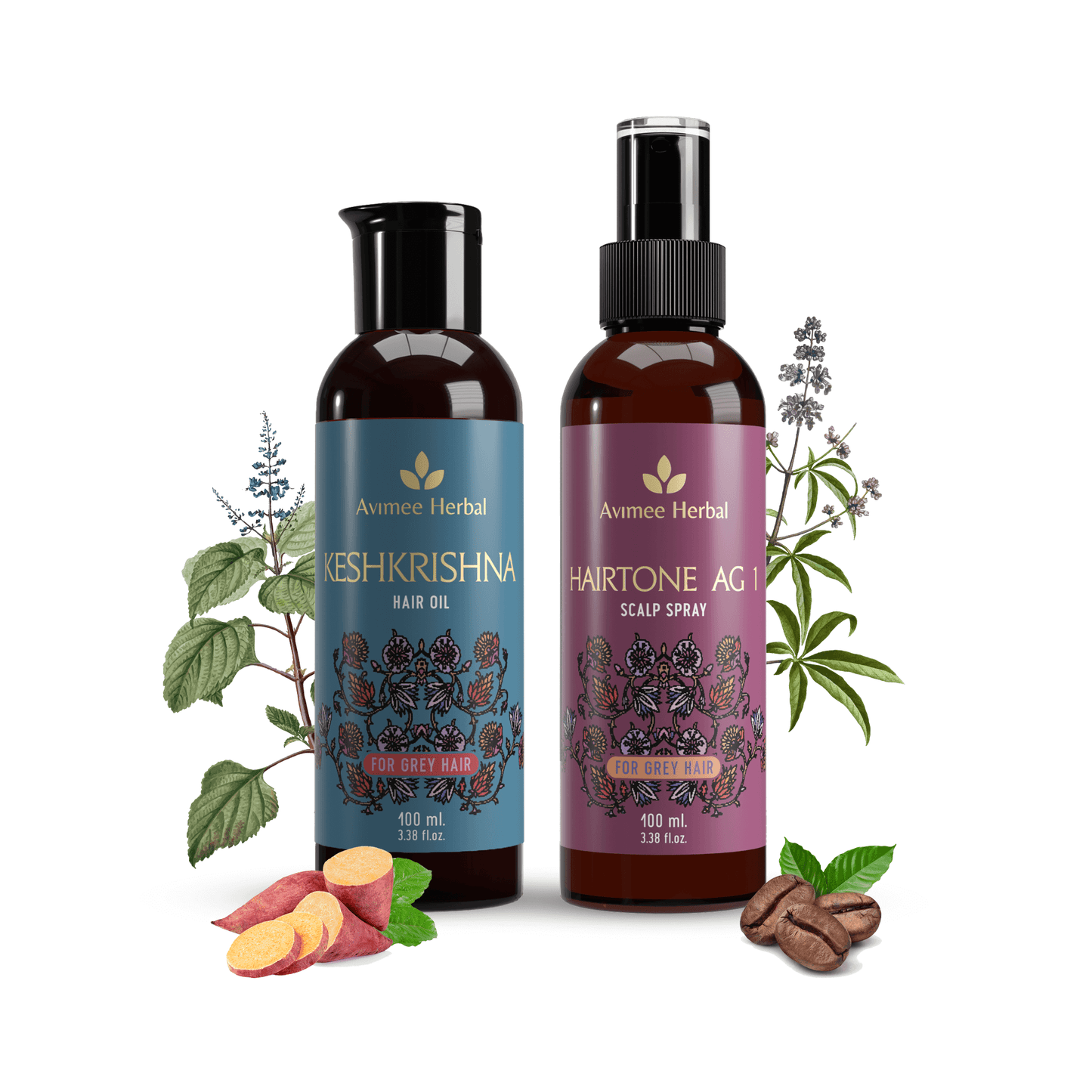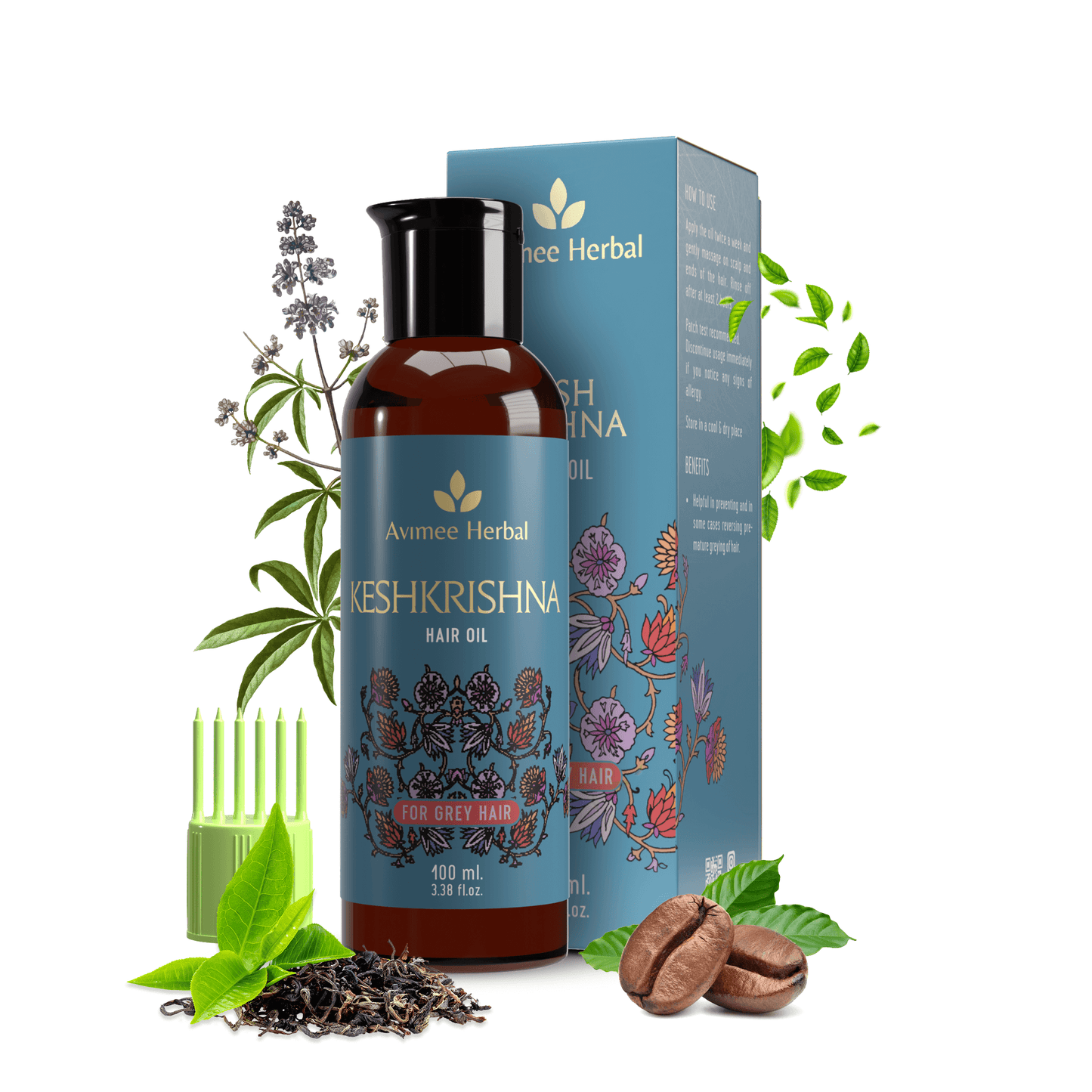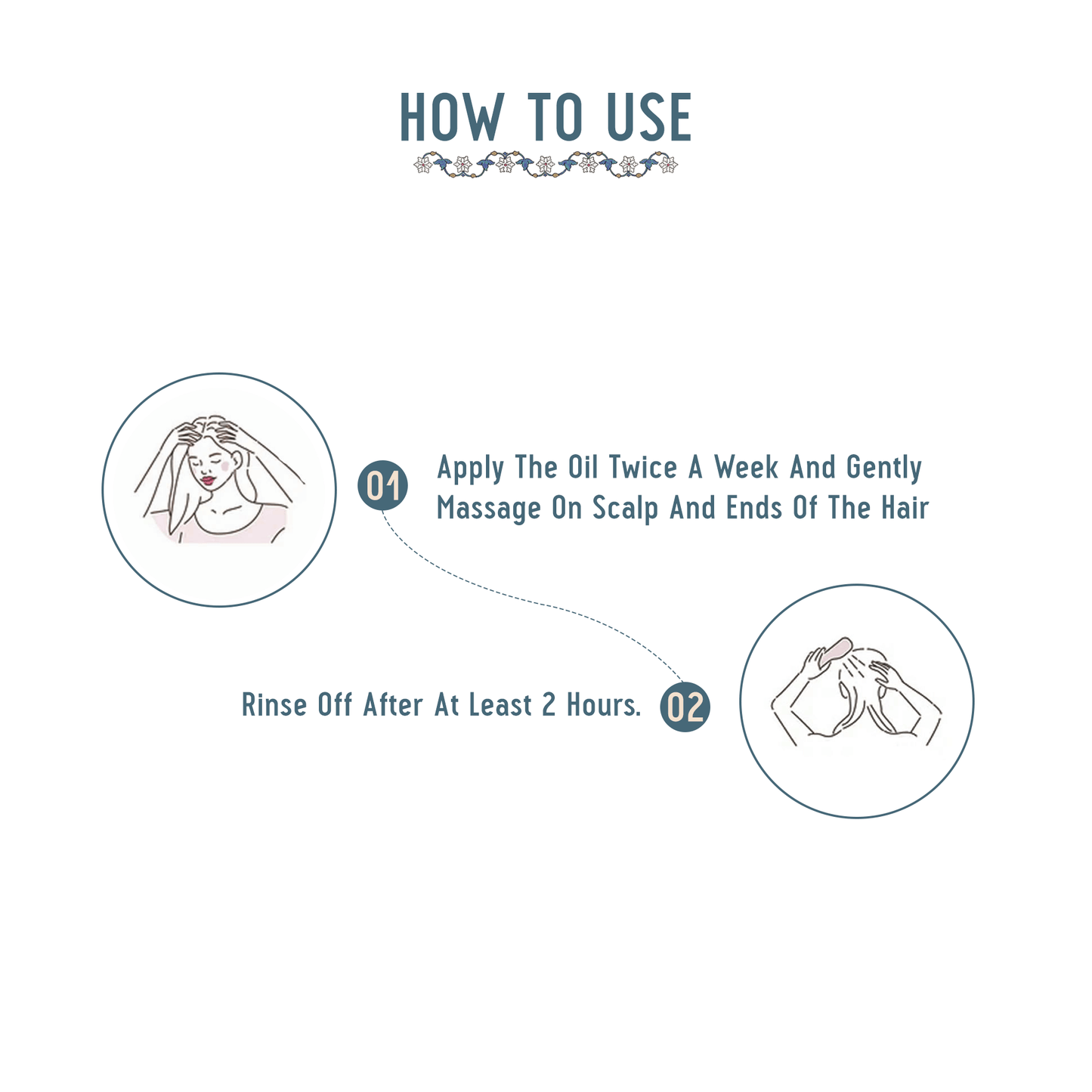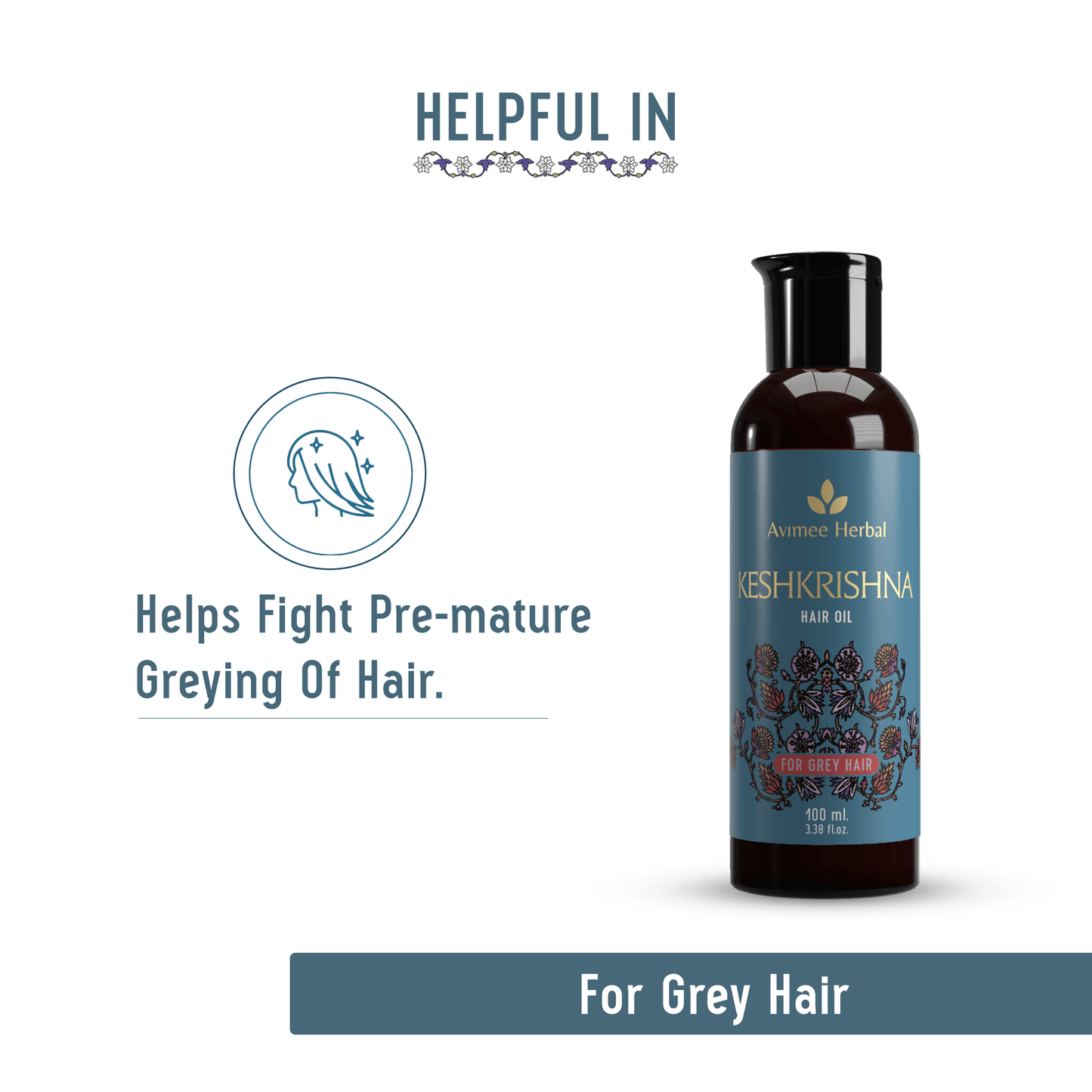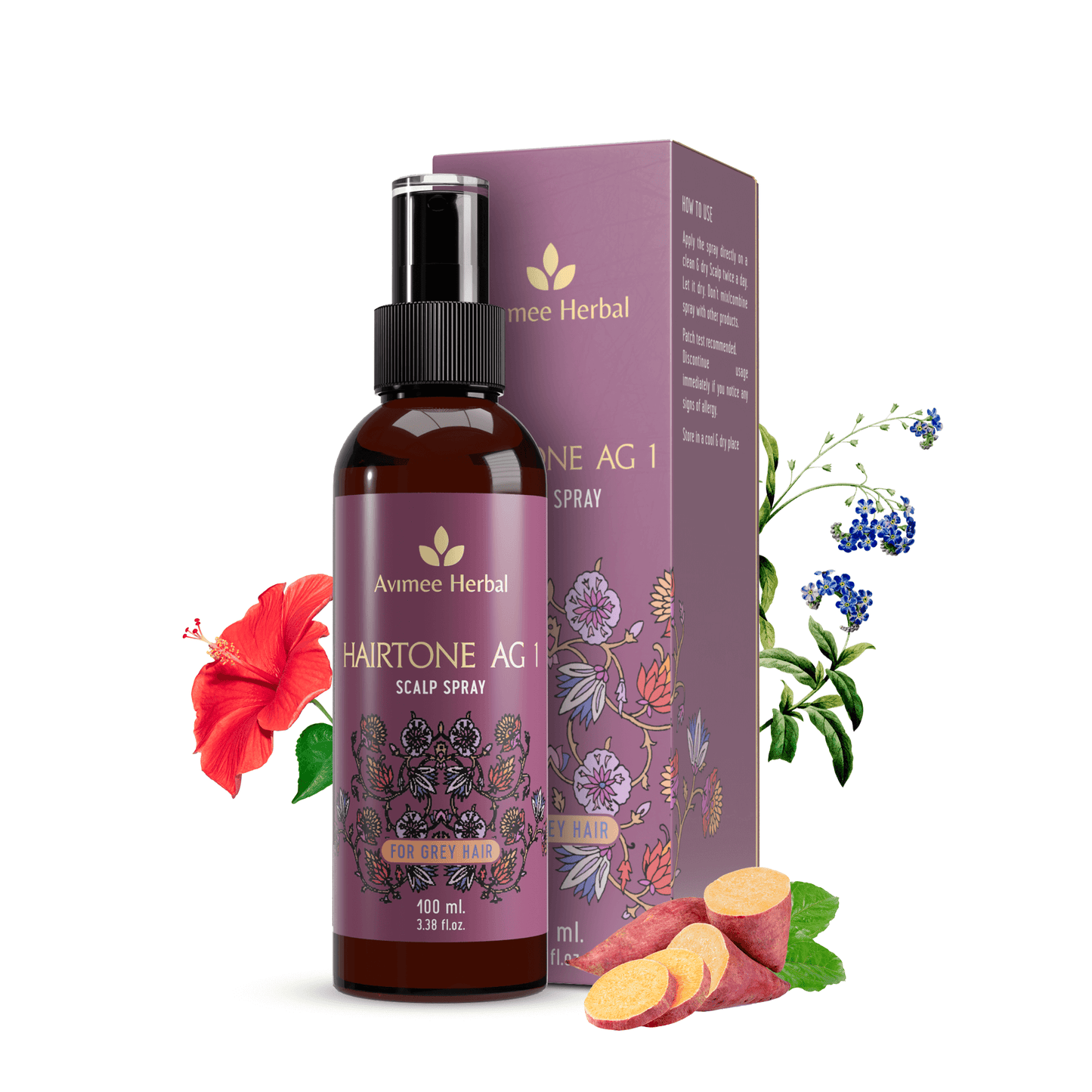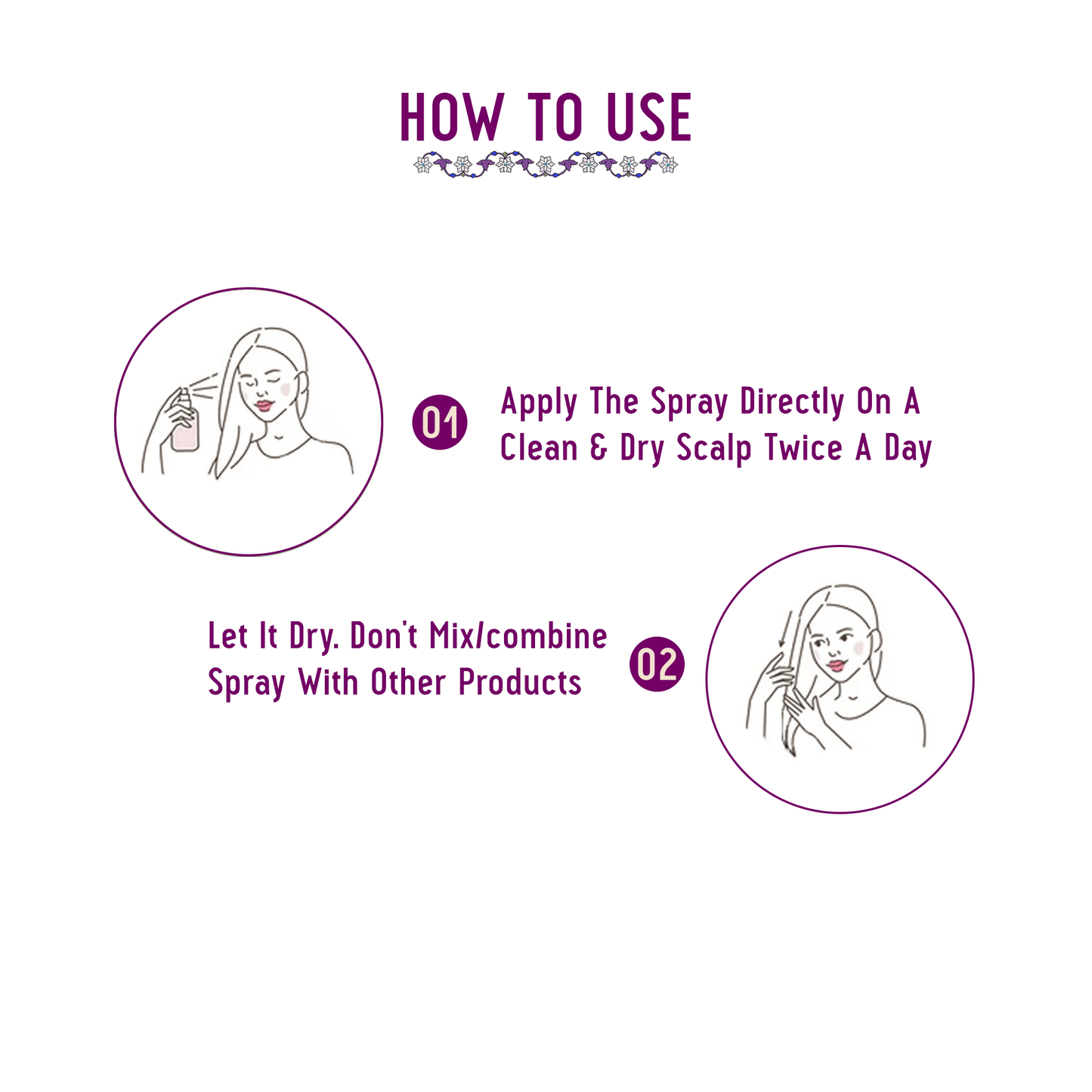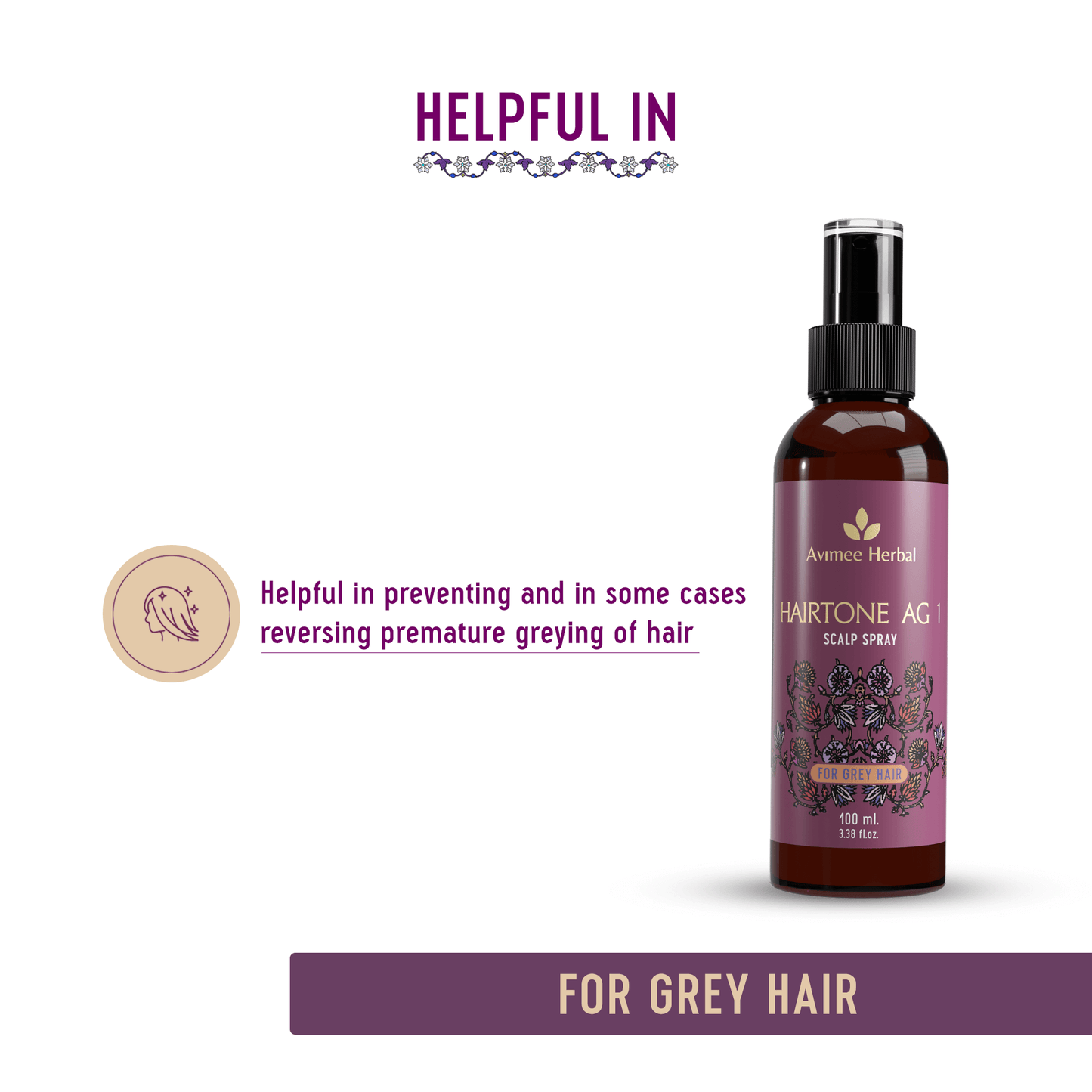 Keshkrishna Hair Oil Melaina, Henna Oil, Cassia Obovata Oil, Indigo Oil, Amla OIl, Catechu Oil, Curry Leaves Oil, Manjistha Oil, Hibiscus Oil, Black Tea Oil, Spinach Oil, Shikaki, Amaranthus Oil, Black Coffee Oil, Dalchini OIl, Jatamansi Oil, Bhringraj Oil, Wheatgrass Oil, Pineapple Oil, Watermelon Oil, Sweet Potato Oil, Pomegranate Peel Oil, Carrot Oil, Beet Root Oil, Kalonji Oil, BHT
Hairtone AG1 Scalp Spray Melaina, Indigo Extract, Henna Extract, Sanay Extract, Katechu Extract, Sweet Potato, Catalase, Hibiscus Extract, Beet Root Extract, Lavander Extract
Indigo/b> Indigo is a natural hair darkener that imparts a rich, dark hue to your hair, effectively covering any grey strands. Beyond its coloring properties, it also contributes to the overall health of your hair. Indigo enhances the shine and luster of your locks, giving them a vibrant and healthy appearance. Moreover, it nourishes your hair follicles, promoting their strength and resilience. This can help reduce hair breakage, leaving you with stronger and more beautiful hair.

Amla (Indian Gooseberry) Amla is a powerhouse of antioxidants, making it a superb choice for maintaining the health of your hair. These antioxidants combat free radicals that can damage your hair and accelerate the aging process. Additionally, Amla strengthens your hair shaft, making it less prone to breakage. Your hair's texture will noticeably improve, becoming smoother and more manageable. Amla also nourishes your scalp, eliminating dryness and itchiness.

Curry Leaf Curry leaves offer multiple benefits for your hair. They are renowned for promoting hair growth by stimulating hair follicles, resulting in a luxuriant mane. Furthermore, curry leaves assist in preserving your hair's natural color, preventing it from turning grey prematurely. Additionally, they strengthen the roots of your hair, reducing hair fall. Over time, regular use of curry leaves can add thickness and volume to your hair, giving it a fuller appearance.

Henna Oil Henna is celebrated for its natural hair dyeing properties. It is a fantastic choice for those looking to maintain or darken their hair color. Beyond its color-enhancing capabilities, henna oil is an excellent conditioner for your hair. It effectively moisturizes and hydrates your locks, leaving them soft and easy to manage. Moreover, henna oil has a soothing effect on the scalp, alleviating dryness and itchiness. Your hair will also gain a healthy shine that enhances its overall radiance.
Step 1: Keshkrishna Hair Oil Take a sufficient amount of Keshkrishna Hair Oil in your palm. Gently massage the oil into your scalp and hair, ensuring even distribution. Leave it on for at least 2-3 hours or overnight for better results. Wash your hair with a mild herbal shampoo. Use 2-3 times a week for the best outcome. Step 2: Hairtone AG 1 Scalp Spray After shampooing and drying your hair, spray Hairtone AG 1 Scalp Spray directly onto your scalp. Massage it gently with your fingertips to ensure absorption. Leave it on. No need to rinse. Use it daily or as directed for optimal results. Consistent use of this kit will help in gradually reducing the appearance of grey hair while promoting healthier and shinier locks.
It is helpful in
Restores Hair Natural Color
Promotes Hair Health
Prevents Premature Greying
Reduces Hair Fall
The Avimee Herbal Anti Grey Kit is recommended for individuals who wish to maintain their natural hair color and promote overall hair health. It is suitable for people of all ages and hair types. Whether you've started to notice grey hair or want to prevent it in the future, this kit can be beneficial. It's particularly helpful for those who prefer natural remedies and ingredients to address hair-related concerns. By using this kit, you can work toward vibrant, healthy, and naturally colored hair. Patch Test Recommended.
Hair oil
Great oil free from any chemicals and paraben.
I am using from last 4 weeks but there is no change in hair colour. And smell is very stinky.
I was facing tremendous hairfall problem after my post delivery weightloose , I used end number of products as well as spend so much money for treatment and one of my friend recommended me about Nanaji's avimee products and now it's my 2nd bottle of keshpallav hair oil and hair spray. It's really magical each and every penny is worth investing in Avimee herbal products. My hairfall has reduced and I have my new growth now I'm really very thankful to nanaji and his team for such an magical products.
Multicolumn
Fights Dandruff & Moisturizes Scalp Naturally | With Aloe Vera, Apple Cider Vinegar, Tea Tree Oil & Neem Oil

Sale price

Rs. 550.00

Rs. 650.00

15% OFF

Unit price

per

For Long & Strong Hair | Mineral Oil Free | With Vitamin E and Amla Seed Oil

Controls Hair Fall and Strengthens Hair Root | With Rosemary, Amla, Methi & Bhringraj | SLS & Paraben Free

Sale price

Rs. 1,560.00

Rs. 1,950.00

20% OFF

Unit price

per